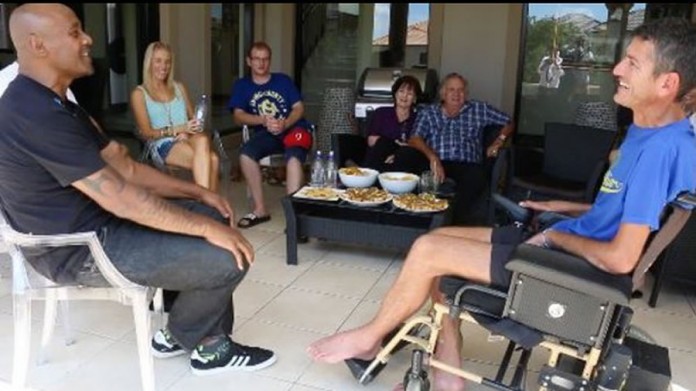 One of the most searched for videos on SAPeople today is the one below, when New Zealand rugby great Jonah Lomu went to South Africa and visited his rival and close friend, Springbok player Joost. Jonah Lomu passed away in November 2015. Joost van der Westhuizen died today. Watch the wonderful video below of the rapport between the two great men.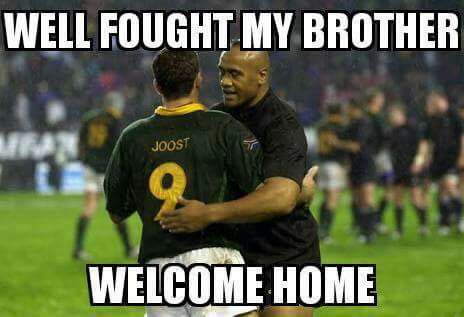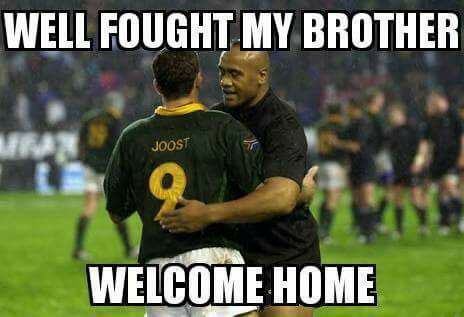 The video is an excerpt from Jonah Lomu's documentary "Back to South Africa". The documentary was filmed 20 years after the 1995 Rugby World Cup, and follows global rugby star Lomu's return to South Africa, where it began, to meet up with old and new friends.
At one point the former All Blacks player Jonah Lomu says to the former Springbok player: "You know what, the most satisfying thing is that I can call you a friend."
We hope the two friends are playing rugby in heaven tonight…
Watch Johah Lomu meeting Joost van der Westhuizen in South Africa…
SAPeople follower Jacquie Hough wrote: "Two legends! When the thunder rolls over South Africa's soils… And the rains sound like stadium applause, We shall know, that two titans strode out through the tunnel and headed to the pitch once more… To take on each other As friends and brothers. Thank you Joost and Jonah. Enjoy your game in heaven, boys."
Tweet from Joost van der Westhuizen after Jonah's visit in February:
Thank you so much for the visit my friend. You are in my prayers. @JONAHTALILOMU pic.twitter.com/qdNJWFpRE0

— Joostvdwesthuizen (@9Joost) February 8, 2015
Watch Video: Jonah Lomu – "Back to South Africa" Trailer
Here's the trailer of Jonah Lomu's "Back to South Africa". It forms part of a new seris around the world called "The Book of Jonah L". The film is directed by Benoit Pensivy (@pensivy on Twitter) and the full movie is available on iTunes Store (TV series).
MORE
Public memorial service for Joost van der Westhuizen (on Friday).
Watch the Samo Rugby Team sing a hymn to Joost van der Westhuizen video