Joost van der Westhuizen's estranged wife, Amor Vittone, posted a heartfelt message Monday afternoon for her "first love", the former Springbok legend who died today – at the age of 45 – after a long and brave battle with Motor Neurone Disease (MND).
She said: "Dis met n seer en swaar hart, dat ons afskeid geneem het van Joost n uur terug. Ons is omhels met familie en baie liefde. Joost, rus in vrede en weet dat Jordan en Kylie, jou styf binne hul harte sal hou. Jy sweef saam met die engele sonder pyn. Jy was en is my eerste liefde. Ons is lief vir jou! ❤ Rest in peace with God and all the angels."
Van der Westhuizen passed away after a courageous struggle with amyotrophic lateral sclerosis (ALS), a form of MND, for the past six years. He leaves behind his and Amor's two children, Jordan (13) and Kylie (10), as well as his father Gustav, mother Mariana, and brothers Pieter and Gustav.
Earlier today Amor posted photos of the children, saying: "Through life's difficulties, Jordan and Kylie remain my rock! Yesterday Kylie received 4th place in the valentine's 90cm show, and this morning Jordan received the Courtesy Award at his school's assembly. So, so proud of my angels!!"
In an interview with Rapport she said that they spent 12 hours with Joost yesterday, holding his hand, and telling him how they loved him. She says there was a moment he acknowledged them.
Joost touched everyone's lives – from rugby players to celebrities to fans. A South African expat summed up how most felt about the famous rugby player: "I met him in Dubai a few years ago when he was fundraising for J9, just getting it off the ground.
"He could still walk and speak at the time. He was very gentle and polite with all the 'fans' at a special dinner arranged for him as a fundraiser. He was our South African hero despite his fall from grace – he climbed his way back into the public's favour with his very hard battle."
Today South African Rugby (SARugby) President, Mark Alexander, said: "Joost will be remembered as one of the greatest Springboks – not only of his generation, but of all time.
"As a player, he lifted the Rugby World Cup, Tri-Nations and Currie Cup while establishing himself as one of the best scrumhalves world rugby has ever seen. He was the record holder for the most Test tries for the Springboks for more than 13 years and finished his international career with 38 Test tries.
"He also became an inspiration and hero to many fellow sufferers of this terrible disease as well as to those unaffected. We all marvelled at his bravery, his fortitude and his uncomplaining acceptance of this terrible burden.
"It's a sad day for rugby in South Africa and across the globe as we say goodbye to a legend of the Springboks. Our condolences go to his family and friends at this sad, sad time."
SARugby described Joost as a big scrumhalf with an eye for a gap and an amazing ability to rip opposition defences apart. He was a nominee for the prestigious SA Rugby Player of the Year Award six times during his career, in 1993, 1994, 1995, 1996, 1998 and 1999, while he was also a Young Player of the Year nominee in 1992.
Alexander said that Van der Westhuizen was without peer at a time when the top teams in the world had great scrumhalves.
"He could do things no-one else could and it was his unpredictability as a scrumhalf that dazzled opponents and gave his supporters so much reason to cheer," said Alexander.
"Joost epitomised what it meant to represent South Africa on the rugby field and always showed a remarkable fighting spirit throughout his career, but also in recent years during his illness.
"He was a hero and a role model for so many young rugby players in the early years of professionalism and he taught a generation of South Africans what it meant to be a Springbok. His passion for his country and the Boks will always stand out and he will be sadly missed.
"To lose a Springbok legend at such a young age is very sad, but his memory will never die. I salute you Joost on behalf of South African rugby.
Joost Heystek van der Westhuizen was born on 20 February 1971 in Pretoria, where he attended FH Odendaal High School and the University of Pretoria.
He made his provincial debut for the Blue Bulls in 1992 and played the first of his 89 Springbok Tests the next year, on 6 November 1993 against Argentina in Buenos Aires. His last Test was on 8 November 2003 against New Zealand in Melbourne at his third Rugby World Cup tournament.
Apart from 89 Tests, Van der Westhuizen played a further 22 tour matches for the Springboks for a total of 111 appearances in Green and Gold. He scored 56 tries in total for the Springboks, which was finally overtaken by Bryan Habana in 2014. He also captained the Boks in 10 Tests.
Van der Westhuizen also captained and played for the Springbok Sevens team at the 1997 Sevens World Cup in Hong Kong, where South Africa lost in the final to Fiji. In 1992, he played for the Junior Springboks.
He played 144 matches for the Vodacom Blue Bulls between 1992 and 2002 and captained the men from Pretoria when they won the Currie Cup in 1998, as well as in 2002, his last season in the famous light blue jersey.
At Vodacom Super Rugby level, Van der Westhuizen represented the Vodacom Bulls 28 times between 1998 and 2003 – a number which would have been much higher had he not suffered from a number of serious injuries at the time.
Van der Westhuizen was diagnosed as suffering from MND early in 2011. Despite fighting this debilitating disease, he was actively involved in charity work across South Africa and outside our borders for fellow sufferers up until his death.
How South African media broke the sad news…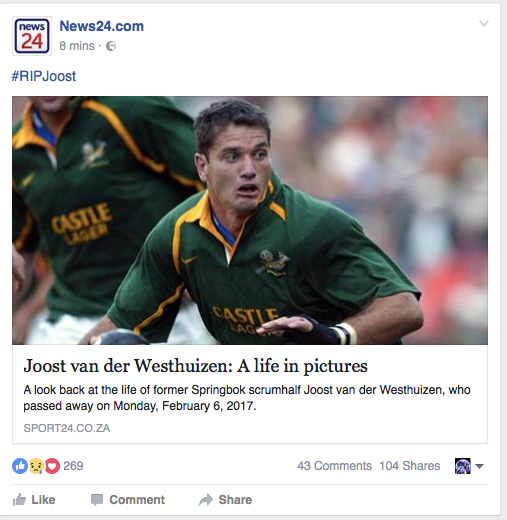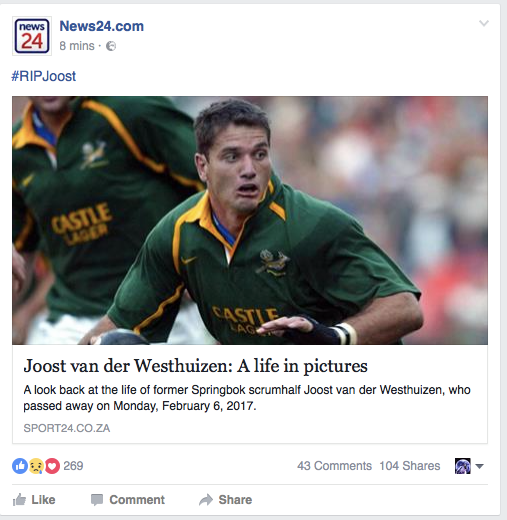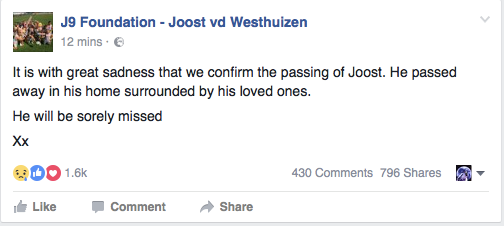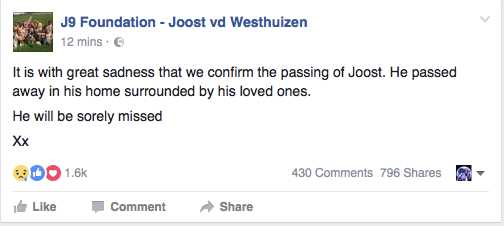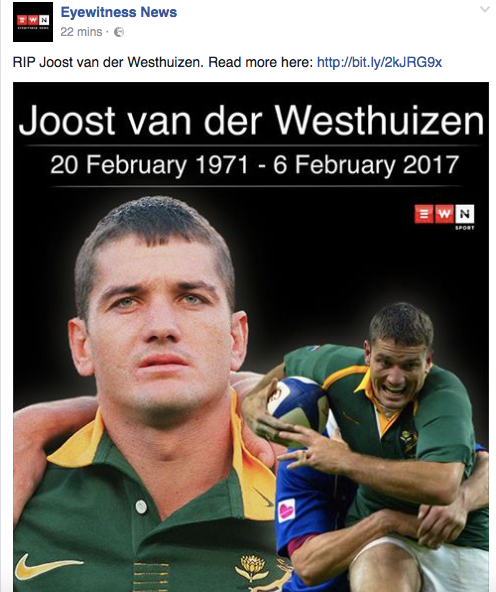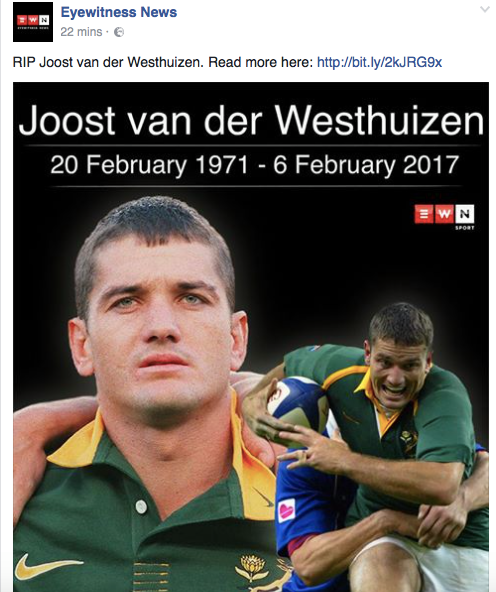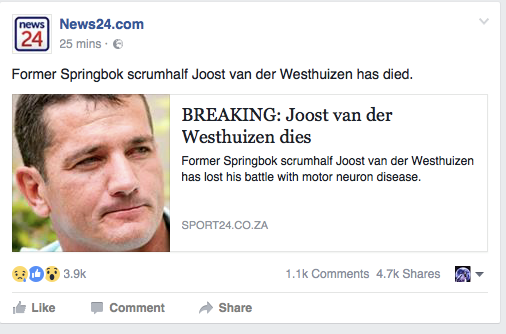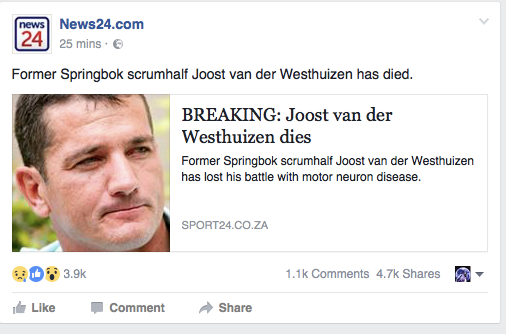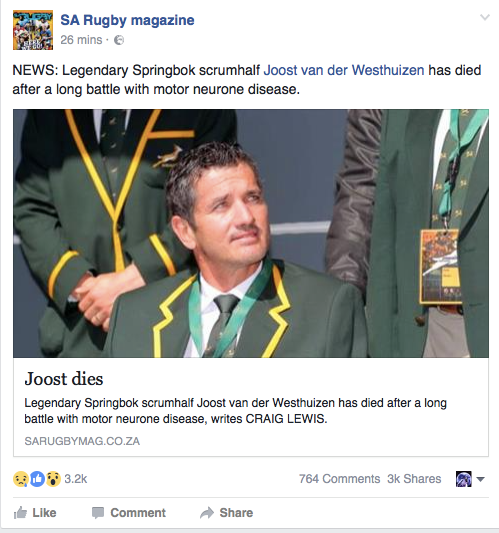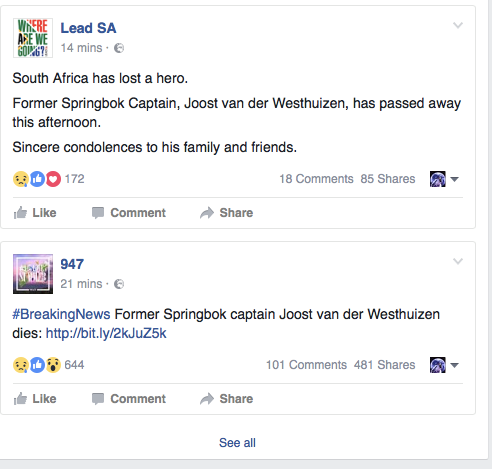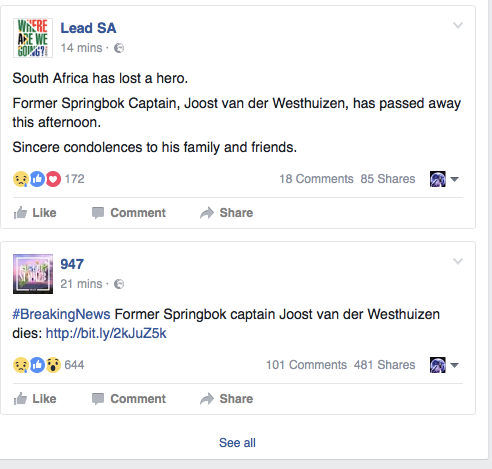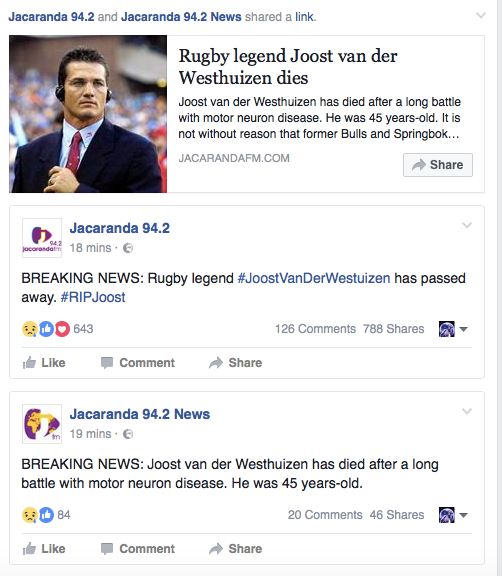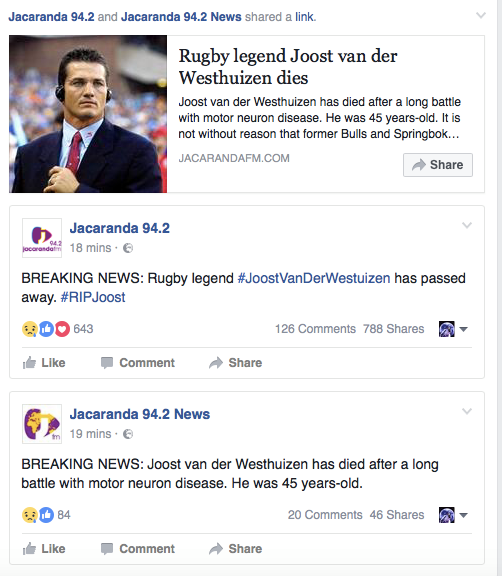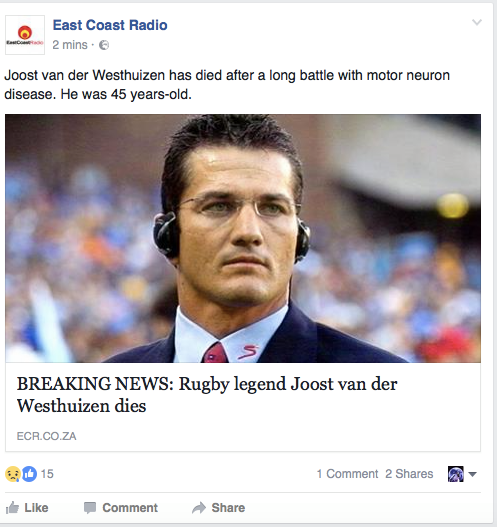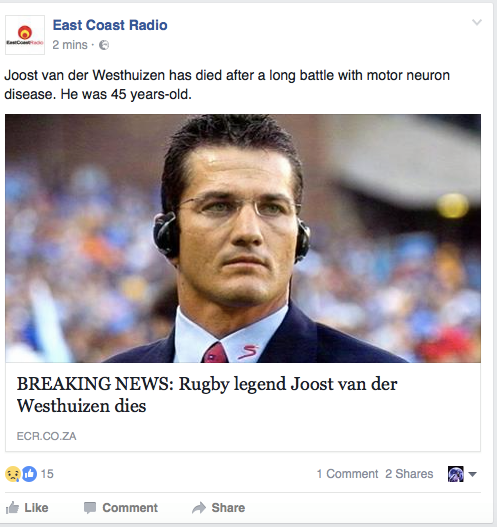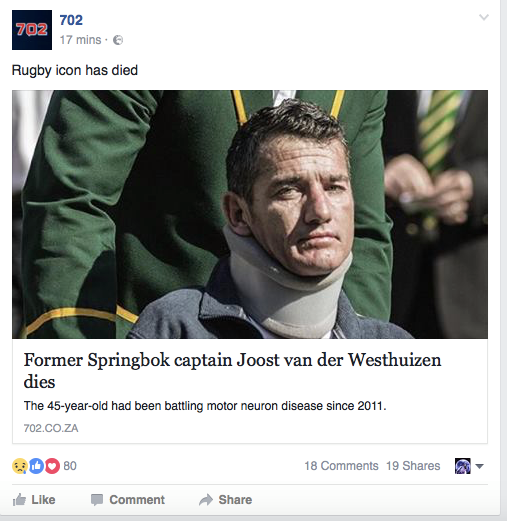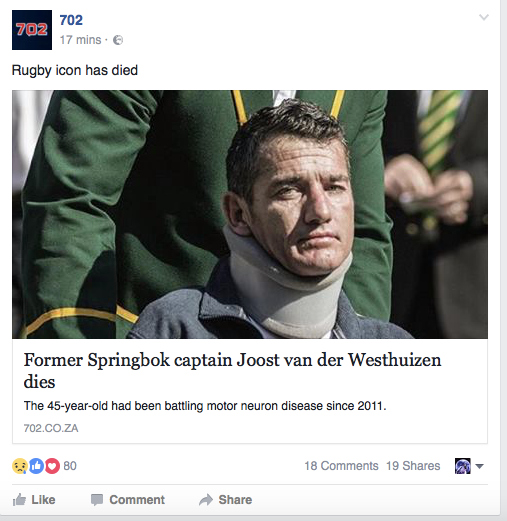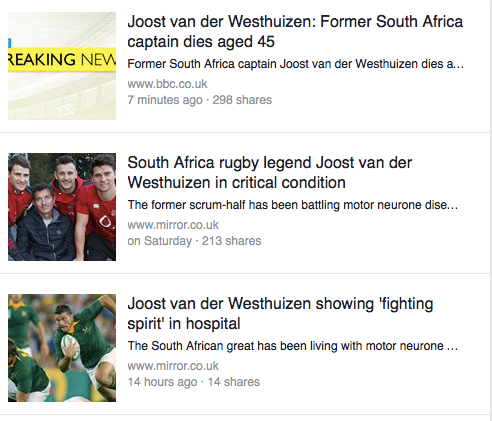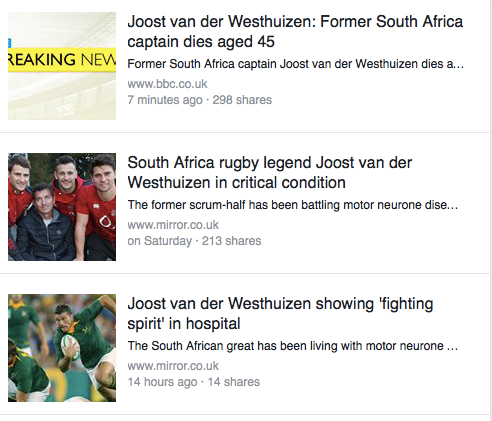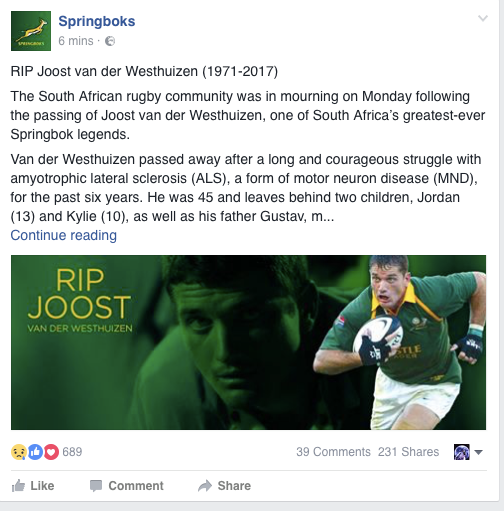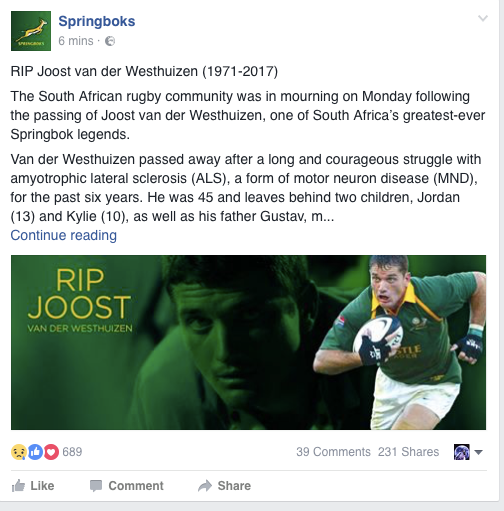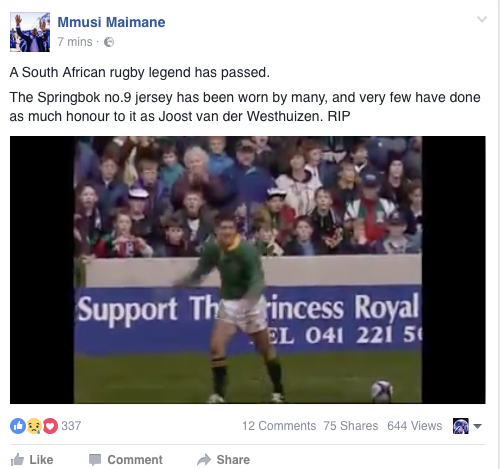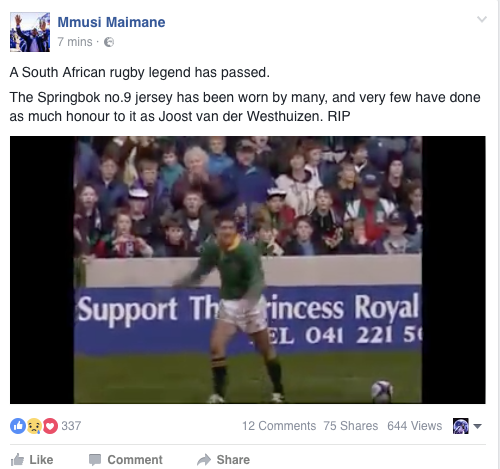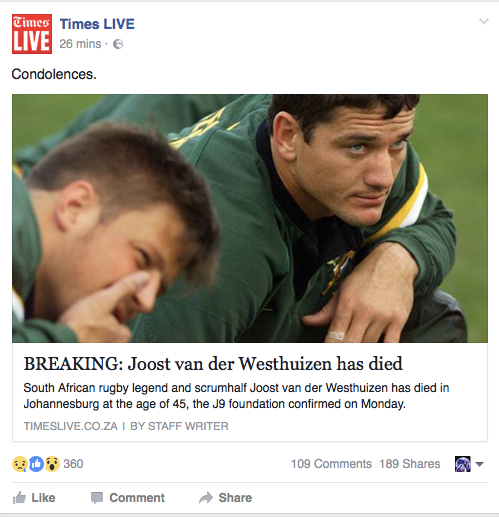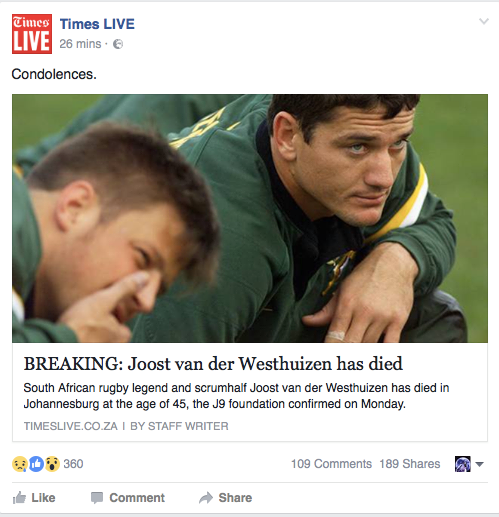 Tributes for Joost van der Westhuizen on Twitter:
A SA rugby legend has passed.The Springbok no9 has been worn by many & very few have done as much honour to it as #joostvanderwesthuizen.RIP

— Mmusi Maimane (@MmusiMaimane) February 6, 2017
He will always be a rugby legend, but for me it was his bravery to fight for a better environment, even when he was at his worst #RIPJoost pic.twitter.com/rtfzI5hdKG

— Bonné de Bod (@Bonne_de_Bod) February 6, 2017
https://twitter.com/AndyCampbell30/status/828599265605853184
South Africa is poorer without Joost van der Westhiuzen, a giant & warrior of SA rugby. I send my sincere condolences to his family. pic.twitter.com/f8ko2SPWpI

— RSA Police Minister (@MbalulaFikile) February 6, 2017
Howley "Its devastating news. Joost was the best nine I ever faced and he will be sorely missed by the whole game" https://t.co/mCJnWgG01b pic.twitter.com/zpUeyEZA9C

— Welsh Rugby Union ? (@WelshRugbyUnion) February 6, 2017
@9Joost one of the best players in the world! It was a privilege to see him in action! Sterkte aan familie in die moeilike tyd! RIP #Legend

— Naas Botha (@NaasBotha10) February 6, 2017
Our thoughts are with the friends and family of Joost van der Westhuizen, who has sadly passed away at the age of 45…#RugbyFamily pic.twitter.com/WGWhtYZ0xz

— England Rugby (@EnglandRugby) February 6, 2017
The world of #rugby mourns the passing of @Springboks great and #RugbyHoF inductee no. 119 Joost van der Westhuizen. https://t.co/LbjHLYBRSK pic.twitter.com/mOgqcGayHx

— World Rugby (@WorldRugby) February 6, 2017
Joost van der Westhuizen Fact-file
Date of birth: 20 February 1971 in Pretoria
High school: FH Odendaal, Pretoria
Tertiary education: University of Pretoria
Province: Blue Bulls
Test career:
Springbok number: 593
Position: Scrumhalf (87 Tests) Wing (2 Tests)
Test debut: 6 November 1993 vs Argentina in Buenos Aires
Last test: 8 November 2003 vs New Zealand in Melbourne
Total tests: 89
Test tries: 38 (he became the SA record-holder on 18 July 1998 against Australia in Perth with his 21st Test try and his record was broken by Bryan Habana on 22 September 2011 with his 39th Test try, against Namibia in Albany.
Win ratio in Tests: 60-28-1
Tour matches: 22
Total Springbok matches: 111
Total Springbok tries: 56
Honours: SA Rugby Player of the Year nominee (1993, 1994, 1995, 1996, 1998 & 1999); SA Rugby Young Player of the Year nominee (1992).