Last year we promised that we will find rhinos in need of urgent help and give you the opportunity to help rescue them 1 by 1, writes LOUISE JOUBERT, founder of SanWild Wildlife Sanctuary in South Africa.
Our Saving Big Boy appeal in 2016 helped to save a beautiful white rhino bull from falling victim to a trophy hunt. Big Boy was successfully relocated and now lives in an Intensive Protection Zone with a beautiful rhino cow named Tshu (named after the first 4 letters of the word Tshukudu, an African word for rhino)
True to what the SanWild Wildlife Trust and Wild Africa Conservation Fund stand for, we have found another rhino in desperate need of help and would like to make good on a promise we all made to help any rhinos in need of saving.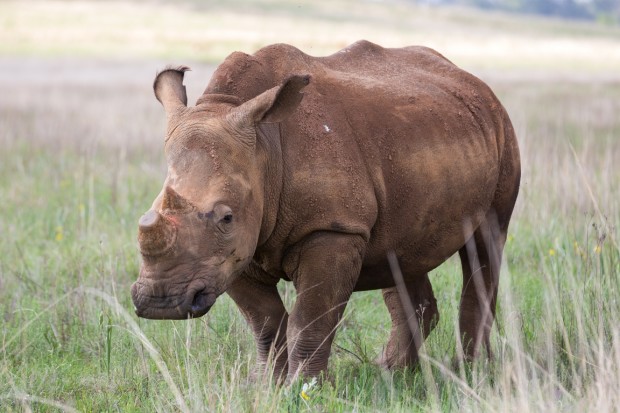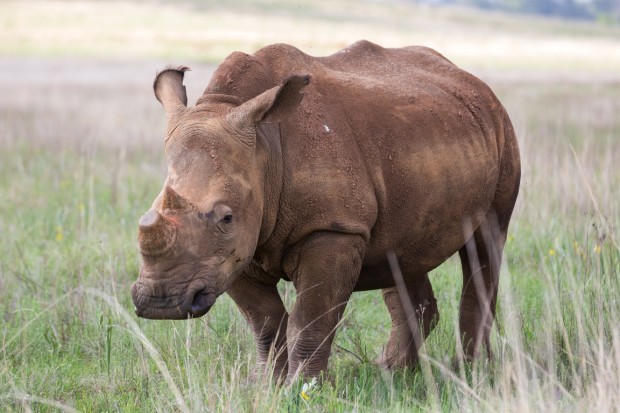 Nellie was wounded in a poaching incident in Hoedspruit in 2016.  She survived, but still carries the scars where the bullets penetrated her body. Fortunately they missed all her vital organs… and her unborn calf.
Yes, Nellie is pregnant! And if all goes well she will give birth later this year.
Unfortunately she is not doing well at all and needs your, and our, help in order to become a 'normal rhino' again and raise her young in a well-protected area where they will both be safe.
As a direct result of the poaching incident on his property (in which two other rhinos died) her previous owner sold Nellie, and one other surviving rhino, to a private rhino breeder.
The two rhinos were dehorned and relocated, but sadly beautiful Nellie is not settling down at the new destination and is relentlessly being attacked by the other rhinos… to the point where her new owners have now put her up for sale once again, as they fear she will be seriously injured or killed by the other rhino.
We believe her unnatural behaviour (from human perception) is as a direct result of the horrific ordeal she suffered when wounded during the poaching incident in 2016, the loss of the other rhinos she knew and the subsequent stress caused by prolonged veterinary treatment, a capture and relocation to an area she is not accustomed to.
We also believe that the crowded conditions she now has to adapt to along with the constant close proximity of the staff (humans) that feed and care for the rhinos in the intensive breeding program (for the rhino horn trade) is affecting her in a very stressful and negative way, and that all of these factors can explain her unsettling behaviour.
If Nellie is to recover emotionally, she will need space to find her way back to being a normal rhino…
We therefore would like to ask for your financial support to help her so that she can have the life she deserves in an Intensive Protection Zone we are developing at an undisclosed location in South Africa.
Here Nellie will have wide open spaces and the free will to join up with other rhinos when she is ready.  She will be able to avoid the humans that will be protecting her if she chooses, but above all here she will be able to mend emotionally and bond with her calf once it is born.
Please support this fundraising drive as we have a limited time to raise the required funding, and feel free to claim some of the very special perks (from beanies, hats and sweatshirts… to a fabulous holiday voucher!).  Become part of the solution to rhino poaching and help save individuals that will be crucial to the overall genetic viability of the species. Rhinos cannot help themselves and will depend more and more on good humans to help them survive a genocide.
Please help Save Nellie by clicking here or copy and paste this link:
www.generosity.com/animal-pet-fundraising/save-nellie
Kind regards
Louise Joubert
Founder trustee, SanWild Wildlife Sanctuary – South Africa
Please do note that all donations in South Africa and the United States of America may be claimed from personal or company tax.  Please email me for more information: louise@sanwild.org
Save Nellie, the pregnant rhino in South Africa
Watch Big Boy and Tshu