The South African Weather Services (SAWS) has issued an update, maintaining warnings for Limpopo and Mpumulanga provinces, as the downgraded tropical storm Dineo heads to Botswana. The Kruger National Park has temporarily closed gravel roads and some facilities as it feels the effect of the rainfall associated with cyclone Dineo which devastated parts of Mozambique and left at least seven fatalities. Last Updated: Friday, 15h00 SA Time.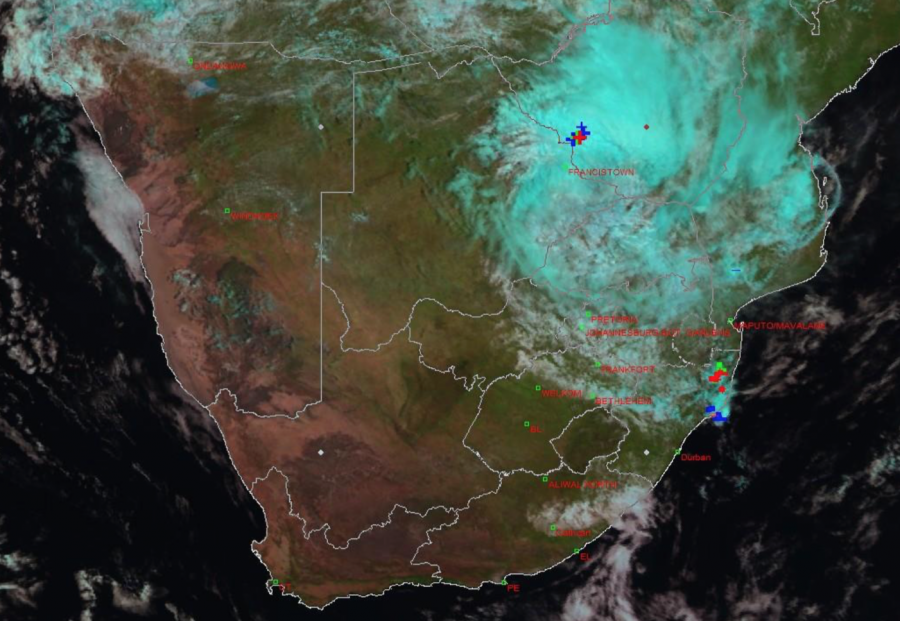 KNP said all gravel roads are closed until further notice. All the park gates and main tar roads remain open.
The South African Weather Service (SAWS) has issued an update Friday afternoon, saying the tropical depression is continuing its westward progression and is currently located near the border of South Africa, Botswana and Zimbabwe.
"The system has caused widespread rain showers over eastern Mpumalanga and Limpopo. The heaviest rains from Thursday were recorded in Mpumalanga, where Graskop recorded 166mm, 96mm at Bourke's Luck, 61mm at Kruger Mpumalanga Airport and 49mm at the Barberton prison.
"Rain showers are still persisting over the Mpumalanga and Limpopo provinces and are expected to become heavier in places during the course of the day. Thus, the warnings over the two provinces remain in force for the rest of today into tomorrow."
Tomorrow, Saturday 18 February, scattered showers are expected over northern parts of Mpumalanga as well as Limpopo… and heavy rains are expected to shift to Botswana.
For the rest of South Africa, isolated thunderstorms are expected over the central parts but will be scattered over southern Free State and Northern Cape as well as most of the Eastern Cape.
The public are urged to remain vigilant. It is forecast that Botswana will likely experience extremely strong downpours. Gauteng will probably only feel strong winds, and receive less rain.
The Department of Cooperative Governance and Traditional Affairs (COGTA) on Friday said all disaster management teams were on standby.
The Centre said it is still concerned with flooding and flash flooding.
Dineo destroyed at least 20,000 homes in Mozambique (including that of South Africans) and displaced or impacted 130,000 people.
Read more about global warming and rising sea temperatures leading to more tropical storms in Southern Africa.
If you are visiting the Kruger National Park, please note:
Marula Region – roads and facilities closed:
All gravel roads with the exception of access gravel roads to Biyamiti and Talamati

Muzandzeni Picnic Site

Sweni Wilderness Trail
Nxanatseni Region – roads and facilities closed:
All gravel roads

Nyalaland Wilderness Trail

Olifants Wilderness Trail

Sirheni Bushveld Camp

Bateleur Bushveld Camp

Shipandane Hide

Makhadzi Picnic Site
To see the wind conditions at any moment, visit this page.
Latest Update from the Disaster Management team in South Africa:
[WATCH] National Disaster Management Centre's Dr Mmaphaka Tau unpacks the damage caused by #TropicalDepression #Dineo so far. #DStv 403 pic.twitter.com/MTeO0KCWQU

— eNCA (@eNCA) February 17, 2017
[WATCH] eNCA Climatologist @candi_mc brings you the latest on the #TropicalDepression #Dineo. More at https://t.co/srSwp4puiM and #DStv 403 pic.twitter.com/zP7nqdWoCO

— eNCA (@eNCA) February 17, 2017
En route to @SANParksKNP Paul Kruger Gate from Nelspruit. Heavy fog in places. Will be checking #Dineo's impact, if any, on KNP so far. pic.twitter.com/5FquwCiM4I

— Michael Appel (@TheMikeAppel) February 17, 2017
And just when we thought #Dineo had forgotten about the @SANParksKNP it has started storming properly here by the Kruger Gate entrance. pic.twitter.com/W3ysnX6cOG

— Michael Appel (@TheMikeAppel) February 17, 2017
Here are a few 24h rainfall observations until 8am this morning. #Dineo is forecast to bring more heavy rain to parts of the Lowveld. @eNCA pic.twitter.com/jluq4CiMUd

— eNCAWeather (@eNCAWeather) February 17, 2017