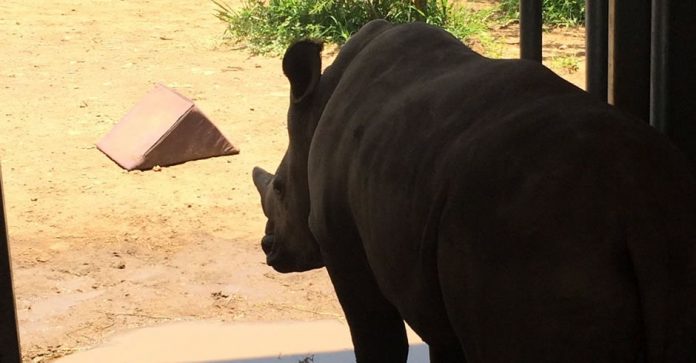 The rhino orphanage in South Africa which was attacked in the early hours of Wednesday morning by cruel and ruthless poachers, has been identified as Karen Trendler's much loved Thula Thula Orphanage.
According to Allison Thomson, founder of Outraged South African Citizens Against Rhino Poaching, the Orphanage will be putting out a statement shortly.
It is not certain how many rhino were killed in the heartless attack. Trendler's wonderful and caring staff, who were on the premises, were brutally assaulted in the unprecedented incident.
Thomson says: "There are newspaper articles circulating already about the awful things that occurred that night – please be sensitive to the circumstances in which these carers find themselves in right now – your sensitivity in sharing articles would be greatly appreciated. We are all in a lot of emotional pain right now so you can imagine the immense stress they are under."
Until an official statement from Thula Thula, SAPeople will be respecting their wishes and not publicising the details of the terrible events that occurred in KwaZulu-Natal, and we ask you to also not share any articles with gruesome details until Thula Thula has issued their statement. Thank you.
Regular SAPeople contributor Bonné de Bod, from Stroop (the documentary film on rhino poaching), is at the orphanage with Trendler right now. She will go LIVE later on Facebook to answer many of the questions you have been asking. Please check Stroop's page (see below).
South African Police Services anti-poaching unit, Rhino Ops 7, has impounded a vehicle and detained two males in Ermelo. Investigations are ongoing. 
#WeAreHeartbroken #PleaseHelp #GovernmentPleaseStepIn
Rains in KZN have bought some relief from drought.
Improved grazing means rhino in rehab process can start next step towards final release. pic.twitter.com/9igYl0TCYo

— Rhino Calf (@RhinoCalf) January 25, 2017
The number of rhino orphans who have lost their mothers to poachers have increased dramatically. #STROOPfilm2017 pic.twitter.com/Csg5Yg7dGQ

— Bonné de Bod (@Bonne_de_Bod) January 11, 2017
MORE
Thula Thula Rhino Orphanage
www.facebook.com/rhinoorphanage/
Stroop
www.facebook.com/stroopdiefilm/
OSCAP
www.facebook.com/groups/OSCAP/