Flare ups continued through the night at the #Houtbay Fire in the Western Cape, South Africa, with ground crew from NCC Environmental Services, SANParks – Table Mountain National Park and Volunteer Wildfire Services working throughout the night in an attempt to secure the left and right flanks, according to Working on Fire.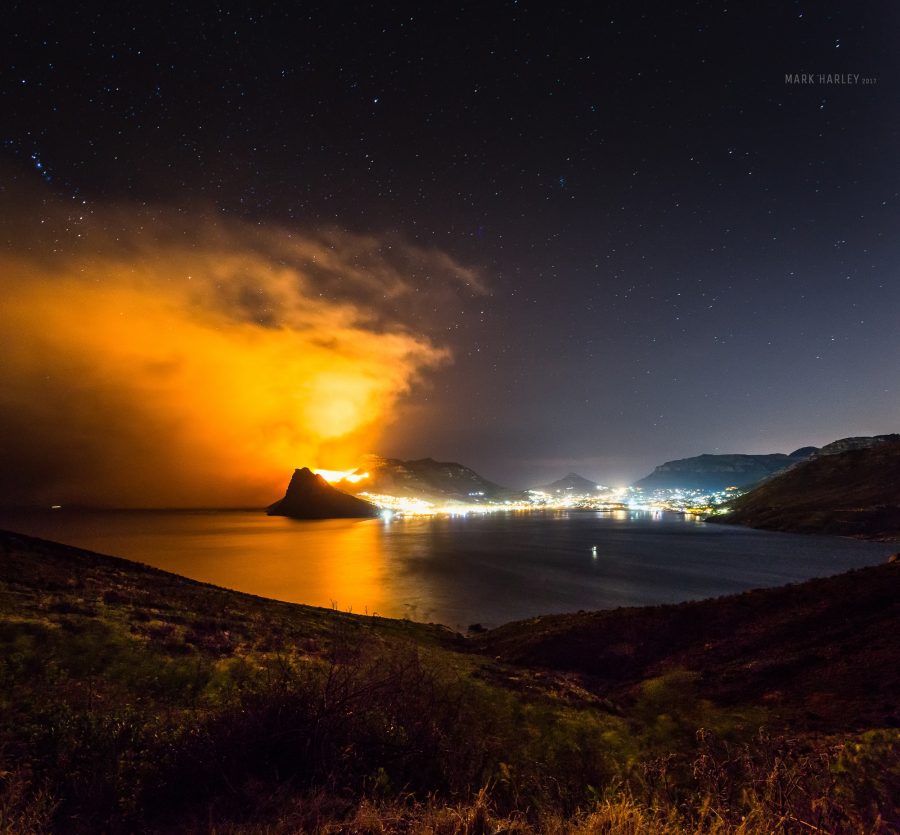 New teams will be sent in this morning to tackle the blaze which has been fanned by the south easter.
Approximately 80 hectares of veld has burnt. Personnel yesterday consisted of 49 Working on Fire (WOF) ground crew, a spotter plane and five helicopters, 32 NCC Environmental Services, various City of Cape Town Fire and Rescue Services and Volunteer Wildfire Services.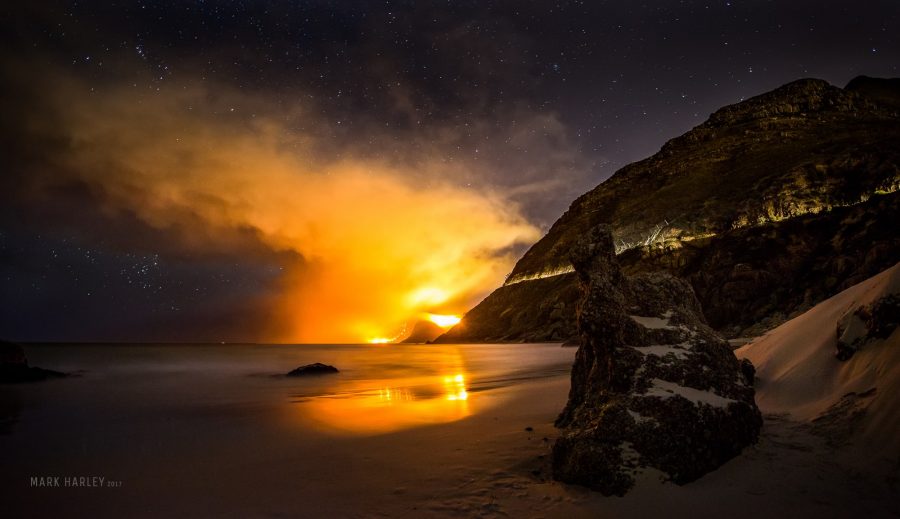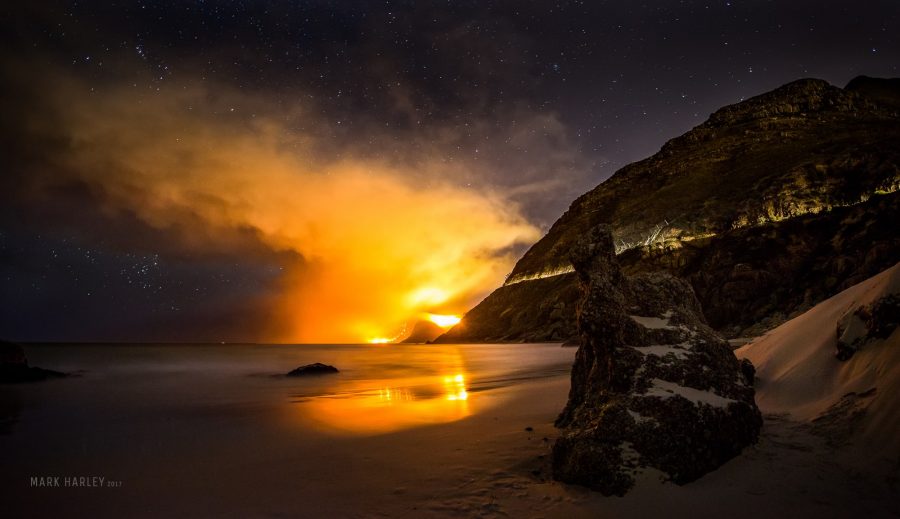 WOF said "It was quite a dynamic fire with a lot of hotspots. Good collaboration from all fire fraternities and the public for their support. Thank you to all involved."
MARK HARLEY captured the above two photos of Karbonkelberg and the Sentinel burning, taken from Chapman's Peak drive.
It has been a busy week so far for VWS volunteers who are made up of people from all walks of life from PhD students and medical doctors to sales staff and retirees. They've been called out to #SimonsbergFire, #KylemoreFire and both #HoutBayFire & #RobertsvleiFire in the past 24 hours.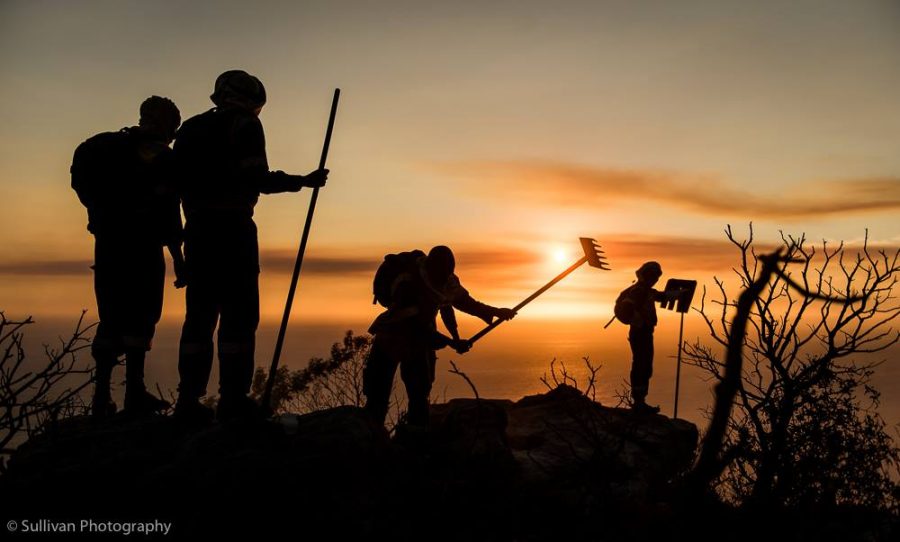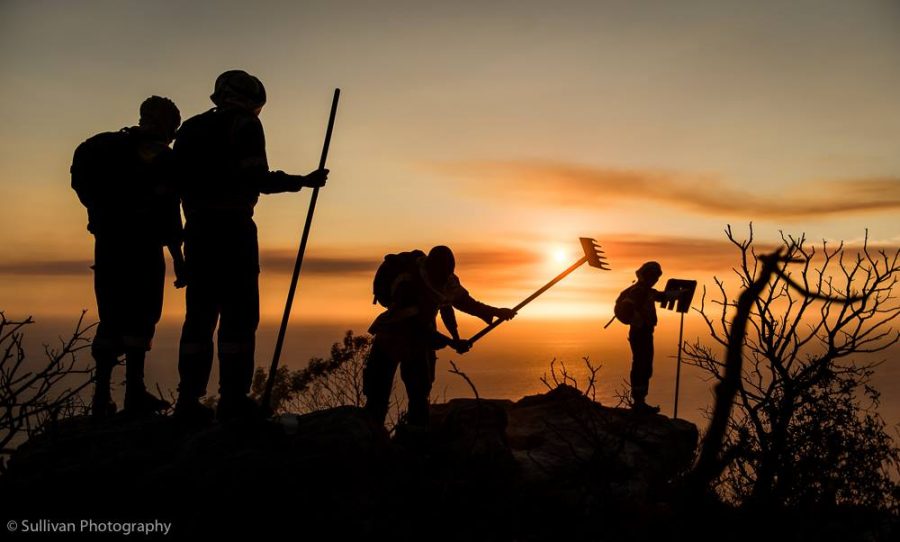 JUSTIN SULLIVAN also spent another 12 hours on the line capturing the action on film, "although this time spent most of it on the sideline watching the choppers bomb the mountain. I very rarely get the chance to see the fire from afar, and it was quite spectacular watching these guys at work!"

All Photos © Mark Harley and Justin Sullivan. Republished here with kind permission.
FOLLOW…
Mark Harley: www.facebook.com/markharleyphotography/
Justin Sullivan: www.facebook.com/SullivanPhotographyZA/
www.twitter.com/Sullphotography
Hout Bay Fire on Twitter
WOF Pilot Fred Viljoen speaks about t/ devastating fire in #Houtbay#ProtectingTheEnvironment #SavingLives @kishugu @CPFPA1 @TableMountainNP pic.twitter.com/Jpsyu2kgc4

— Working on Fire (@wo_fire) February 23, 2017
.@capetown PLS RT! @wo_fire helicopter landing from ?#HoutBayFire? @TableMountainNP now ??✔ cc @abramjee @vwsfires @cityofct #capetown #fire pic.twitter.com/RwMCHx5Fx9

— James Costello (@jamescapetown) February 23, 2017
PLS RT! ? @vwsfires desp needs energy drinks/prepared #food 4 #HoutBayFire #volunteer heroes➡drop at Newlands➡0216897438 ?✔ #capetown #fire pic.twitter.com/kvpTbUK00e

— James Costello (@jamescapetown) February 22, 2017
#Houtbay Fire
It's going to be a long night
22 WOF Firefighters arrive to monitor t/ line & mop up the areas burnt #ProtectingTheEnvironment pic.twitter.com/lstiyXKs0Q

— Working on Fire (@wo_fire) February 22, 2017