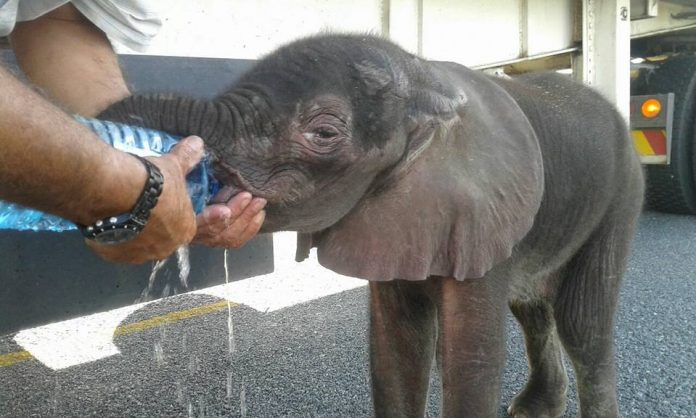 Thanks to fate, three men from AfriAg – travelling to Botswana in a truck – were able to rescue a tiny baby elephant that would probably have otherwise died…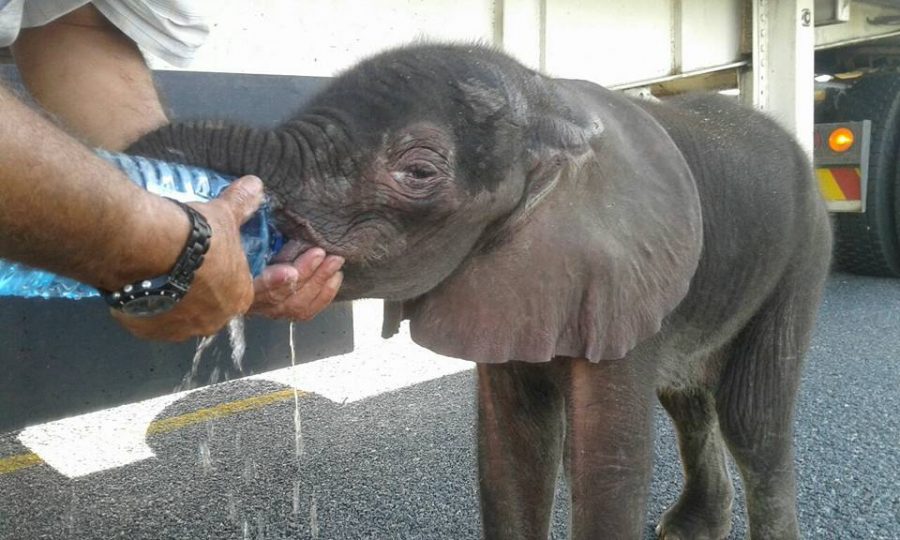 The truckers were forced to stop on their way to Nata because a bridge had washed away. Whilst waiting for the bridge to be fixed… the little elephant appeared; and the men realised it was dehydrated, according to a post by Global March for Elephants and Rhinos.
Global March said: "Thank you to these compassionate men who stopped and helped this 3 week old orphaned baby elephant." (It's not certain whether the elephant was orphaned actually… or just abandoned by its herd.)
Photos and video of the rescue were uploaded a couple of days ago by Chantelle Beyleveld who wrote: "Afriag manne hou naam hoog. Red 3 weke oue olifant sonder ma. Hy gaan veilig na Sands op Nata vir Rescue diere. Well done..Carlos and Johan Groenewald and Dave.. " (Afriag men hold their name high. They saved a 3 week old elephant without its mother. He will be safe at the Elephant Sands Animal Rescue in Nata.)
Fortunately having their truck, the men were able to take the little elephant to the closest sanctuary. Apparently they did first search for the calf's herd but couldn't find it. Perhaps the little elephant had got separated from its mother after the recent floods.
In a separate video – posted by "It's a Beautiful World" – one can see just how easy it is for a baby elephant to be washed away by the river currents. In this video however, the lucky little elephant was rescued by the herd. See below.
Watch as humans rescue elephant calf
Watch as elephant herd rescue baby calf in river