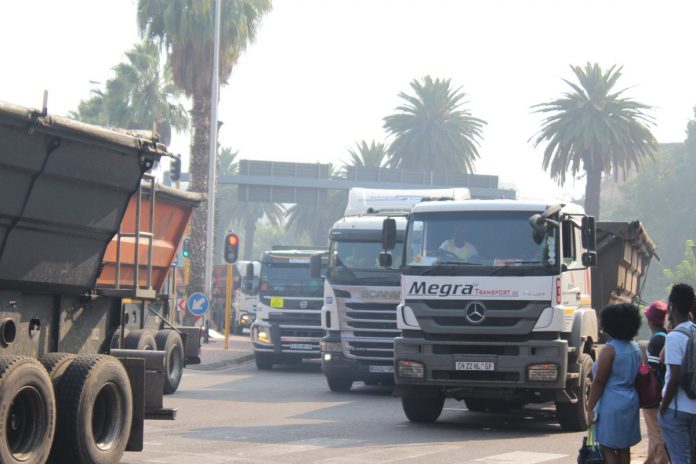 Traffic in and around Pretoria, South Africa, ground to a virtual halt this morning as truck drivers made their way to Marabastad, ahead of a protest march to the Union Buildings.
The truckers, reportedly contracted to Eskom to carry coal, are protesting against the implementation of renewable energy projects and requesting it be slowed down.
Eskom spokesperson Khulu Phasiwe said the protest is against the power utility's directive to use less coal… as this would affect the truck drivers' livelihoods.
Phasiwe told local press that Eskom has been directed by the South African government to reduce its greenhouse gas emissions. Eskom will be closing down at least four of its coal-powered power stations.
The drivers inadvertently blocked the CBD and several major highways, including the R21, N4, N12 and N1, as they made their way to the meeting place at Marabastad. Many were to be bussed closer to the Union Buildings to hand over their memorandum.
According to some reports on Twitter, the Traffic Authority has apologised to motorists and said action will be taken against the organisers, believed to be Coal Transportation Forum. They said in a statement that they organised the protest in response to government's commitment to renewable energy which they believe will lead to crippling job losses in the sector. The convoy is currently on its way to the Union Buildings.
#TruckDriverProtest in Pretoria is en route the Union Buildings #truckstrike pic.twitter.com/bsBt3Mm9Ud

— Boikhutso (@ThatDudeBeeKay) March 1, 2017
More than 150 truck drivers to descend on Union Buildings #TruckStrike https://t.co/y59fudMOFY pic.twitter.com/Nco4J0aFar

— Suné du Toit (@SuneDT) March 1, 2017
#Truckprotest They will make their way to the Union Buildings in PTA to hand over their memorandum @News24 pic.twitter.com/CEzEr4neCx

— Nation Nyoka* (@Naewizzle) March 1, 2017
Traffic moving at a snails pace. These coal trucks are heading to the starting point of their convoy to the Union Buildings. #Truckstrike pic.twitter.com/iJerAzLm6c

— Lirandzu Themba (@LirandzuThemba) March 1, 2017
Truck drivers on their way to Marabastad to prepare for their march protest to the union buildings. coal to be transported with train. pic.twitter.com/EZ1nulysJw

— THUPETSE LEPHOTO (@SWAGGSTER1993) March 1, 2017
Marabastad-100s of trucks to move to Union Buildings @10. show of extremely good planning. Pretoria will not breath today #TruckStrike pic.twitter.com/SGUejzjAoq

— Ntsandvo (@ntsandvose) March 1, 2017