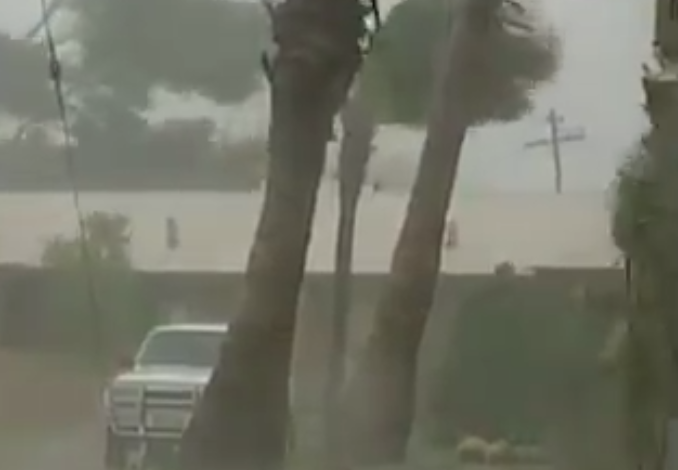 Tropical cyclone Enawo has struck Madagascar, bringing strong winds of 210 km/hour, heavy rain and high seas. Described as a Category 4 Cyclone/Hurricane, Enawo is the most powerful storm to hit Madagascar in at least 13 years.
Cyclone Enawo threatens to bring chaos to the capital. The north of the island, which lies 400 km from mainland Africa, is on "red alert" and the BBC reports that further life-threatening impacts are expected as it moves inland, particularly because of the heavy rains and possible landslides.
The South African Weather Service announced at noon today: "Intense Tropical Cyclone Enawo (whose name originated from Malawi) has just made landfall over the north-eastern parts of Madagascar, near the town of Antalaha. It was accompanied by maximum average wind speeds of about 110kt (220 km/h) and torrential rains.
"It is then expected that Enawo will follow a track southwards, through the drought-stricken island state during the next few days. Heavy rains are expected over most of the island, especially over the eastern parts where there are mountains running parallel to the coast. Even though the winds are expected to moderate upon landfall, gale force (atleast 65km/h) are expected to persist along the island's east coast until Friday. Enawo is then expected to move back over open water on Friday around the south-east of Madagascar.
"The storm's path thereafter has now become clearer and is expected to continue on a southward track into the higher latitudes, staying well clear of South Africa and Mozambique.
"The South African Weather Service can thus, at this stage, state with high confidence that there is no need for South Africans to be in any way concerned about this system."
Tropical Cyclone Enawo compilation made by Storm Report SA. @venter_annette @eNCAWeather @JoelGuy_ @VanDamCNN @peoples_weather @huisgenoot pic.twitter.com/sNYDS1Bfad

— Storm Report SA (@StormReportSA1) March 7, 2017
Tropical Cyclone #Enawo landfall over Madgascar, while another area of convection organizes to the east pic.twitter.com/hjLEYWEMkI

— NWS OPC (@NWSOPC) March 7, 2017
Cyclone #Enawo strike Northern East Madagascar with a very intense Category 4 hurricane pic.twitter.com/m49ILQYFVN

— Joint Cyclone Center (@JointCyclone) March 7, 2017
Cyclone #Enawo make landfall Sambava with heavy rain, very strong winds and flooding rain with a intense Cat 4 hurricane. Very dangerous! pic.twitter.com/eu2iDCAjxl

— Joint Cyclone Center (@JointCyclone) March 7, 2017
Alors que le cyclone #Enawo frappe actuellement #Madagascar, nous continuons de penser et de prier pour la protection des populations. pic.twitter.com/hfRjWOHNMz

— Medair (FR) (@MedairFR) March 7, 2017