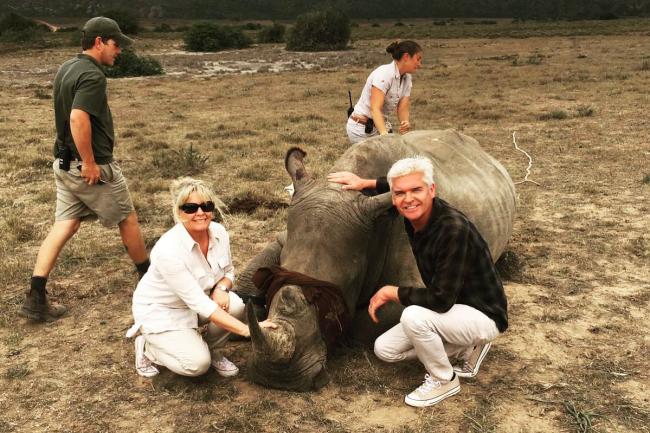 In a coincidentally well-timed documentary, tonight's broadcast of Schofield's South African Adventure in the UK (ITV 20h00), shows well known British presenter Phillip Schofield, and his wife Stephanie, on safari in South Africa tagging a rhino called Themba at a local game reserve as part of a programme to protect the species.
As the whole world has become even more aware of the ruthless poaching of rhino – with the killing of a rhino, for its horns, in a French zoo this week – the programme couldn't come at a better time.
Well known South African wildlife vet, Dr William Fowlds, encouraged those in the UK to tune in for the full experience as the episode includes coverage of when Schofield "joined me on a rhino procedure… and the effect it had on him."
Schofield (54) and his wife both shed a tear while filming this episode. Schofield said his was "a discreet tear" as he helped tranquillise a pregnant white rhino.
He said: "What got to me was that this rhino, Temba, had a female companion that we had to keep at a distance while the vet darted her. The entire time Temba was unconscious, her friend was stock still, watching, and as soon as we were back in the jeep, she ran over to check on her. The love that she showed her friend was extraordinary and we were all in tears."
Schofield said he was overcome by the devastating plight of rhino as they face extinction, with poachers making a fortune selling their horn in parts of Asia.
He said: "If there was ever a dumber, more stupid thing for humans to do, it's to assume that this horn made of hair and keratin is good for your health."
Steph also cries during the doc – but hers are happy tears… as she views a giraffe for the very first time in the wild.
One Scottish reviewer chose the show as his pick for tonight, saying that after some of the more "horrible" stories coming out of SA recently, he enjoyed the "sunsets and giraffes" and that "the country does have such wonders. Why deny it? My conclusion is: let the news report the horror and let nice Philip Schofield bring you the beauty."
This is the final instalment of the series which has already featured scenes of Schofield fulfilling his bucket list dream to cage dive with white sharks, and abseil down Table Mountain.
Watch trailer of Phillip Schofield's South African Adventure
The moment, last year, when Phillip Schofield revealed his Bucket List dream to visit South Africa and go in a shark cage…
Schofield's South African gifts for This Morning co-presenter Holly Willoughby
Off topic… but classic – Phillip and Holly's Funniest Moments