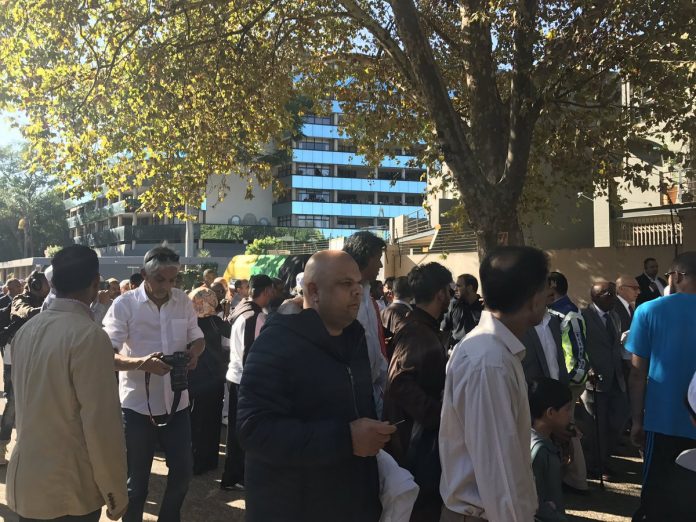 President Jacob Zuma has postponed the start of today's Cabinet meeting to later this afternoon to enable parliamentary members to attend the funeral of ANC struggle stalwart Ahmed Kathrada.
The Presidency has also confirmed that "President Zuma will not attend the funeral and memorial service in compliance with the wishes of the family".
In a statement Wednesday, the South African President again expressed deep sadness and extended his heartfelt condolences to Kathrada's wife, former Public Enterprises Minister Barbara Hogan, and family on the passing of one of the most respected struggle stalwarts and former Member of Parliament.
"The nation has lost one of its valuable and most respected freedom fighters, Isithwalandwe, Mr Ahmed Mohamed Kathrada, one of the accused of the famous Rivonia Treason Trial.
"The passing of Mr Kathrada is a monumental loss not only to his family but to all South Africans as he was one of the fearless and dedicated architects of the free and democratic South Africa.
"He sacrificed his personal freedom and persevered through hardships for the liberation of all South Africa and to create a democratic, non-racial, peaceful and prosperous South Africa," the President said.
Kathrada served 26 years in prison in which he was held at Robben Island and Pollsmoor Prisons. Following his release in 1989, he was elected to serve as a member of the democratic parliament, representing the governing party.
President Zuma has declared a special official funeral and directed that flags be flown at half-mast until the evening of the memorial service.
Kathrada will be laid to rest today, 29 Mar 2017 at West Park Cemetery in Johannesburg.
An official memorial service is being organised by government led by the Presidency, to pay tribute to the struggle hero. Deputy President Cyril Ramaphosa will lead the government delegation to the funeral and memorial service.
Kathrada's coffin carried to the mosque where it will leave for the cemetery. Trevor Manuel and Andrew Mlangeni leading #KathradaFuneral pic.twitter.com/Ke2Haqb95f

— Sikelelwa Mdingi (@SikiGeyaMdingi) March 29, 2017
Trying to gatecrash the #KathradaFuneral. Hoping no one notices him. pic.twitter.com/HUjy1RzvQL

— tebz (@tololodj) March 29, 2017
Domestic worker Agnes Phuthi watches #KathradaFuneral cars as they drive pass 2nd Avenue heading to West Park Cemetery. #AhmedKathrada pic.twitter.com/RmMMmUdI9Y

— Bafana Nzimande (@nzimandebafana) March 29, 2017