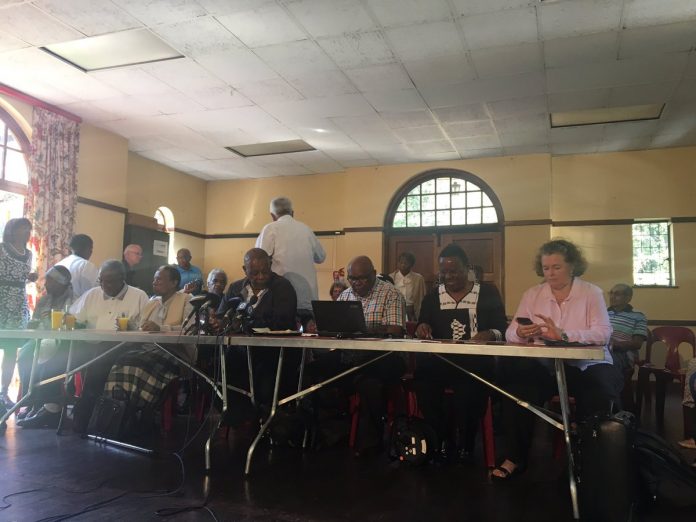 ANC stalwarts revealed at a press briefing today that they have called on the African National Congress to fire its President, Jacob Zuma… in a move, they say, is long overdue.
They said the tipping point was when Zuma was not welcome at fellow struggle stalwart Ahmed Kathrada's funeral last week. The ANC, they say, is in "dire straits" and "deep crisis".
The veterans said Zuma's Cabinet Reshuffle had also crossed the line, when Zuma became the first ANC president to implement the reshuffle without consulting any of the party's top office bearers.
Sheryl Carolus said: "No leader makes such decisions alone. He consulted somewhere. No president in the ANC has done this, he acts like he is a law unto himself and that he is fully entitled to defy the organisation."
Others in the group, aside from Carolus, included veterans and stalwarts such as Andrew Mlangni, Ben Turok, Frank Chikane, Gertrude Shope and Siphiwe Nyanda.
The group said the ANC should go ahead and "do the right thing now" rather than waiting until the Motion of No Confidence vote in Parliament.
#ANCStalwarts about to brief media about recent developments in the country pic.twitter.com/xozm2VzHfb

— African Child (@ZikhonaTshona) April 4, 2017
Zuma probably watching all this press conferences like "Hehehehe,a cat has ninety eleventy seventy lives,I'll survive" #Cosatu #ANCstalwarts pic.twitter.com/6L7awiEH82

— Sundowns_Fanatic ⭐ (@Solomon_Madube) April 4, 2017