Several marches will take place across South Africa on Friday 7 April 2017 as citizens stand up together to call for the ANC to recall President Jacob Zuma.
The DA is hosting the following marches for all South Africans, of whatever political persuasion…
FRIDAY 7 April 2017:
Gauteng – JOBURG: Meet at Westgate Transport Hub*, Anderson Street, Johannesburg – 10:00 (march to Mary Fitzgerald Square in downtown Joburg). Various political parties, Churches and trade unions are uniting for this march.
KwaZulu Natal – DURBAN: Circus Site, Corner of Argyle and the M4, Durban – 09:00. Other political parties, NGOs and civil society will also be joining.
Western Cape – CAPE TOWN: Cape Town City Hall – 11:30
Free State – BLOEMFONTEIN: Hoffman Square, Mangaung, 11h30 or Welkom Municipal Offices – 10:00
North West – MATLOSANA: Matlosana Stadium –  10:00
Northern Cape – KIMBERLEY: Perseverance College, Kimberley – 09:30
Mpumalanga – NELSPRUIT: Nelspruit Primary School – 11:00
*If you're trying to find the Westgate Transport Hub – here's a screenshot from a map: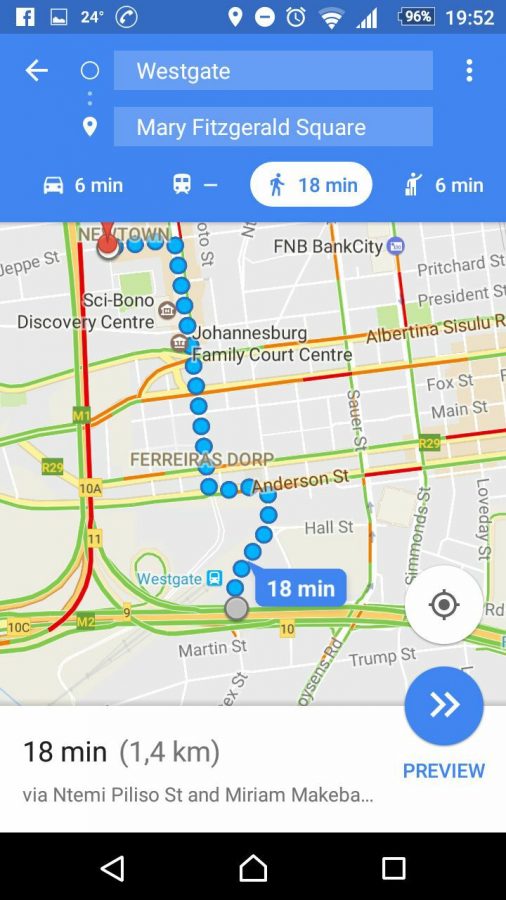 Local political parties in the Eastern Cape:
MOSSEL BAY

– march from the Town Hall to the Point area – start at 08:15
Non-political party match and demonstration:
PORT ALFRED – outside the Magistrate's Office in Pascoe Crescent at

10h00

on Friday, 7th April 2017
OUTA, in collaboration with other civil society organisations, is encouraging the following:
PRETORIA – March Church Square to Union Building, gather from 10am, march at midday. Save SA and other organisations are also part of this.
CAPE TOWN – gather outside Parliament with several civil society organisations from midday, or join other marches
All Other Cities & Towns – gather at City, Town Halls or Community Centres from midday, or join other marches
A collaboration of SA 1st Forum, Save South Africa, CASAC, Ndifuna Ukwazi, Right to Know, S27, Reclaim the City, TAC, Social Justice Coalition, faith organisations and many other groups, is organising the following:
FRIDAY (7 April 2017) from 10am in Cape Town
Human chain along key main roads into the Cape Town CBD.

Along the main rd from Simonstown into the Cape Town CBD.
Along Voortrekker rd from Bellville into the Cape Town CBD.
Along the west coast road into Marine Parade Drive into the Cape Town CBD from Atlantis
Along Jakes Gerwel drive down Kipfontein road into the Mowbray Main road from Mitchell's Plain
(The group says: if you are not along any of these routes, please try and get to it or start a human chain within your community).

People can then join a "concerned civil society" march that will start at 12pm from Kaizergracht Street to the gates of Parliament.
The group suggests that people wear white or gear featuring the South African flag.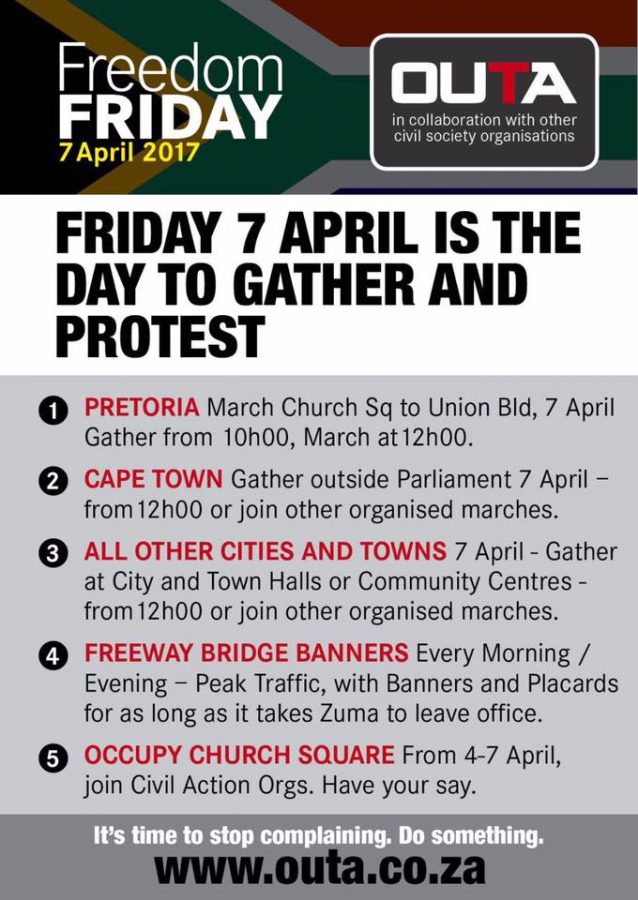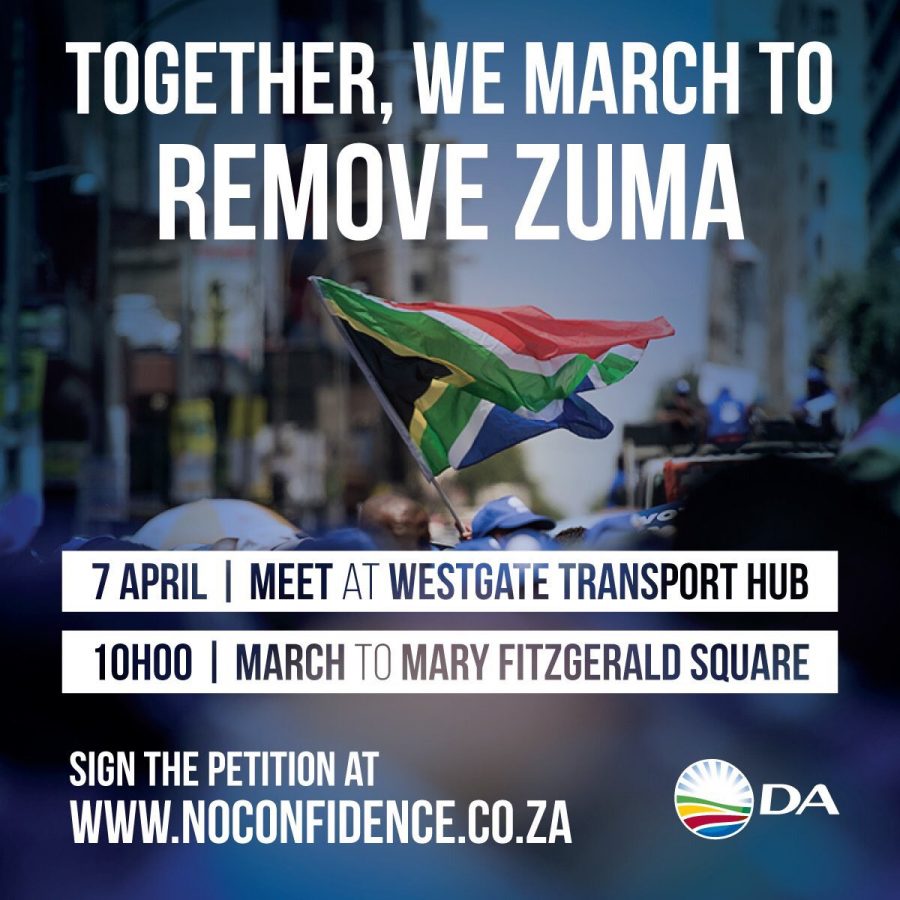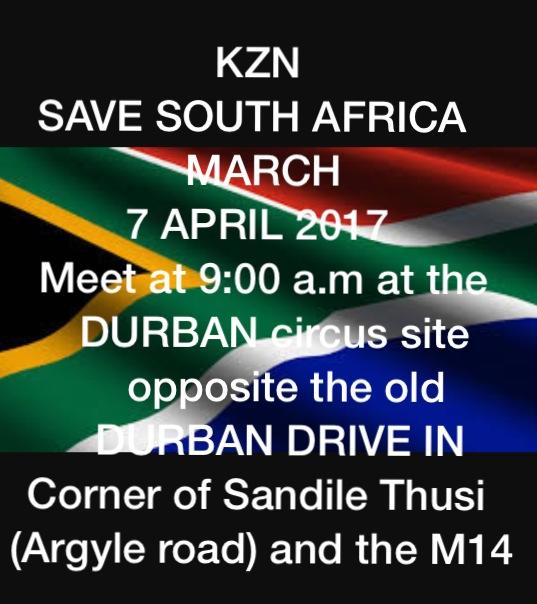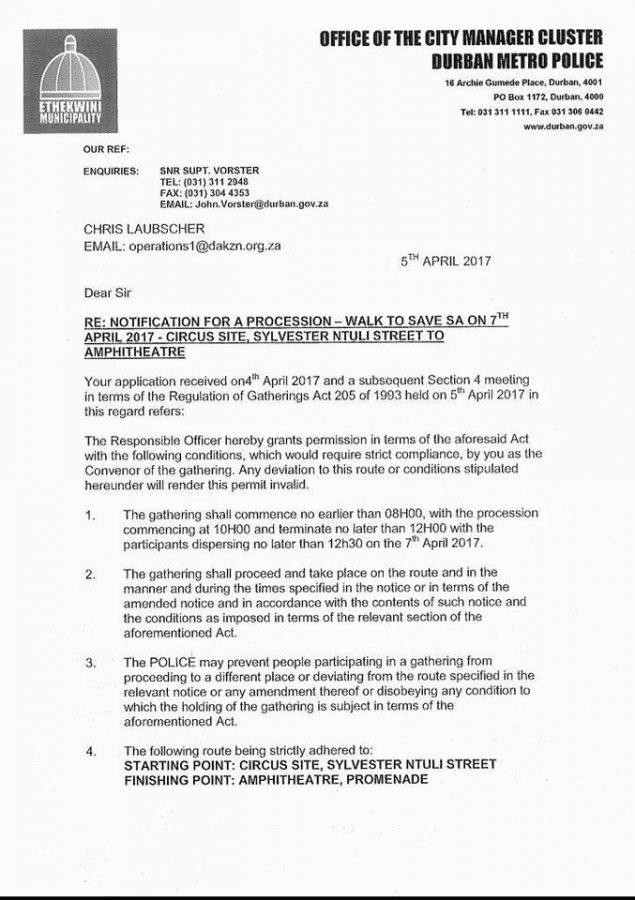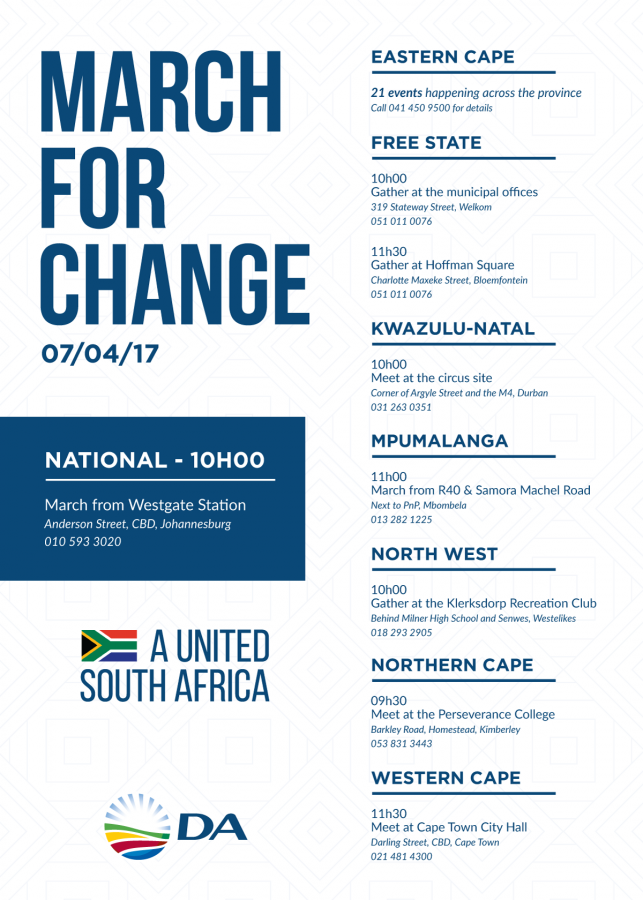 #SaveSA assures the #PeoplesMarch is not an elitist march it's for everyone & not based on colour or class. pic.twitter.com/wpzSThnHbM

— Lirandzu Themba (@LirandzuThemba) April 5, 2017