No matter how tough things get for the Wilkinson family… they continue to find a way to encourage good in this tumultuous time in South Africa. Their #ThePlatterProject has launched its first live auction… with ALL FUNDS being donated to very good causes.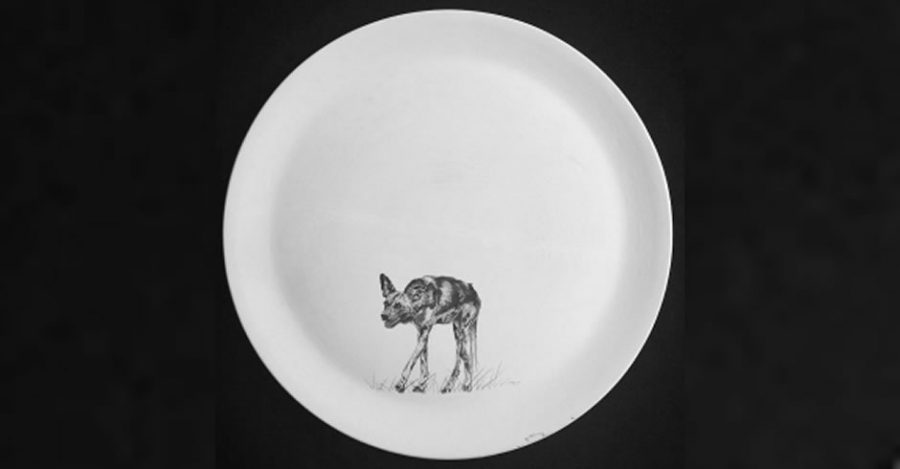 Regular SAPeople readers will already know the Wilkinson family. Mom Di was diagnosed wiTh end-stage kidney failure in June 2013… and is currently on dialysis three times a week, for five hours at a time.
She desperately needs a life-saving kidney transplant… but with less than 1% of the South African population registered as organ donors, her future is uncertain.
However, refusing to give up on life and motivated by  her passion for Wildlife, she began painting these beautiful platters… the first of which was presented to former Public Protector Thuli Madonsela.
Unbeknown to Di, her children took it upon themselves to set up #ThePlatterProject.
Their aim is two-fold: Firstly to raise funds for children battling chronic illnesses and secondly, for wildlife conservation through the auctioning of her work.
The 'Painted Dog' hand-painted platter – featured above – is the first live auction they're holding. It's a stunning, single limited edition plater. A one-off unique creation. Painstakingly hand painted by Di… it measures 40 cm.
#ThePlatterProject was launched in October 2016 and to date has raised funds for Care For Wild,  Hoedspruit Endangered Species Center, Nkombe Rhino and The Zimbabwean Conservation  Task Force.
All funds raised are donated to charities – in the case of the Painted Doc, 50% of the funds raised will be donated to Painted Dog Conservation (PDC) and 50% to a chosen South African Charity that supports organ donation and other vital work for communities.
The Wilkinson family covers the production costs of all platters.
So not only will the winning bidder have an incredible and one off item, but will also be directly contributing to Painted Dog's frontline conservation activities.
PDC say they are "thrilled to be partnering with Di and her family at #ThePlatterProject in this incredible Painted Dog Platter she has created for us.
"This is a one off piece-a unique and beautiful item-so happy bidding! This Auction is open to anyone across the globe!"
LIVE 'PAINTED DOG' AUCTION: https://www.myminiauction.com/painteddogconservationinc