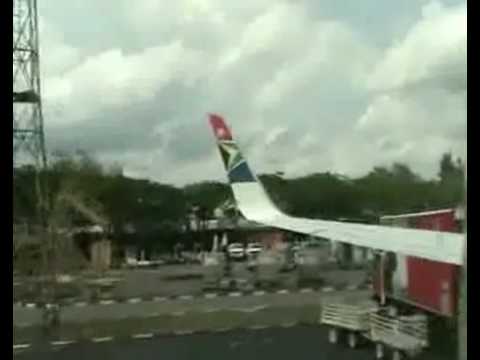 Here's a viral video being shared on social media at the moment of a South African Airways (SAA) aircraft knocking a truck right over at Lusaka's international airport… but this footage was filmed a decade ago!
The video uploader claims  the incident happened at Kenneth Kaunda Airport on 20 April 2017 at 17h30, and it has been shared by several media outlets… but SAPeople found  the same video on Youtube, and the incident actually occurred in 2007.
The Boeing 737-700 was taxiing after landing in Lusaka, when the left wing tip hit and overturned a stationary truck. There were apparently no injuries… but the impact made a hole in the wing. The scene was shot by a passenger onboard the plane.
Watch SAA Incident in 2007 in Lusaka, Zambia
@zarsg lusaka airport 1730 today pic.twitter.com/mitFTAdzy6

— strydom (@thestrydom) April 20, 2017