After the Springbok Sevens not only won the Paris Rugby Sevens Series this weekend – but achieved an unassailable lead so that South Africa will be crowned World Rugby Sevens Series Champions next week, when the series concludes in London – they were joined by Mr Mission Impossible himself – Tom Cruise.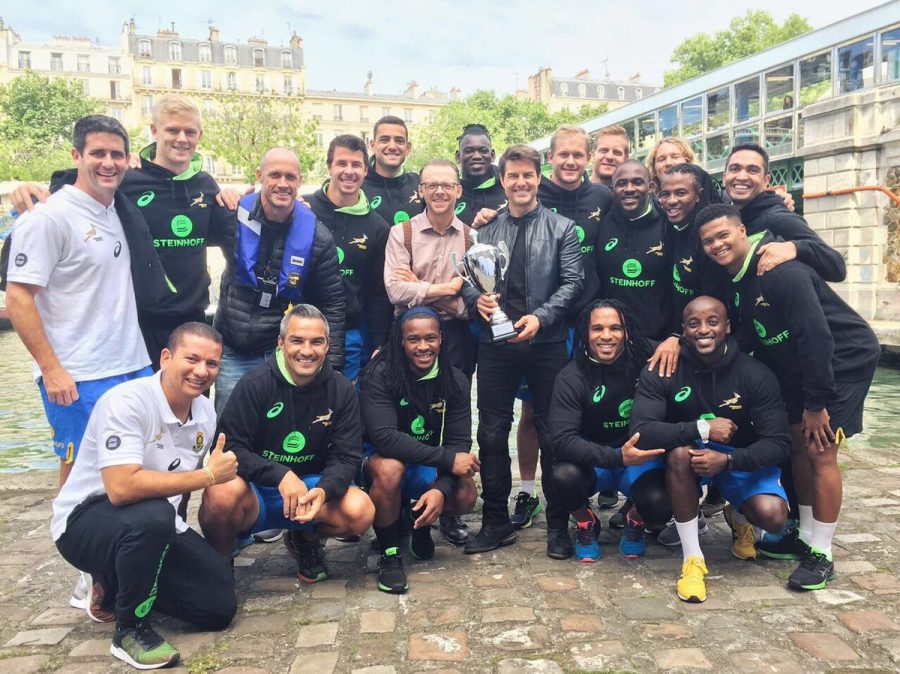 For many years, it had seemed a mission impossible for South Africa to win the world series… after being runners up every year since 2012… but this year they've done it after an awesome season!
After yesterday's incredible achievement, the Blitzbokke were joined by Hollywood star Tom Cruise, his English co-star Simon Pegg… and South African stunt coordinator Wade Eastwood.
The guys are filming the latest 'Mission Impossible' in Paris. This latest offering in the franchise – Mission Impossible 6 – marks 21 years since 54-year-old Cruise filmed his first Mission Impossible at 33!
Springbok Sevens posted two group photos and said: "No Mission Impossible for this team! Not even sharing our @Paris7s glory with @TomCruise @simonpegg @wadeeastwood #BlitzBOOM."
Eastwood – who has won awards for his stunt work – was born and raised in Durban, although his family temporarily moved to the UK during some of his high school years (but the weather lured them back to sunny SA).
Principal photography on Mission Impossible 6 began in August 2014… and has encompassed several locations including Austria, Morocco (where the Marrakesh Highway was closed for 14 days for filming), Monaco, London and now Paris.
Cruise is performing most of the stunts himself, under the guidance of Eastwood… with whom he's worked for years.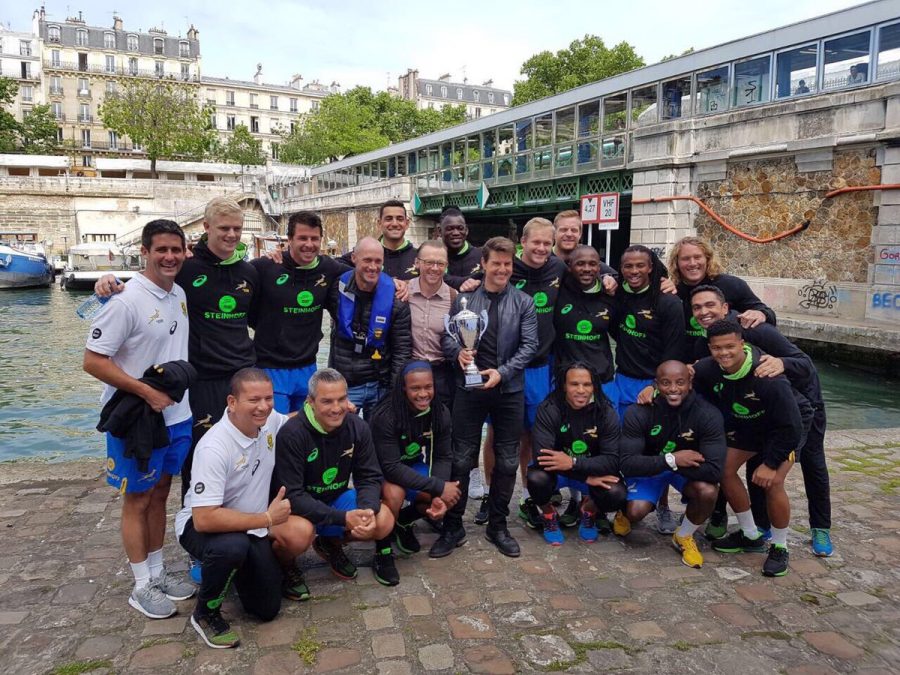 As a teenager, Eastwood represented South Africa in 100m and 200m Athletic sprints, and scooped his first film job at 19 when he was working as a volunteer lifeguard  doing air sea rescue on Durban's beachfront.
To further his career Eastwood moved to the UK, before moving to California (for the outdoor lifestyle, allowing him to surf and do the sports he loved back in SA). He has doubled for Brendan Fraser on The Mummy, Pierce Brosnan in the Bond movies, Daniel Craig on Tomb Raider and for others like Brad Pitt, Arnold Schwarzenegger and Ewan McGregor.
But we bet that meeting his home side team in Paris rates up there as equally exciting as the thrilling scenes this South African expat creates for movie audiences worldwide.
No Mission Impossible for this team! Not even sharing our @Paris7s glory with @TomCruise @simonpegg @wadeeastwood #BlitzBOOM pic.twitter.com/AYLr5oFu0D

— Springbok Sevens (@Blitzboks) May 15, 2017