Just five days after turning 22, Kagiso Rabada shot to the top of the ICC Player Ranking for ODI (One Day International) Bowlers… becoming the youngest to be the world's number one in 19 years!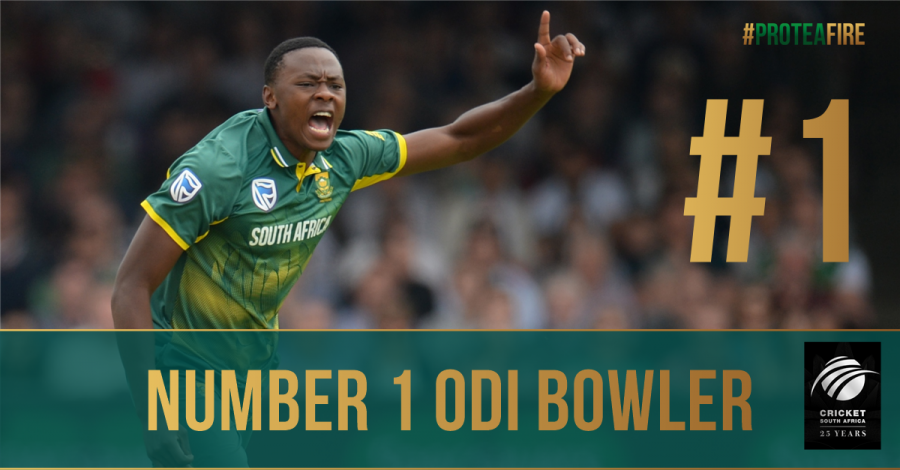 Although top-ranked South Africa lost its three-match series to England 2-1, Rabada's haul of four for 39 in the final match at Lord's, on Monday, helped him finish the series with seven wickets and become the youngest number-one bowler since Pakistan's Saqlain Mushtaq in 1998.
Rabada's performance helped him rise four places to the top spot, displacing his compatriot Imran Tahir whom he leads by two points.
With captain AB de Villiers top-ranked among batsmen, South Africa now has the top two bowlers as well as four players in the top 10 of the ICC Player Rankings for ODI Batsmen – Quinton de Kock (fourth), Faf du Plessis (sixth) and Hashim Amla (10th) being the others.
The intense competition in the individual rankings justifies the tournament's name as players from the eight participating teams feature prominently in it and not much separates the top players in the fray. The top three batsmen – de Villiers, David Warner and Virat Kohli are separated by just 22 points while only 23 points separate the top three bowlers – Rabada, Tahir and Mitchell Starc.
The top five ODI teams are close to each other with South Africa (122), Australia (118), India (117), New Zealand (114) and England (112) all having a lot to play for in the eight-team tournament.
The tournament runs from 1-18 June. With world's number one ODI side – South Africa – boasting both top bowler and top batsman… it's the team to watch! South Africa plays Sri Lanka at The Oval on Saturday.
ICC ODI Team Rankings (as on 30 May, before the ICC Champions Trophy):
Rank Team Points
1. South Africa 122 (-1)
2. Australia 118
3. India 117
4. New Zealand 114
5. England 112 (+2)
6. Bangladesh 93
7. Sri Lanka 93
8. Pakistan 88
9. West Indies 79
10. Afghanistan 52
11. Zimbabwe 46
12. Ireland 41