A South African expat's photo has gone viral around the world… after she snapped a shot of her husband casually mowing the lawn while a gigantic tornado appeared to be heading his way.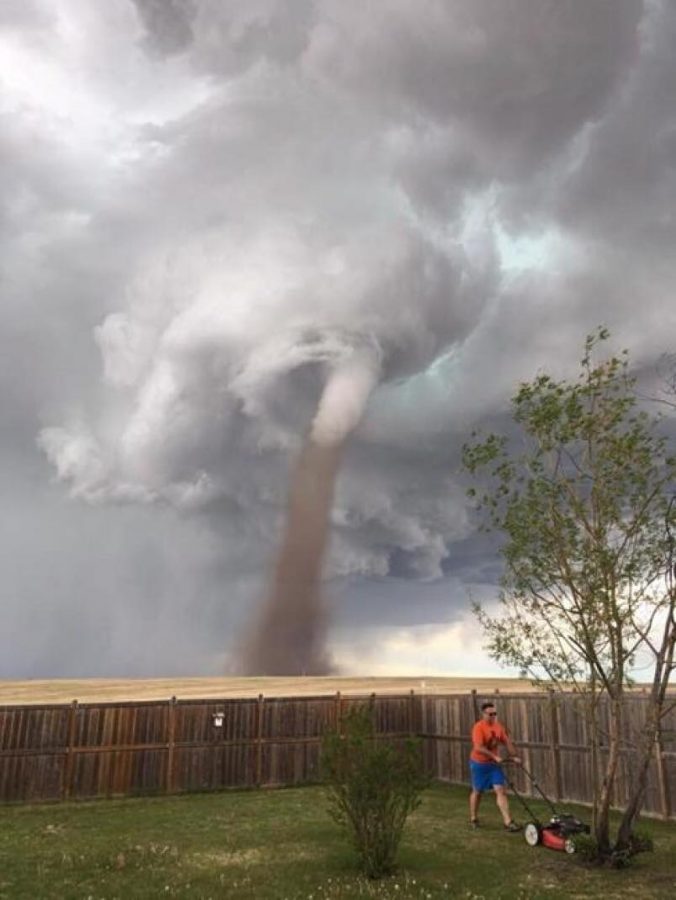 Cecilia Wessels, who now lives in Three Hills, Alberta, Canada, told a local radio station she wasn't actually taking the photo of her husband, but of the tornado to show her family back in South Africa.
Her husband – Theunis – apparently had 'mowing the lawn' down on his To Do List, and didn't want to skip it just because of a looming storm. He told reporters he "was keeping an eye on it". ("It looks much closer if you look in the photo, but it was really far away… Well, not really far, far away, but it was far away from us. I was keeping an eye on it.")
The tornado apparently caused minimal damage… but Cecilia's photo has created quite a storm around the world.
Many headlines have claimed "Only in Canada" and "#CanadiansKickAss". The radio interviewer told Cecilia: "Your husband is the most interesting man in the world." Either that, or he's a typical South African! Definitely no "cissie"!
The radio station says Theunis works as a nutritionist in Airdrie.
Well known South African writer Gus Silber, summed up the photo fantastically with a caption: "Ag, toe maar, Toto, we're not in Kansas anymore." And Gus asked how different The Wizard of Oz would have been if Theunis had played the starring role!
Cecilia said she had been sleeping when her nine-year-old daughter woke her because her dad wouldn't come inside despite the oncoming tornado!
Listen to the Radio interview here.
Man mowing lawn with tornado behind him says he "was keeping an eye on it." https://t.co/iz8fN0bMtT pic.twitter.com/9Lnqb8iViq

— David Nelson (@DavidNelsonNews) June 4, 2017
"I literally took the picture to show my mum and dad the tornado and now everyone is like, 'Why is your husband mowing the lawn?'" 😂😂😂😂 https://t.co/kaQYLWT0cu

— Laura🍫 (@MusicToYoSoul) June 4, 2017