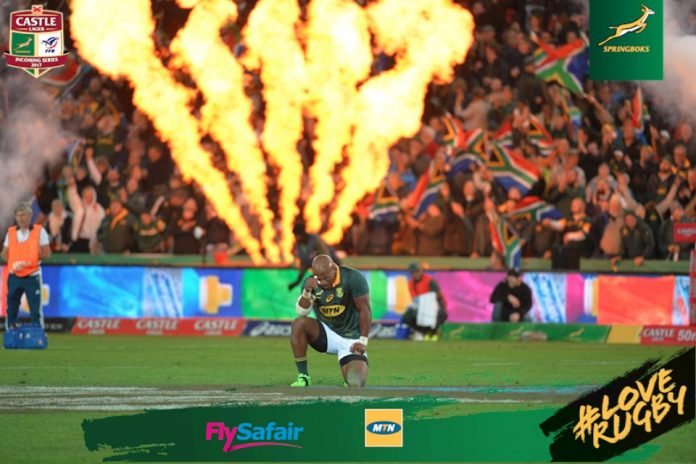 South Africa won the third test against France in the Castle Lager Incoming Series 35-12, following wins in Pretoria and Durban earlier this month… scooping the series 3-0.
Springbok coach, Allister Coetzee, on Saturday praised the effort of his squad and management, but also had a special word of thanks to Springbok fans.
"This was a huge step in the right direction for us," said Coetzee. "Test match rugby is always about winning, not about being pretty. This was what happened tonight. We did not execute as well as we wanted to, but the courage of the team was great."
Coetzee pointed to the tireless defence from the team and the willingness of players to get back to their feet and make another tackle. This was particularly rewarding, especially after they had to regroup after losing Warren Whiteley late in the week due to a groin injury.
"Losing the captain on a Friday, having a stand-in captain and then defend our line and keep France scoreless, that is massive step in the right direction for all of us," Coetzee said.
"We believe that this team consists of a squad of 31 and this was tested this week, but I am happy that our belief was justified. All 31 players worked hard for this result.
"Losing Warren was not easy, but our core leadership group was awesome in the last couple of days. Our defence was not perfect. We had a couple of missed tackles, but the exciting part was how they got back to their feet and into position," said Coetzee.
The coach attributed the change in fortunes to better preparations and the buy-in of all coaches.
"Our preparation time was so much better this year and our training camps were essential. The Plettenberg Bay camp did wonders. We have great rugby players and now that we have a shared value system, we are showing that. The motivation comes from within."
Coetzee had a special message to the Springboks fans as well, thanking them for their support.
"The fans are terrific, we embrace the idea that we need to win all matches, as they expect, although all teams lose from time to time. We cannot stay undefeated forever, but one thing we can promise is an all-out effort.
"We are happy that we could turn things around for them too. We needed to turn this around, we still have a lot to do, but the belief is back in the jersey again. That is a great feeling. A lot of small things combine to make the product better, " Coetzee concluded.
Stand-in Springbok captain, Eben Etzebeth, described today as the best day of his life.
"Welcome to the best day of my life, the last 24 hours were unbelievable" he smiled.
"It was easy to stand in for Warren as we have a strong leadership group, so it was not that hard to slot in. The preparation at the camps was good, we got to know each other. It was probably the best three weeks with the Springboks I have had," Etzebeth said.
"We will enjoy this one, but will start all over again come the Castle Lager Rugby Championship against Argentina."
He also thanked the fans. "We are extremely grateful to the fans, their support was awesome over the last three weeks. From Pretoria onwards, we really enjoyed that support. It is very rewarding."
The Springboks' next test is against Argentina in Port Elizabeth on 19 August, 2017.
Source: SARugby.co.za
Today's #SAvFRA match falls on the 22nd anniversary of the @Springboks 1995 Rugby World Cup win in Johannesburg. #SSRugby pic.twitter.com/xixnrvwCXe

— SuperSport (@SuperSportTV) June 24, 2017
Congratulations to the Man of The Match @SerfonteinJan, sure this will bring a lot of vrede in the hearts of some! pic.twitter.com/nRaSH8OYuK

— South African Rugby (@Springboks) June 24, 2017
Rugby builds character. Bongi Mbonambi gives thanks at the final whistle. #LoveRugby #SA2023 pic.twitter.com/ROHGRzkuRm

— South African Rugby (@Springboks) June 24, 2017
Congratulations to South Africa, beating France 35-12 to clinch @CastleLagerSA 3-0. Well done to all involved @MTNza @ASICS_ZA @FlySafair pic.twitter.com/yJC60VI6WX

— South African Rugby (@Springboks) June 24, 2017