It had to happen. South Africa's legendary 'Van der Merwe' – the butt of many jokes – finally has his own movie!
With Rob van Vuuren in the lead, the film is set on a farm in South Africa; and centres around Van's daughter, Marike (Reine Swart), who returns home from a gap year in England with her new fiancé, George, a British medical student. This sets the scene for all sorts of problems, challenges… and Van jokes!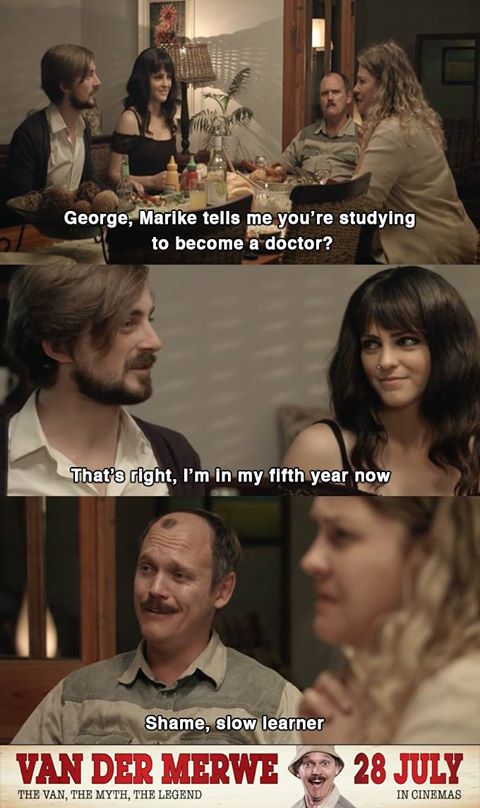 Not only does Van have to come to terms with the fact that his daughter is marrying an Englishman, but he is also caught between a rock and a hard place – his bossy, traditional father, whose approval he so desperately seeks, wants him to end the relationship… but in so doing he would lose his daughter forever.
When the family of the English fiancé arrives on the farm, the fireworks really begin as the clash of English and Afrikaans cultures results in a number of hilarious situations, as we witness some classic Van der Merwe jokes played out in front of our eyes.
"In every country, there is a person who is the butt of all jokes. In Ireland it is Paddy, in Israel it is Hymie, in South Africa, that person is Van der Merwe… this story is about him," says director, producer and screenwriter, Bruce Lawley.
"I wanted to make a film about a single character, like 'Ace Ventura' or 'Zoolander', but with a South African flavour. Van is part of our culture, a character we can all relate to. He has a history and a place in our hearts. Bringing him to life on the big screen is something a lot of people want to see," says Bruce.
Light-hearted, and entertaining, the story is supported by an array of interesting characters that were specifically created to highlight Van's shortcomings. Well-known actress, Chanelle de Jager, plays Van's wife, Suzette, who is determined to save the day, while Ian Roberts can be seen as the overbearing Oupa Van, who is bound to strike a chord with any audience. Other actors include Kurt Darren who makes a cameo appearance as a wedding singer and Barry Hilton plays Freddie, the barman and Van's best friend.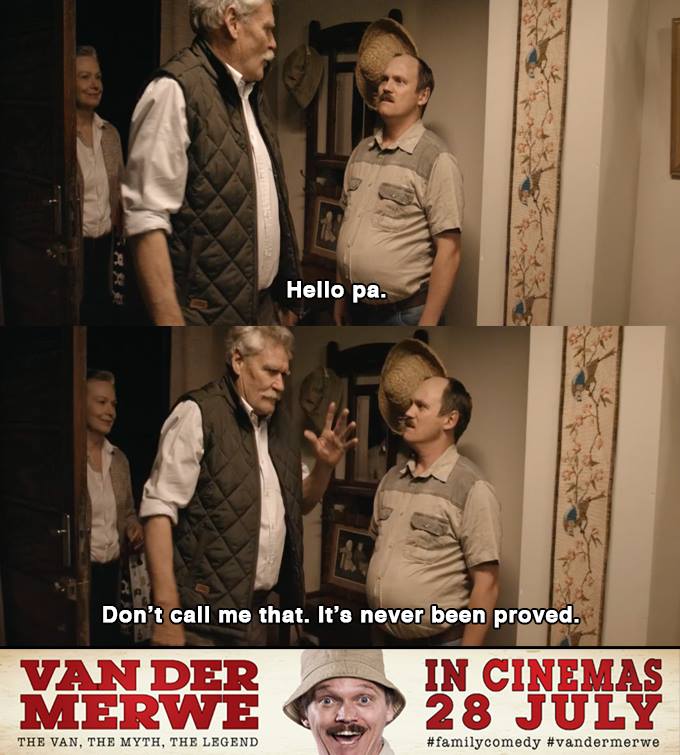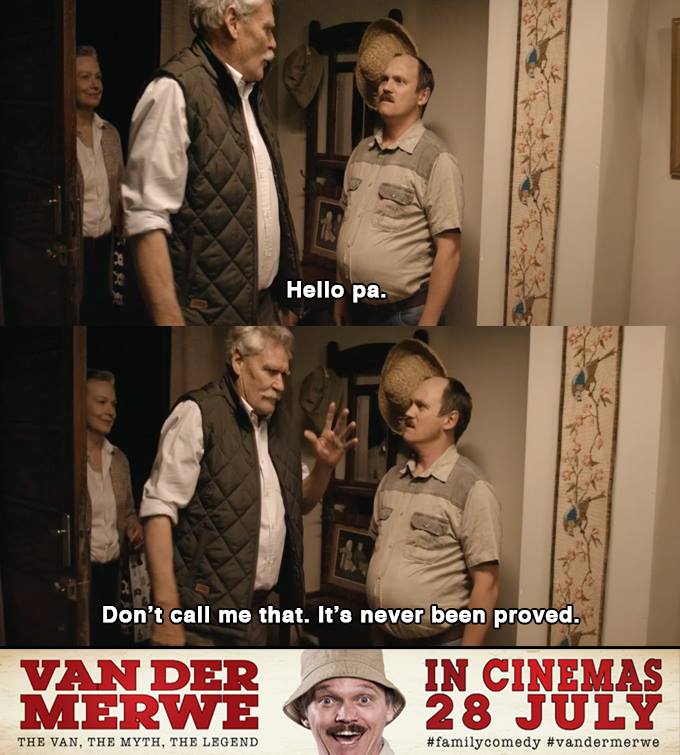 The theme song for Van der Merwe was created by fellow South African icon, Jack Parow (aka Xander Tyler) who shot to fame in 2009 after releasing his debut hit single, Cooler as Ekke, which took the country's music industry by storm… and has been viewed over 3.7-million times on YouTube (watch below).
"He might make mistakes, maar hy bly altyd great… and remember my friend, not all heroes wear capes…" is just one of the catchy lyrics taken from Jack's new hit Super Van.
Jack says he was "super amped" when approached to make the title track… and that the song is his take "on the Van der Merwe we all grew up with. It is fun and humorous and everyone will be able to relate."
Bruce says: "The song was specially written and produced for the movie. It is about Van. The man, the myth, the legend… about things which are important to him."
'Van Der Merwe' is a feel-good family film.
"More than anything, we want viewers to leave cinemas smiling and with the positive message that no matter what your circumstances (or shortcomings) are, things will be okay. But you have to be able to laugh at yourself. You can't take life too seriously. Be true to yourself, keep trying, and keep smiling," Bruce concludes.
Van der Merwe will be released nationwide in cinemas on 28 July 2017.
Watch Van Der Merwe Trailer
Official trailer for VAN DER MERWE… the van, the myth, the legend. In cinemas 28 July. #familycomedy #vandermerwe

Posted by Van der Merwe film on Tuesday, May 16, 2017
Jack Parow – Cooler as Ekke