The horrific incident in which a South African visual artist and writer – Sibahle Steve Nkumbi – was allegedly pushed down the stairs in Amsterdam, by an Airbnb owner, has made headlines around the world – from Washington and London to Amsterdam and Sydney.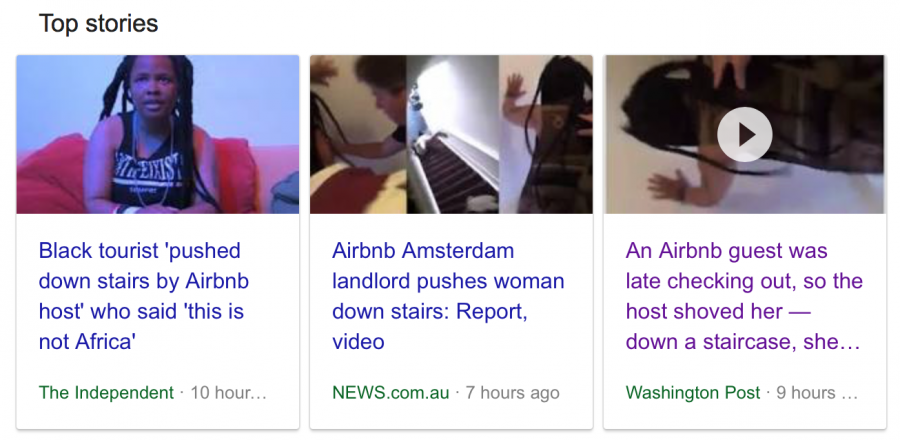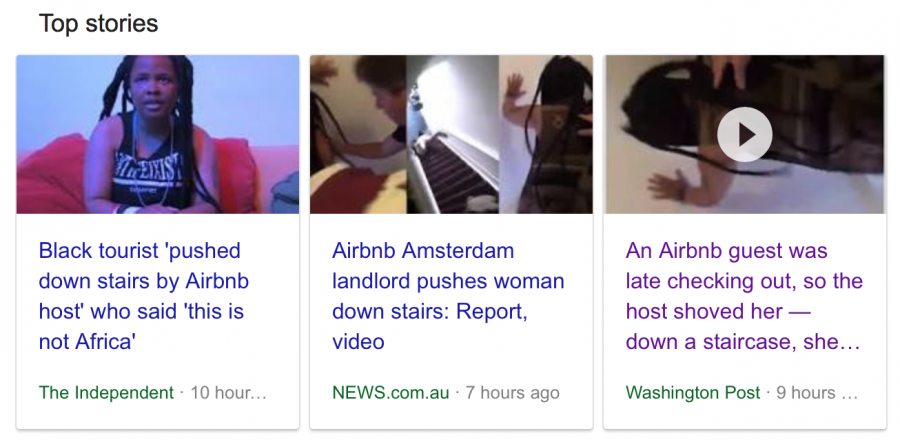 The Dutchman, who was apparently annoyed by the South African group's late check-out, was arrested and later released. Dutch police have told local reporters he now faces possible prosecution. Sibahle says her wish is that justice is served somehow.
Sibahle was knocked unconscious by the fall and rushed to hospital where she was treated, and discharged later on the same day. She suffered concussion, as well as cuts and bruises and a painful big bump to the back of her head.
Speaking in a video interview posted on YouTube, the South African expat – who is currently studying in Bern – said the landlady had rung the bell that morning to tell them it was time to leave, and that she had apologised profusely to her for being late. She says the woman left but "she came back a few minutes later with her husband who was banging the door".
Sibahle said she kept asking him why he was so emotional. In the video she shows the bruises the man left on her upper arms as he held her so tightly. She said she "lost grip" of the wall, and after he allegedly pushed her, she fell down the steep staircase and passed out, waking up in hospital.
She says she remembers him saying things like "you people" and "you need to leave now… this is not Africa".
Local police told DuchNews.nl that the incident "was related to a man and woman and argument about the check-out time of an Airbnb rental. The man is now free. The police are now investigating and the man is a suspect, but the woman is fortunately out of hospital."
According to the Netherlands Broadcast Association (NOS), Airbnb boss Brian Chesky, as well as direcor of diversity David King, will contact Sibahle personally.
King called the treatment "terrible and outrageous" and told NOS: "We wil take the hardest measures we can against such repulsive behavior. That's including a lifelong ban of people from our platform and helping police and justice with their investigation and possible criminal prosecution. Nobody should ever be treated like that, it is unacceptable."
The video was uploaded to Instagram over the weekend by South African photographer, visual activist and founder of Inkanyisa – Zanele Muholi, who currenly has an exhibition on at the Stedelijk Museum in Amsterdam. Sibahle was in town to assist at the exhibition and write about it afterwards.
Zanele wrote: "Amsterdam. One of my friends/ Inkanyiso crew members was pushed downstairs by the Airbnb owner where we stayed. He threw their belongings out … for few mins late checkout. She collapsed and ended up in hospital. She suffered internal injuries and bruises. Am so angry with this I couldn't even sleep. This is racism and can't be justified… violence on black bodies as you can see in this video. #racism #evidence #visualactivism #Amsterdam ???????… #lessthan24hours ago … a young black female pushed and hurt by a white male who screamed in a Dutch language. #genderbasedviolence … ? by #LeratoDumse @dumselerato of @dulovemedia"
The Dutchman can be seen in the video panicking after she falls, and calling for an ambulance.
Sibahle says she has never experienced anything like this before.
"I come from South Africa where racism is so f**ked up… and you would expect that from South Africa… where racism is so visible," she says. She says part of her is so disappointed by the experience she had, and part of her is so angry.
"When will we wake up? People are people…"
Wach Video of South African woman allegedly pushed down stairs by Airbnb owner in Amsterdam:
Watch FULL Interview with Sibahle Nkumbi on the Amsterdam #Airbnb assault