Donations poured in to help young pony Cody, who was burnt by the horrific Knysna fires that ravaged the southern Cape in early June. The fires left at least seven people and tons more animals dead… including Cody's two 'friends', Cheeky and Bella. See UPDATE at bottom.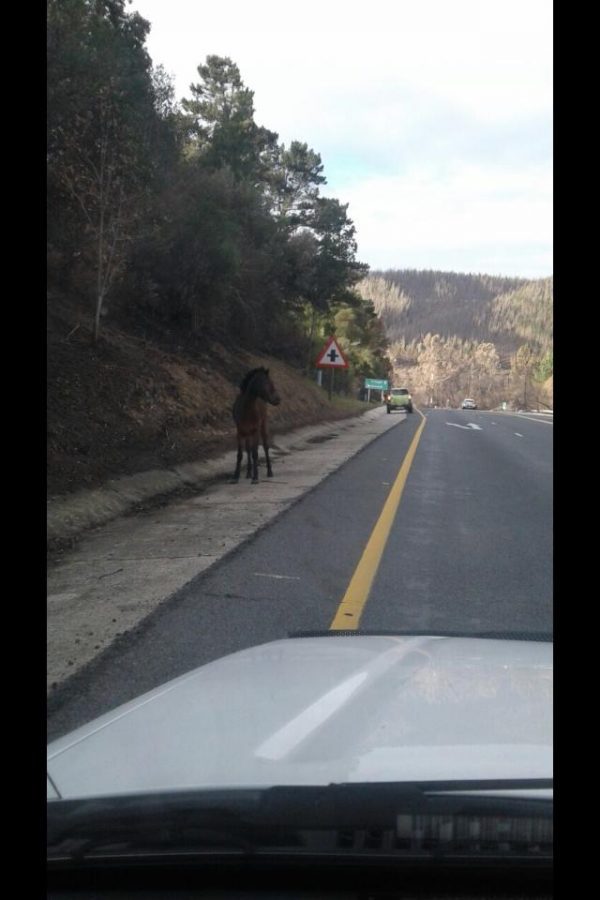 As reported by SAPeople last month, Karen Rademeyer had sent out urgent pleas for people in the area to look out for her five missing ponies… when Cody followed his heart all the way home to her on the N2, on 23 June, 16 days after the shocking fire…
Sadly Cody's face was severely burned and he was struggling to see. Witnesses said it broke their heart watching him stumbling determinedly up the road.
According to the fundraising page, "initially, it was thought that euthanasia may be the only option, but with Cody having survived for 16 days on his own – and having made it all the way home – his human friend Karen wouldn't have it.  With intensive treatment and a great deal of TLC, his recovery to date has been remarkable."
The fundraising page was set up to help cover the costs of treating Cody's burns (as disaster relief funds had come to an end), and to compensate the search team for their time and expenses in searching for Cody's sisters Mila and Deja Vu, who are still unaccounted for and may be injured or hiding due to the trauma of the 7 June fires.
On that day, 14 horses and ponies had to be evacuated from Essendale farm, just outside Knysna.  "Scared by the flames, smoke and chaos, five ponies would not be caught and were therefore, as a last resort, herded across the N2 into a large plantation presumed safe.  Shortly after the farm was evacuated, the wind turned, the fire jumped the N2 and the ponies were lost in the mayhem," says the fundraising page.
Rescue and tracking experts believe there's still hope for the missing two ponies.
The fundraising target was set at R40,000… but by Thursday morning it was already at R79,785, with generous South Africans giving almost double what was asked for!
Karen said last night: "Can't believe the level of support the ponies are getting. Truly amazing!"
This morning she posted the above photo of Deja Vu and said: "We don't give up on family…"
Watch burnt horse Cody finds his way home
UPDATE 31 July 2017
Cody is healing well!!! Karen says: "The boy is feeling good! Has a good few rolls every morning and evening, followed by bucking and cavorting in the garden. My heart skips to his hoof beat!" The search is still on for his missing two friends.

MORE
www.backabuddy.co.za/champion/project/cody-recovery-fund-search-team-fund – this fund has now been closed.