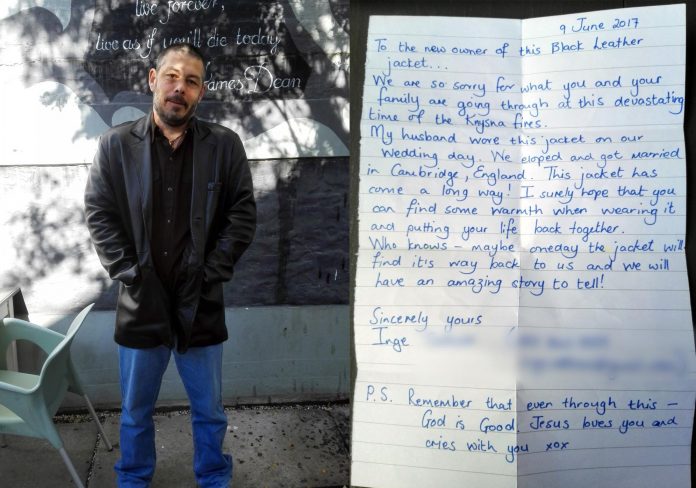 Knysna fire survivor, QUENTIN HAMAN, has been blown away since a simple thank you message he wrote on Facebook – about a stranger's secret note which he found in a donated jacket – has become national news in South Africa, shared in newspapers and on radio stations across the country.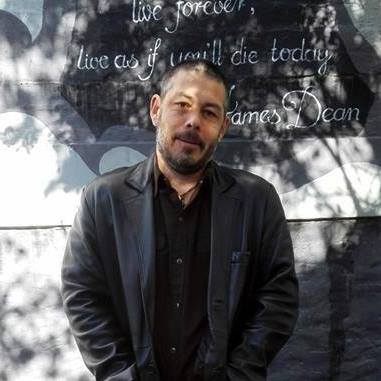 Speaking to SAPeople today, Quentin (or Max) said: "I am not used to this kind of attention but to see the comments of how it has affected so many people in a positive way is just amazing."
It's been a tough seven months for Quentin, who's usually an introvert. Towards the end of last year he suffered the first of two heart attacks. And in early June, he watched helplessly as his home burnt down in the raging Knysna fires. It should have been the worst of times, but a special note from a stranger changed everything.
Here's the story in Quentin's words, posted on Facebook a couple of weeks ago:
"It's amazing what a simple gesture from a complete stranger can do for you when you find yourself in a difficult position in life. It was my 45th birthday on the 7th of June, it would also be the day that I would lose everything to the fires.
"The emotions of it all have been a roller coaster of sadness, anger, disbelief, optimism and so the list continues. As I mentioned in a previous post, I was thankful to receive a whole lot of clothing that was donated by many around SA… but there was one particular item I wanted to share with everyone.
"Two weeks after the fire I was handed a beautiful leather jacket that had been donated and sent down from Pretoria.
"Funny thing was that I had on numerous occasions wanted to get a similar one but never had the opportunity to do so. For me it was like a belated birthday gift.
"What made this jacket even more special though was the note I found inside the pocket of the jacket. The person who had donated the jacket had taken the time to write a small note for the person who would receive the jacket.
"As special as the jacket was, the note was even more special.
"A complete stranger on the opposite end of the country gave me an amazing gift of hope with a few kind words on a piece of paper and a leather jacket to wear.
"I may have lost everything to the fire but not all was lost. I can rebuild, I can start over, I will be fine. Thank you Inge and to everyone else that have given to so many of us who lost everything. It is your generosity that gives us the hope that we will all be ok and will once again flourish as we did before."
In Inge's note she had revealed how special the jacket was – worn by her husband on their wedding day in Cambridge, England. A gift of love, sent with love. Inge wrote: "To the new owner of this black leather jacket… We are so sorry for what you and your family are going through… I surely hope that you can find some warmth when wearing [this leather jacket] and putting your life back together." (Read the full message in the picture below.)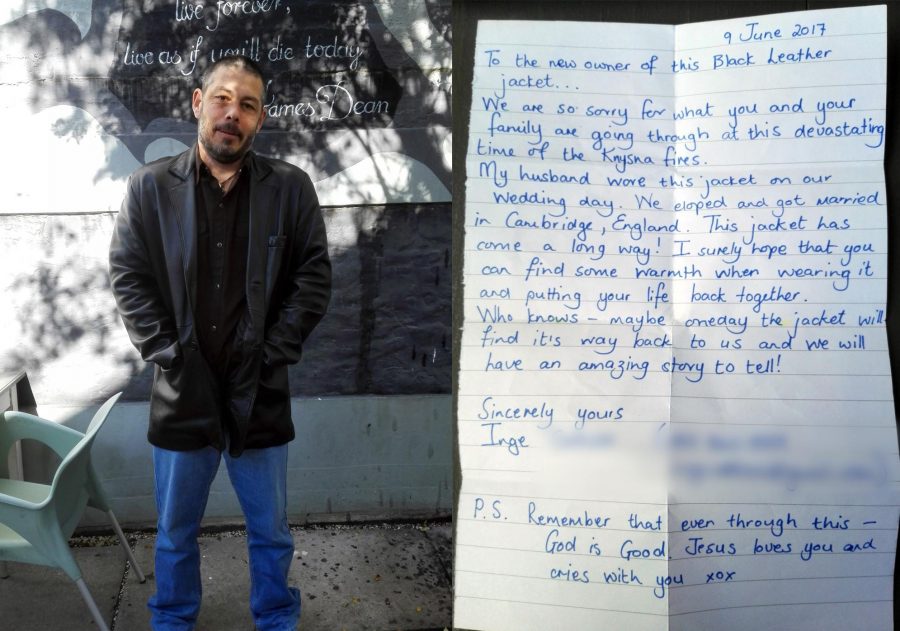 Little did Inge know how much those words would mean to the man who received her donation.
So much so that today, her thoughtfulness has inspired many around the nation; and for Quentin (now known as the #JacketMan), she is no longer a "stranger".
Quentin says he and Inge and Bertos "have been in contact quite a bit. We are all so blown away by how a small thank you post has become national news…"
Read Quentin's full story here… and please consider donating if you are able to.
#ThankYouQuentinForSharingYourStory #ThankYouIngeAndBertosForSharingYourLove #SpecialSAPeople