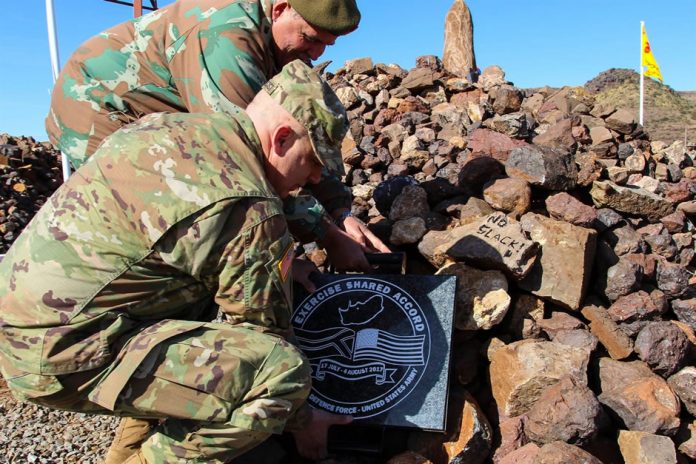 Several South Africans on social media have been sharing an article about President Donald Trump threatening to send 'more troops' to South Africa. (See also: President Donald Trump has NOT spoken out about Farm Murders in South Africa.)
The rumour began on a South African gossip site a few days ago, with a screenshot of a fake Donald Trump tweet declaring that he'd told the SA President, Jacob Zuma, to step down three months ago.
Articles posted on fake news sites claimed that Trump went on to say: "I am sending troops to SA; if Jacob Zuma does not listen to the people and step down, he will end up like Saddam Hussein and Muammar Gaddafi…
"The troops will not leave South Africa until the bad unruly president is removed…"
THANK goodness Donald will save SA ? @sapeople @laura_twiggs @grightford @NickPLynch pic.twitter.com/3einKkrC7T

— MEGAN CARR (@MEGANJEWELSCARR) August 3, 2017
It was all FAKE.
However the US army troops have been in South Africa for the past fortnight; and Zuma and Trump did speak on the phone five months ago… but it was about the US and SA collaborating more on "shared security interests, including the fight against terrorism".
In the past couple of weeks more than 300 US soldiers and marines have joined about 830 South African military members in Lohatla, SA, for Shared Accord 2017 –  a combined, joint command post and field training exercise focused on peacekeeping operations within Africa.
Activities during the fortnight, which ended today, included African Bushcraft lessons on finding water, and mock scenes acted out on how to defuse hostile flare-ups in villages.
For the Americans, it has been a special experience… getting to know the South African culture, which began with a traditional rock piling ceremony.
"It was a unique experience to see how the South African military memorializes their fallen," said the USARAF's Sgt. 1st Class Harold E. Duffy. "It was a good way to integrate us jointly. The South Africans brought us into their customs."
The Americans also took part in Nelson Mandela Day.
Brig. Gen. William J. Prendergast IV, the USARAF deputy commanding general, said: "It's just great to see other cultures and make that bond between two nations."
The US Army says Shared Accord is a key element in a broader series of military-to-military activities to demonstrate the strong partnership between the U.S. and regional African partners.
Soaking up knowledge: #USArmy Soldiers find H20 in dry African region https://t.co/NLt39sMRXI @USArmyAfrica @USAfricaCommand @101stAASLTDIV pic.twitter.com/mursOcKtJv

— Sean Kimmons (@KimmonsARNEWS) July 25, 2017
Wait for it… @101stAASLTDIV Soldiers hit w/ mock IED at #SharedAccord17 exercise. @USArmyAfrica @USAfricaCommand #usarmy #noslack pic.twitter.com/MiiZhx5cXD

— Sean Kimmons (@KimmonsARNEWS) July 28, 2017
Truck drivers w/ @101stAASLTDIV rolling out for a #SharedAccord17 mission. #usarmy @USArmyAfrica @USAfricaCommand #SouthAfrica pic.twitter.com/SvjmeX6Pgv

— Sean Kimmons (@KimmonsARNEWS) July 29, 2017
A @USArmy platoon leader speaks with a village elder played by a South African soldier during training at #SharedAccord17 July 21 pic.twitter.com/YQ2ILjEOf5

— US AFRICOM (@USAfricaCommand) July 27, 2017
#USArmy Soldiers learn how to keep the peace during a mock hostile training exercise in South Africa. Read how! https://t.co/pjiqHNMQMT pic.twitter.com/n1uPz0719G

— U.S. Army (@USArmy) July 27, 2017
Long night as cold, gusty winds moved in at the South African Army Combat Training Center. #usarmy #southafrica #sharedaccord17 pic.twitter.com/E72Ni3EpWj

— Sean Kimmons (@KimmonsARNEWS) July 26, 2017
Bottoms up: @joseibarra247 getting some groundbreaking 360 camera footage of meerkats. #southafrica #sharedaccord17 pic.twitter.com/172INQdCqO

— Sean Kimmons (@KimmonsARNEWS) July 24, 2017