After South Africa's Luvo Manyonga leapt to a gold medal in the men's long jump competition on Saturday – at the World Championships in London – he celebrated with a sand angel… and captivated the hearts of sports fans worldwide.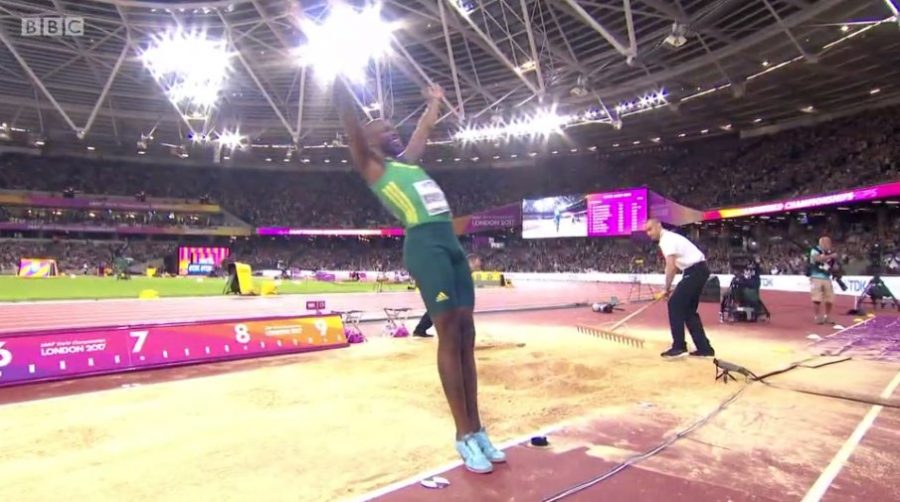 Even the BBC tweeted pics of Manyonga celebrating his 8.48m winning jump and said: "Ever seen a sand-angel? You have now! Luvo Manyonga ???"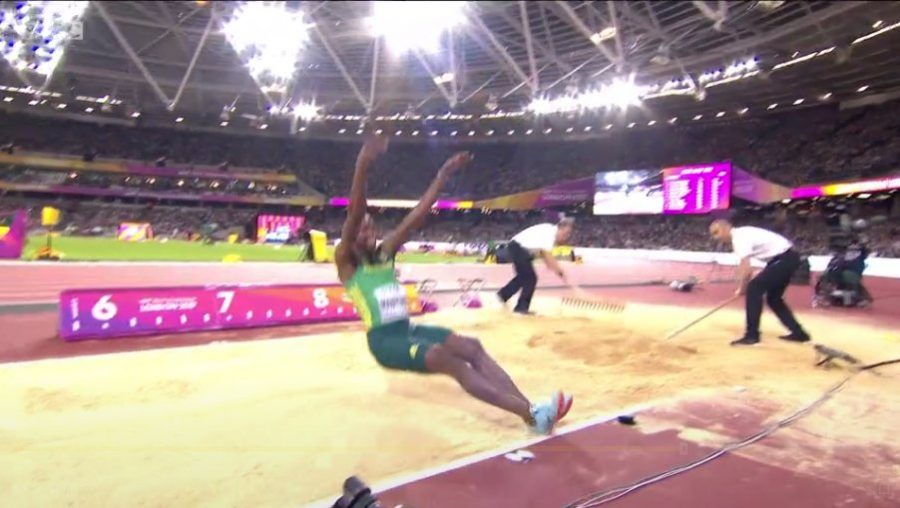 Fans around the world tweeted responses to Manyonga's sand angel, saying things like "Well played, Manyonga. I think doing a sand angel should be compulsory when you win gold at the long jump", "Lovely to see the pure joy of Luvo Manyonga. His sand-angel as the guys were sweeping up was fab ?" and one disgruntled fan said: "Do they have special non-stick sand at sporting events? He just did a sand angel and has no sand on him. I go for a short walk on a beach…"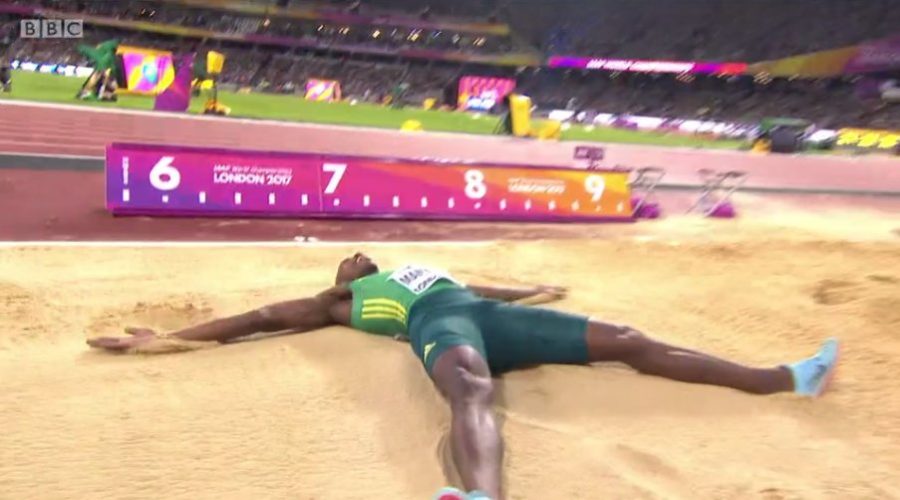 It's of course also Manyonga's true life story of triumphing over an addiction to drugs that also makes him a fan favourite. As SAPeople reported when Manyonga won silver at the Rio Olympics, his life took a turn for the worse after winning long jump gold at the World Junior Championships in Canada back in 2010. He became addicted to recreational drug tik (crystal meth)… and was served with an 18-month ban which put him on the sidelines.
There was also further personal heartache as one of the men who believed in him most ardently, Maties athletics coach Mario Smith, was killed in a car crash in mid 2014. It was Smith who had taken Manyonga under his wings and given him a place to live and put food on his table.
Manyonga has also previously paid credit to SASCOC President, Gideon Sam, for always standing by him.
The BBC said last night: "A lot of talk about the rights and wrongs of drug bans tonight. If you are feeling a little down and deflated, you should take five minutes to read the back story of long jump world champion and reformed crystal meth addict Luvo Manyonga…"
Ever seen a sand-angel?

You have now!

Luvo Manyonga ???
https://t.co/ss8pwsPQpq #London2017 #bbcathletics pic.twitter.com/sRXbxwDuSh

— BBC Sport (@BBCSport) August 5, 2017
Watch the gold-winning jump by Luvo Manyonga in London here:
??LUVO MANYONGA win men's Long Jump Final with 8.48m???#London2017 #IAAFWorldChamps #IAAFWorldChampionships pic.twitter.com/O9yGDIvKzs

— ★Sports4Life★ (@Sports4Life007) August 5, 2017
Now watch the heart-warming 'sand angel' by Luvo Manyonga:
Just exactly how you would feel ?????? #IAAFWorlds Luvo Manyonga ?? pic.twitter.com/RoJpz2OiZq

— PereZa ?✌? (@Watzisnames) August 5, 2017
It's long jump gold for South Africa's Luvo Manyonga …

Who celebrates with a sand angel ?? #London2017 pic.twitter.com/NYfBPR1RBd

— Eurosport UK (@Eurosport_UK) August 5, 2017