Kwzulu-Natal Acting Provincial Commissioner commended police officers for their extreme bravery while under fire in Durban yesterday.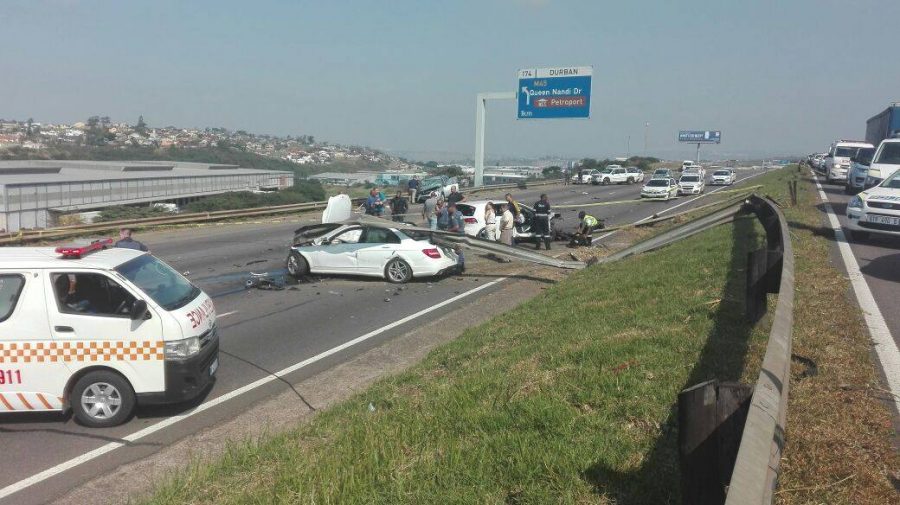 In a statement, South African Police Services (SAPS) said four suspects died and one is in hospital under police guard following a shootout between armed robbers and police in Durban yesterday.
Once the surviving "thug" is discharged from hospital, police say he will be facing a number of charges including attempted murder, possession of property suspected to be stolen as well as possession of unlicensed firearm and ammunition.
"Yesterday, these brave police officers from KwaZulu-Natal received credible intelligence of a planned robbery. The police officers spotted a white Mercedes Benz, with five occupants along the N2 north bound freeway near Queen Nandi Drive.
"Police attempted to stop the said vehicle but the suspects opened fire at the policemen whilst fleeing.
"A shootout ensued and the suspects pushed the police vehicle off the road which resulted in both vehicles landing on the oncoming south bound lane."
Three suspects were fatally wounded in the shootout with police, said SAPS, whilst two were arrested with the help of a police chopper.
Both the arrested suspects were taken to hospital, however one of them subsequently passed away.
Police seized four unlicensed firearms with ammunition, a police radio and housebreaking implements. The vehicle used by the suspects was taken during a robbery at Sydenham last month.
Three police officers were injured as a result of collision and were also taken to hospital for treatment.
The KwaZulu-Natal Acting Provincial Commissioner, Major General Bheki Langa praised the police officers for the swift response and brave actions even when they knew that they could have lost their lives in the process.
"This incident once again serves as a warning to criminals that our police officers will defend themselves when they come under fire whilst executing their duties. Our police officers where extremely professional and the response witnessed yesterday is in line with the back to basics approach adopted by police," he said.
'South African Indians' Posted This Video Filmed by Indian South Africans, of the Durban Shoot Out – not for sensitive viewers!
Charou commentary at the shootout in Durban earlier today.

Posted by South African Indians on Friday, August 4, 2017