Kevin Anderson has become the second South African to reach the US Open semi-finals in the Open era, winning his match against American Sam Querrey at Flushing Meadows.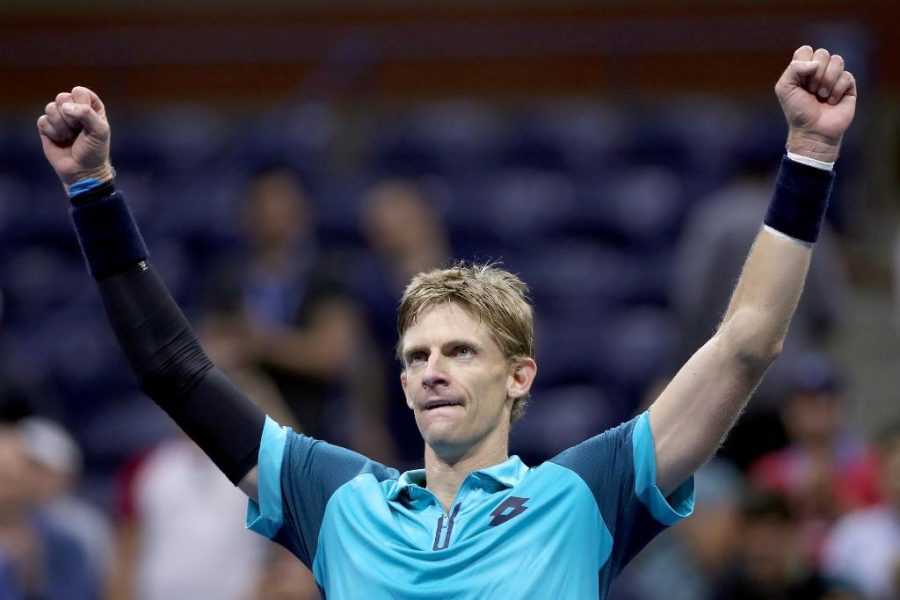 The US Open tweeted that Anderson was the first South African to reach this milestone, but actually he's the second – Johan Kriek played in the 1980 US Open semi-final against Bjorn Borg. (Borg won, and went on to lose against John McEnroe in the final.)
Today's awesome achievement means Kevin has made it through to his first major semi-final, and is also the first South African to reach a Grand Slam semi since 2003 when Wayne Ferreira did so at the Australian Open.
The 31-year-old tweeted afterwards: "Speechless. #usopen #semifinals."
Anderson won 7-6, 6-7, 6-3, 7-6 at the New York venue, in a record-breaking match – the tallest Grand Slam quarter, semi or final in the history of the Open! Anderson is 6'8″ and Querrey 6'6″.
It was an exciting three hour and 26 minute match right from the start – with 28th seed Anderson clawing his way back in the first set from 2-5 down to win it from 17th seed Querrey. The match included 42 aces and three gripping tie-breaks.
Amongst his supporters in the stadium this week are Kevin's wife, dog… and younger brother Greg, who lives nearby in Connecticut, where he works as a tennis academy director. He had dreams of becoming a professional tennis player like his big brother but an injury put an end to that.
Last week Anderson spoke about their special relationship and how "really tough" it was for his brother when his dreams ended, but said they still play casually when he's in town for the US Open – "We grew up together and spent thousands of hours practicing…. He has a great eye for the game and always follows my progress. I value his opinion and input," Anderson said.
The South African expat will come up against Spain's Pablo Carreno Busta, 12th seed, in the semi-finals.
Another South African Kevin – Kevin Curran – won Doubles at the US Open, with American partner Steven Denton, in 1982.
Love having my brother Greg here for these great moments! 🙌 Practice day today preparing to give my all tomorrow 🔜 #usopen #quarterfinals pic.twitter.com/hLMuIWlQ7L

— Kevin Anderson (@KAndersonATP) September 4, 2017
"To play in one of the most famous courts in the world at night & to get through, it feels fantastic."@KAndersonATPhttps://t.co/k2Ti7PexLC pic.twitter.com/bqcJ3ynM8Y

— US Open Tennis (@usopen) September 6, 2017
ICYMI:

WILD exchange at the net between @KAndersonATP and Querrey deep in the 4th set tiebreaker…

What a match.#USOpen pic.twitter.com/2nfkdgr04T

— US Open Tennis (@usopen) September 6, 2017
Massive effort!@KAndersonATP becomes the 1st 🇿🇦 to reach a #USOpen semifinal in the Open era by defeating Querrey 7-6, 6-7, 6-3, 7-6! pic.twitter.com/SwL1zitMHX

— US Open Tennis (@usopen) September 6, 2017