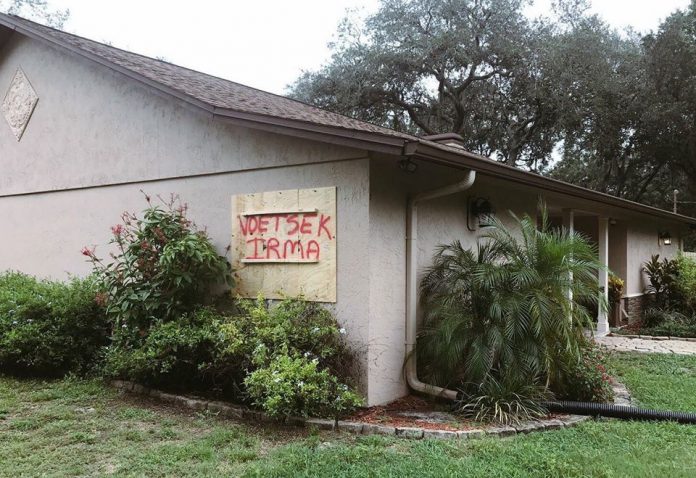 As Hurricane Irma barrels up Florida's west coast on track to hit Tampa, South Africans have told the mega-storm to… voetsak! And it appears the storm has listened… it has been reduced to a Category One storm.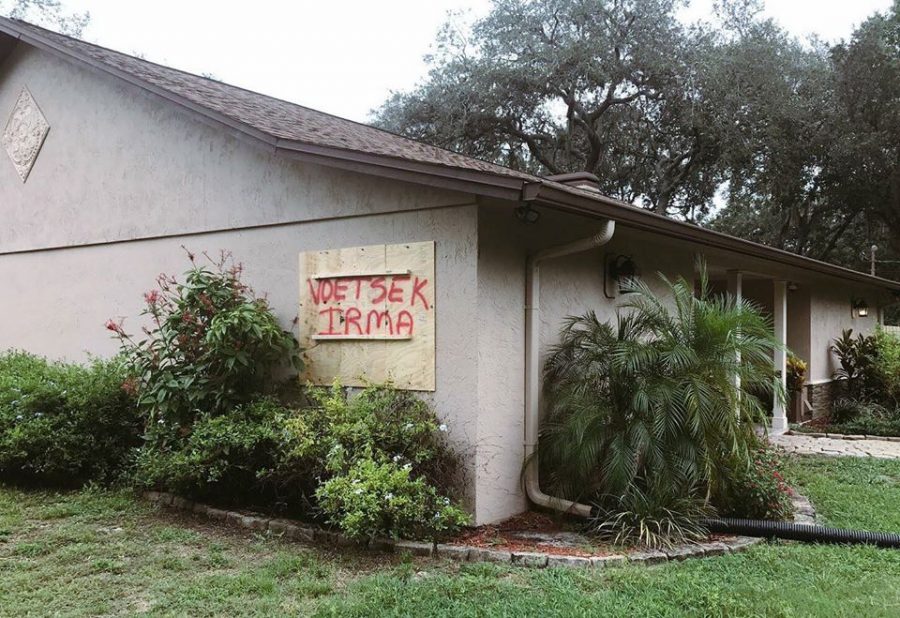 Sustained winds have dropped to 85 mph with gusts of up to 120 mph. However the worst is not over – officials are warning that "dangerous", life-threatening 10-15 foot storm surges could be expected. At least three storm-related deaths have been reported so far in Florida.
On a lighter note, a photo by South African expat in Tampa, Etienne Nortjie – of a sign telling Hurricane Irma to 'voetsek' – has kept those back home amused. Etienne said : "Bly die mense in SA geniet ons ou bietjie humor voor die HKGK oomblik vanaand." (Glad the people in SA are enjoying our little bit of humour before the Hier Kom Groot Kak moment this evening.)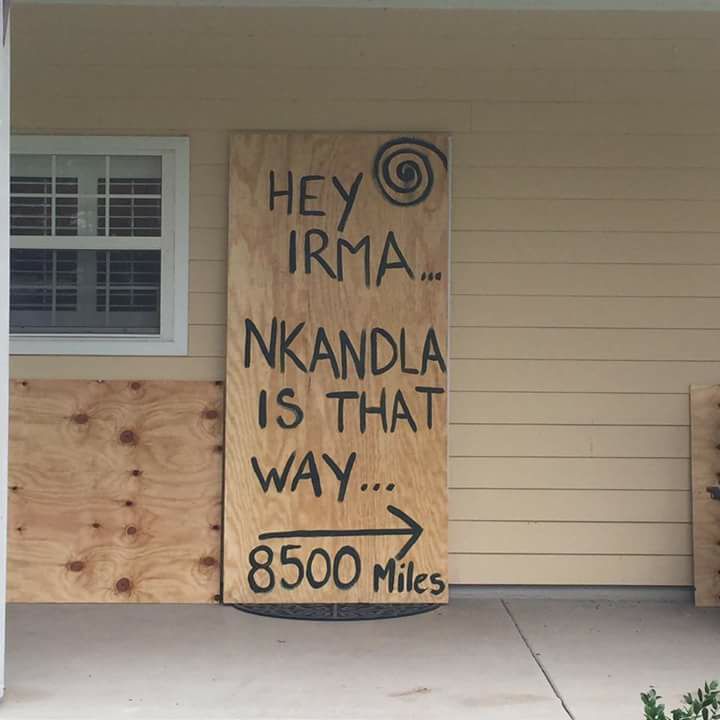 Storm Report SA posted the photo saying: "How do you spot a South African in Florida?"
Almost 3.5 million homes in Florida are without power and some parts of Miami are underwater.
The storm killed at least 28 people as it moved across the Caribbean, destroying everything in its path, some of which will take years to rebuild. Millions in Florida were told to evacuate.
American President Donald Trump said: "We may have been a little bit lucky in that it went on the west, and it may not have been quite as disruptive, but we're going to see, it's going to play out over the next five or six hours."
Urgent warning about the rapid rise of water on the SW FL coast with the passage of #Irma's eye. MOVE AWAY FROM THE WATER! @NWSMiami pic.twitter.com/tjPidwn8D8

— NHC Atlantic Ops (@NHC_Atlantic) September 10, 2017
Stay Out Of The Water…#HurricaneIrma Is Not Finished Yet…#hurricaneirma2017 #Miami #Irma #StormSurge https://t.co/q2JTXv98vU

— Right Voice Now (@rightvoicenow) September 11, 2017
U.S. Air Force flew in more than 300 doctors, nurses to Orlando ahead of Hurricane #Irma's arrival. https://t.co/aKcfJfEIEE pic.twitter.com/E2XjjYl6Xx

— ABC News (@ABC) September 11, 2017
WATCH: Miami zoo secures animals ahead of ferocious Hurricane #Irma https://t.co/7XZywzj1mz Follow our live updates: https://t.co/340nSyeFeE pic.twitter.com/mRu1h6ZqaZ

— Reuters Top News (@Reuters) September 11, 2017
Naples mayor on experience in #Irma: "It was scary…you just don't realize the power." https://t.co/KJSBP0WKwn pic.twitter.com/FCF2ADmm5h

— ABC News (@ABC) September 11, 2017
#Irma has weakened to a Category 1 storm, 85mph winds, as what's left of the eye blows through central Florida

Note final frame here pic.twitter.com/tdgU2xhVah

— ᴅʀᴇᴡ ᴡᴇsᴛʜᴀᴜs (@drewesthaus) September 11, 2017