South Africans are using the month of September to remember, celebrate and preserve the legacy of Black Consciousness Movement leader, intellectual and liberation struggle hero, Stephen Bantu Biko.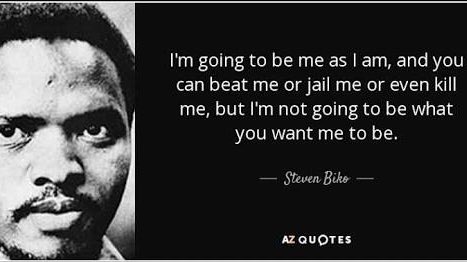 Biko died in custody as a result of police brutality on 12 September 1977. This year, the country marks the 40th anniversary of his passing.
To commemorate this sad episode in the history of the South African struggle for liberation, President Jacob Zuma will visit Kgosi Mampuru Correctional Centre on Tuesday to lay a wreath at the cell in which Biko died.
"The most potent weapon of the oppressor is the mind of the oppressed." – STEVE BIKO
Biko died in a police cell at the then Pretoria Central Prison (now Kgosi Mampuru Correctional Centre) following his arrest in August 1977. He had been savagely beaten by the apartheid security police while in police detention in Port Elizabeth and sustained serious injuries, including brain damage.
He had been kept naked and chained. Failed by doctors who conspired with the security police, he was transported to Pretoria from Port Elizabeth, despite being seriously ill from the beatings.
His death caused outrage locally and abroad.
President Zuma said Steve Biko's leadership and ideals inspired not only South African liberation struggle activists in South Africa, but also many leaders and activists across the continent and the world, who pursued an anti-racist, anti-colonial and anti-imperialist agenda.
"You are either alive and proud or you are dead, and when you are dead, you can't care anyway." – STEVE BIKO
"Steve Biko fought white supremacy and was equally disturbed by what he saw as an inferiority complex amongst black people. He emphasized the need for psychological liberation for black people to accompany physical liberation and undo the damage caused by apartheid. He advocated black pride and black self-reliance, believing that black people should be their own liberators and lead organisations fighting for freedom.
"He practiced what he preached with regards to self-reliance and led the establishment of several community projects, which were aimed at improving the lives of the people. His ideals of self-reliance are more relevant than ever now as we push a radical socio-economic transformation agenda and the deracialisation of the ownership, control and management of the economy," said President Zuma.
"So as a prelude whites must be made to realise that they are only human, not superior. Same with Blacks. They must be made to realise that they are also human, not inferior." – STEVE BIKO
Honouring Biko's legacy
Government dedicated this year's National Human Rights Day commemoration on 21 March 2017 to Steve Biko, acknowledging his contribution to the struggle for liberation and human rights for all in the country.
The national commemoration was held in King William's Town and President Zuma unveiled the Biko grave site and memorial.
Government, through the Department of Arts and Culture, provided R130 million to the Steve Biko Foundation to develop the Steve Biko Centre, a national legacy project based in Ginsberg in the Eastern Cape.
The centre was officially launched in November 2012 and focuses on translating global interest in the legacy of Mr Biko into a developmental resource for the region.
The facility comprises a museum, an archive and library resource centre, a commemorative garden honouring Biko, cultural performance and production spaces, a community media centre and retail spaces.
"Being black is not a matter of pigmentation – being black is a reflection of a mental attitude." – STEVE BIKO
The Steve Biko Centre serves both as an intellectual resource, while providing an economic opportunity for the region. The centre features as the cornerstone of the Biko Heritage Trail, a series of Biko related sites in the Eastern Cape.
These sites such as the Biko Statue and Biko Bridge in East London, Zanempilo clinic, Biko's home, Biko's office, Biko's grave and the Steve Biko Garden of Remembrance in King William's Town have been declared national heritage sites and consistently garner both local and international attention.
"In time, we shall be in a position to bestow on South Africa the greatest possible gift – a more human face." – STEVE BIKO
Steve Biko was a medical student at the University of Natal, where he was a student leader of distinction. He was a founder of the South African Student Association (SASO). Due to his political activism, he was expelled from the medical school and was later banned.
In his honour, government through the Gauteng Department of Health, renamed the Pretoria Academic Hospital as Steve Biko Academic Hospital, in September 2008. One of the main streets in Tshwane, Beatrix Street, where the hospital is also located, was also renamed as Steve Biko Street.
The world has also honoured Biko in many ways, including the popular song Biko by British musician Peter Gabriel. The movie, Cry Freedom, based on a book by former editor Donald Woods, also attracted international acclaim.
"Steve Biko suffered great abuse, harassment and torture over a period of time and paid the supreme price for the liberation of black people from oppression and bondage. We shall always remember his sacrifice and contribution. We also thank the international community for honouring this great man and patriot in various ways," said President Zuma. – SAnews.gov.za