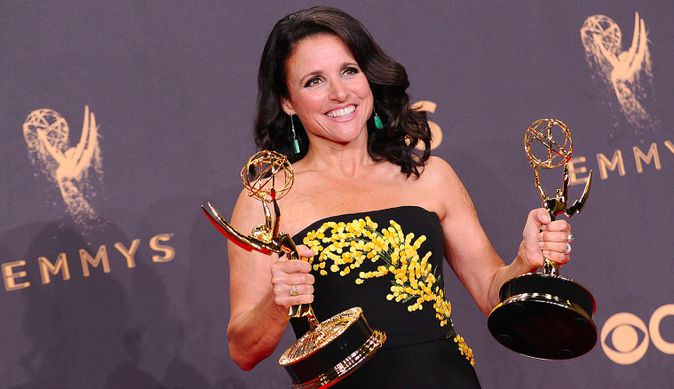 LOS ANGELES – Veep actress (and Elaine from Seinfeld), Julia Louis-Dreyfus, has revealed that she has been diagnosed with breast cancer. But in that moment, the one most women dread, she proved just how awesome she is by immediately thinking of others and using the opportunity to call for universal health care for all.
The multi Emmy Award winning actress captioned her tweet of the announcement "Just when you thought…" and then posted a photo of her statement:
1 in 8 women get breast cancer. Today, I'm the one.

The good news is that I have the most glorious group of supportive and caring family and friends, and fantastic insurance through my union. The bad news is that not all women are so lucky, so let's fight all cancers and make universal health care a reality.
She signed it 'Julia'.
Fans, friends and supporters took to social media to wish her a quick recovery and thank her for being selfless in this moment. "Few people could get diagnosed with cancer and immediately think of others instead of themselves," said Irish actor Adam Best.
Breast Cancer awareness month begins on Sunday (1 October) in South Africa and around the world. According to Cansa, South African women have a one in 29 lifetime risk of being diagnosed, and all women are urged to go for regular screening and find ways to lower their cancer risk.
Women can contact their local CANSA Care Centre to arrange for a Clinical Breast Examination: www.cansa.org.za/cansa-care-centres-contact-details/
Just when you thought… pic.twitter.com/SbtYChwiEj

— Julia Louis-Dreyfus (@OfficialJLD) September 28, 2017
Julia Louis-Dreyfus is the best human https://t.co/kQ8GAcAIDd

— Lauren Duca (@laurenduca) September 28, 2017
Few people could get diagnosed with cancer and immediately think of others instead of themselves.

Julia Louis-Dreyfus is such a powerhouse. https://t.co/wPYYAGrtFA

— Adam Best (@adamcbest) September 28, 2017
"1 in 8 women get breast cancer. Today, I'm the one": Actress Julia Louis-Dreyfus announces she has breast cancer https://t.co/xyX9JYygeE pic.twitter.com/U6NX02WpSD

— CNN (@CNN) September 28, 2017