For the fourth consecutive year, South Africa is taking part in the (truly) Global March for Elephants, Rhinos and Lions… to raise awareness for our endangered iconic wildlife, writes Megan Carr, VP Social Media, GMFER.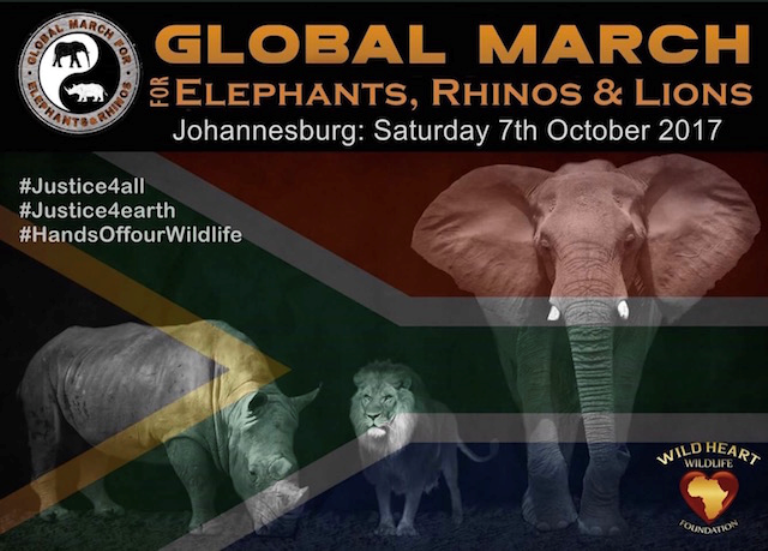 The Global March for Elephants and Rhinos (GMFER) is an entirely volunteer based, grassroots activist US-registered non-profit organisation.
The theme this year is to promote the inclusion and continuous engagement of our indigenous communities in our conversation about conservation. We believe that this is the only way forward if we are to be successful in saving these species.
EVENTS:
Hoedspruit
The first South African event this year took place at the Hoedspruit Endangered Species Centre, which is home to orphaned rhino and elephant.
HESC owner, Adine Roode, invited pupils from Lumukisa School to visit the centre to see the animals homed in the sanctuary. The event was attended by GMFER co-founder Rosemary Alles.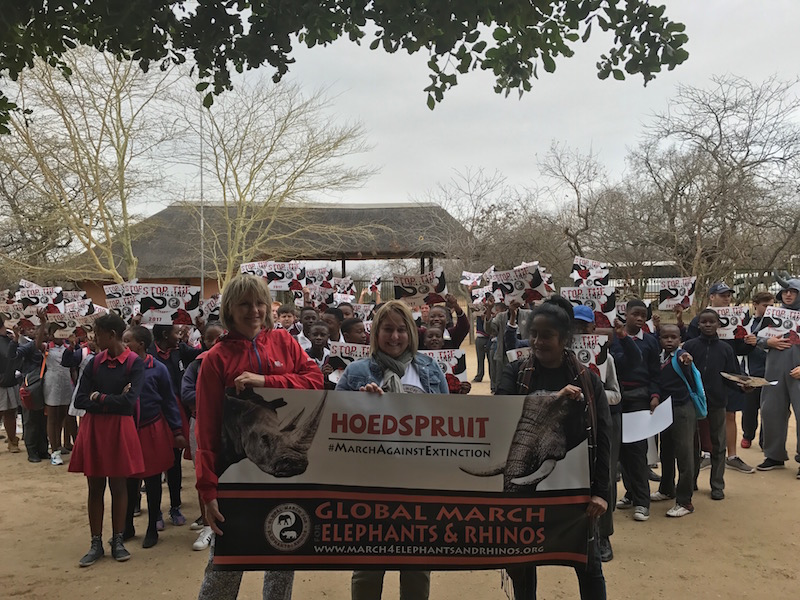 For many of these young South Africans it was their first opportunity to enjoy the sights and sounds of our wildlife.
Johannesburg – Sat 7 Oct, Huddle Park in Linksfield
Wildlife enthusiasts are invited to attend a short GMFER march within the park and then listen to South Africa's inspiring youngest conservation pioneers.  The event starts at 10 am, and there is a R20 charge for parking.  Wear comfortable shoes, bring along a picnic blanket, sunblock, an umbrella and spend the morning being inspired by a considerable line up of speakers.  Huddle Park will supply food and beverages.
Durban – Sat 7 Oct, Durban Amphitheatre
This is an all day event – from 9.30 am to 4 pm – starting off with a march from the Durban Amphitheatre. Afterwards there'll be live entertainment – music, face painting, food stalls, and guest conservation speakers.  T-shirts will be on sale and all funds raised will go towards rhino conservation initiatives in KZN.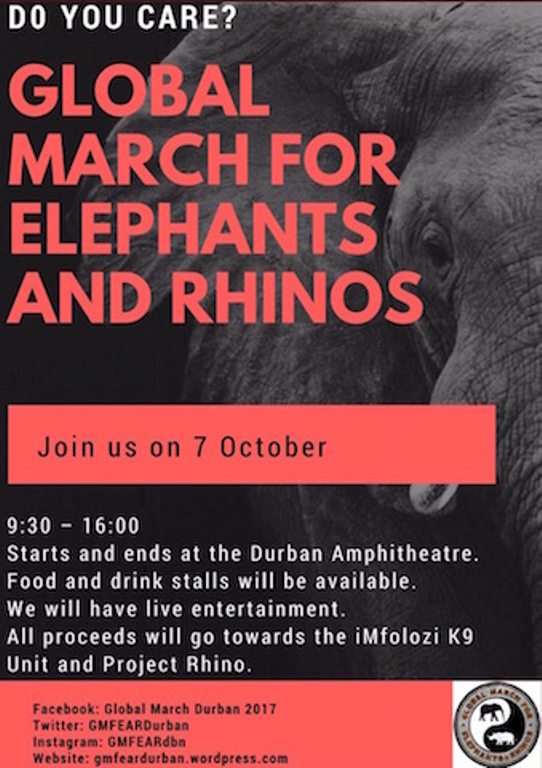 Kruger National Park – Sat 7 Oct
In the true spirit of our theme GMFER co-founder Rosemary Alles, in collaboration with the world renowned Black Mamba APU and Bush Babies Environmental Education is hosting a day with wildlife in the Kruger National Park. They are collecting children, with their grandparents, from a local rural community to visit the Park.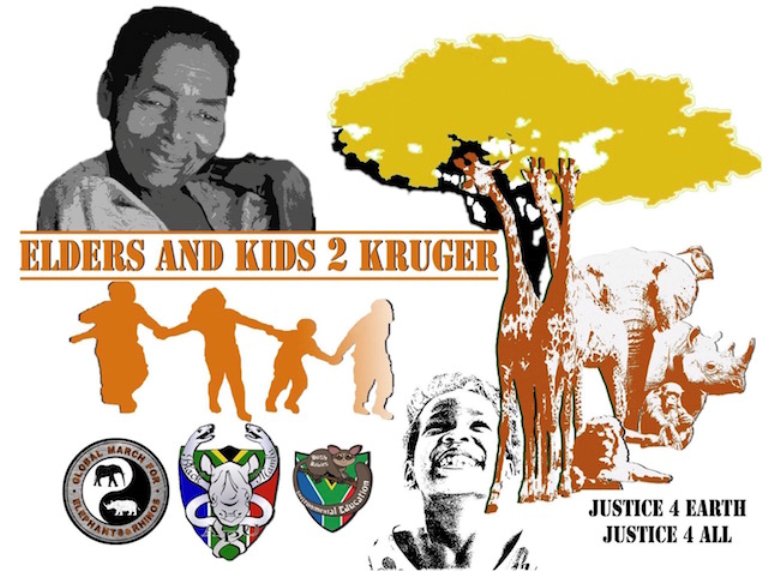 Empangeni Silent Protest – Mon 9 Oct, near Ngwelezane Courthouse
A small group of concerned KZN conservationists and citizens will stand in silence –  near the Ngwelezane Courthouse in Empangeni – to honour the  South African Police Service (SAPS) men and women who risk their lives trying to convict people guilty of wildlife crimes, to honour the rangers and anti-poaching units that protect South Africa's wildlife on a daily basis in dangerous and uncomfortable conditions far away from home.  The silent protest is to raise awareness about the corruption in South Africa that is partly responsible for these ongoing crimes.  Jamie Joseph, Saving the Wild, exposed Dumisani Gwala, the alleged rhino poaching kingpin of KZN to the media. He is currently on bail and awaiting trial for alleged attempted murder and allegedly dealing in rhino horn.
Empangeni – Mon 9 Oct, Phesheya Primary School
Over 1,900 learners from Phesheya Primary School in Empangeni will be given a very special conservation message delivered by renowned veterinarian Grant Fowlds and Richard Mabanga from Rhino Art; Qadasi and Maqhinga musicians, dancers from Shakaland, Megan Carr from Rhinos in Africa and Walter Khosa from Bayala Rhino Conservation.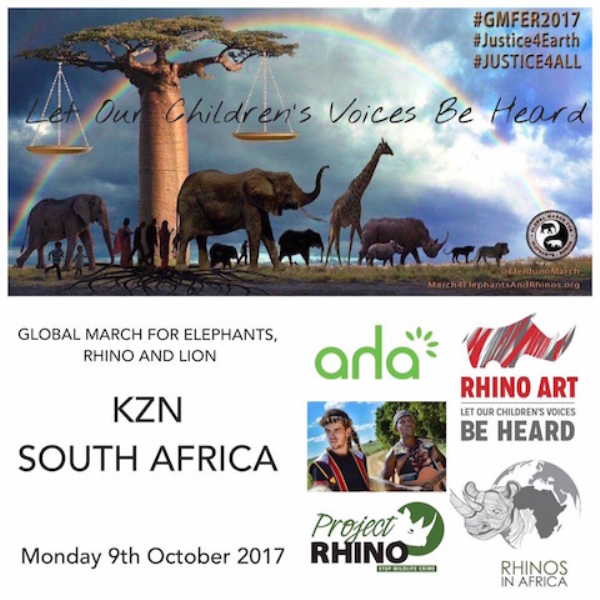 Cape Town – November
Cape Town will be holding an event in November.
"You can't go back and change the beginning, but you can start where you are and change the ending"
Wishing all our followers, marchers and organisers of events around the world a very successful weekend.  With grateful appreciation for your continued commitment to earth, her people and her wildlife.
by Megan Carr
SOUTH AFRICAN EXPATS – MARCHES AROUND THE WORLD ON SATURDAY 7 OCT 2017:
Paris: https://www.facebook.com/events/100358927205476/
London: https://www.facebook.com/events/1540403512666064
Amsterdam:https://www.facebook.com/events/346873355708718/
New York: https://www.facebook.com/events/388476534900885/permalink
Los Angeles: https://www.facebook.com/events/269522036785901/
There are also marches in Kenya, Botswana and Hwange in Zimbabwe.