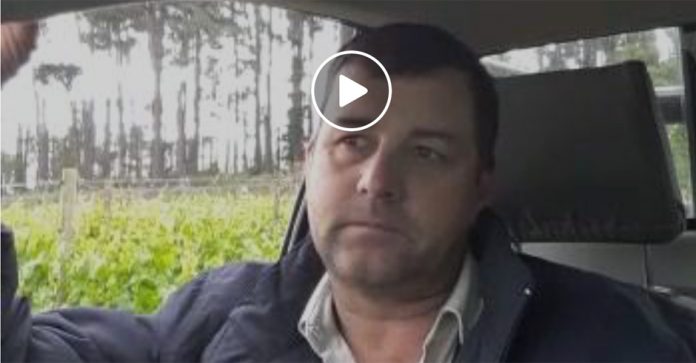 A devastated farm manager has filmed a heartbreaking video in his vehicle, calling on his friends to share a message urging all South Africans to wear black on Monday 30 October 2017… to mourn all the farmers who have died so far this year, including his friend Joubert Conradie (seen in the pic below) who was murdered on Tuesday morning on the family farm he had grown up on in the Western Cape.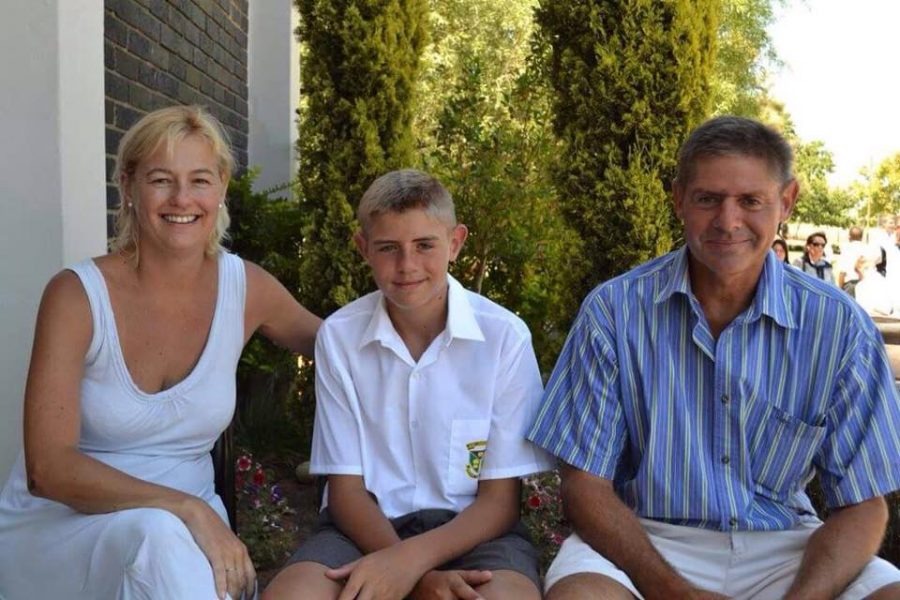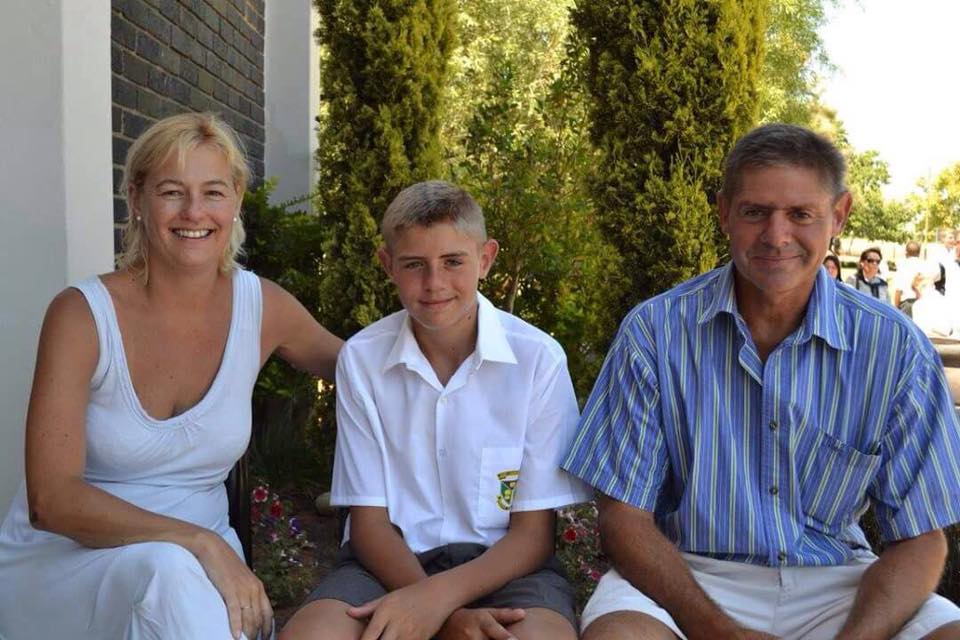 Chris Loubser's tearful plea on the video (watch below) comes after the murder of Conradie (47), a father of two… who was rushed to hospital after being shot several times by intruders on his farm, Uitkyk, in Klapmuts, between Paarl and Stellenbosch. Tragically his life could not be saved, and he reportedly passed away during emergency surgery.
Conradie's wife tearfully explains (in the video below) how he had been woken up during the night – at around 01h30 – by the sound of the intruders, and had gone to investigate. She says Conradie had been born and raised on this family farm.
Loubser, a farm manager on a well-known Franschoek businessman's farm, also says he wishes for a moment of silence to be held before the Currie Cup final on Saturday to commemorate farm murder victims.
Since Friday morning there have been at least eight farm attacks and four more South African men have been killed in farm-related incidents.
There have also been other murders around the country… from suburbs to townships. Yesterday's shocking annual South African Crime Statistics report showed that there are now an average of 52 South Africans murdered each day.
Neighbours reacted with shock, anger… and deep sadness to the latest loss in a long line of deaths of farmers in South Africa. There are rumours in the country that a 'third force' is at play, deliberately targeting farmers to try scare them off the land.
AfriForum said yesterday that Police Minister Fikile Mbalula is failing in his duty as SA reports its highest murder rate in a decade. AfriForum said there is currently no control over crime in South Africa, and that residents can expect a further increase in violent crimes.
AfriForum said murders in SA have increased by 1.8% meaning that approximately 1,000 more people were murdered between 2016 and 2017… bringing the total to 19,016 South Africans who lost their lives in the last year.
According to Ian Cameron, AfriForum's head of Community Safety, farm murders have also increased significantly. Referring to the Institute for Security Studies (ISS), Cameron said there has been an increase of 112% in farm attacks and a 33% increase in farm murders between 2012 and 2016.
Meanwhile Yusuf Abramjee – well known anti-crime activist and Namola's Chief Ambassador – has pleaded with South Africans to not make the farm attacks a racial issue. In an article on Namola, Abramjee said: "Let's not be sidetracked by people who play politics and the race card. A crime is a crime! A murder is a murder.
"Let's also not forget that farmers feed the nation. On-going attacks on our farmers mean that we are slowly starting to kill the hand that feeds us. This cannot be allowed.
"Rural safety is important and the SAPS needs to really address the problem."
He said organizations such as AfriForum and others are focusing on combatting farm attacks – which he says have often been brutal and victims tortured – but that they need the support of the SAPS.
In response to the SA Crime Statistics released yesterday, the EFF criticised the South Africa Police as being amongst the most "unprofessional, inefficient and unreliable public servants" and said that: "Our society's levels of crime signify the inhuman condition of high unemployment and poverty in a country of first world proportions of wealth.
"This condition of living amidst high levels of super wealth whilst many suffer in squalor and poverty, is a great assault to the humanity of our people, in particular black people. This means until there is economic emancipation there will never be any resolution to violent crime."
Where the murders are not intruders on the farm, there is a sense of life still being cheap in South Africa. Yesterday two men were murdered on a farm in Mpumalanga, allegedly by a neighbouring landowner who is appearing in court today. The men – farmer Luke van Johnson (65) and his farm manager, John Mdaka – were reportedly shot by the neighbour over a conservation issue. Attorney Richard Spoor paid tribute to Van Johnson, saying he was "one of the most interesting and worthwhile humans I know… Among other things Luke was a sailor, explorer, conservationist, philanthropist and a profoundly decent human being. The most humble and self effacing man I ever met. Hamba kahle, kekho o fana naye."
On Sunday 22-year-old foreman and game hunter, Kyle Stols, was murdered on the Hatari Game Farm outside Jagersfontein, Free State.
So far there have been more farmers murdered in 2017 than throughout 2016.
AfriForum is holding a press conference on Wednesday, attended by Stols' brother, Gawie. Specific actions are expected to be announced. AfriForum also encourages communities to join safety structures and to take responsibility themselves within the framework of the law. The civil rights organisation already has approximately 100 established safety structures across the country, it says, and invites people to send an email to veiligheid@afriforum.co.za to join one of them. 
Joubert Conradie's friends urge South Africans to wear black on Monday 30 October 2017.
Watch Devastated Farmer Calls for South Africans to Wear Black on Monday 30 October 2017
Ek vra al my vriende en familie om saam te staan en vir Chris (op video) te ondersteun deur Maandag swart aan te trek ter nagedagtes van die boere wat hulle lewens verloor het op hulle plase! ??

Posted by Karen Hazelhurst on Wednesday, October 25, 2017
Watch the above video with English subtitles – farm manager urges South Africans to wear black on Monday 30 October 2017.
There have been two more farm murders since I wrote this piece earlier today. @MakeSAsafe @MbalulaFikile https://t.co/YANPHd0TYc

— Yusuf Abramjee (@Abramjee) October 24, 2017
Joubert Conradie's Heartbroken Widow, Marlene: