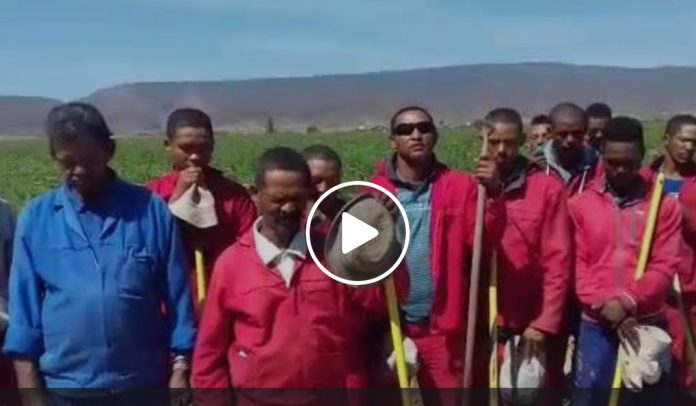 Although some racists tried to hijack or sabotage #BlackMonday, for many South Africans – of all races – Monday 30 October 2017 was an important day for  standing up, united, against all crime, committed against all races, in their beloved land – South Africa.
From farmworkers in South Africa:
Vanoggend gebeur daar iets wat vir my Baie betekin het my plaas manne wou weet wat angaan met vandag hulle het oor die radio gehoor en wou weet, ekt hulle vertel en ek Kon sien dit pla hulle ook so Baie soos vir ons .Hulle het toe gevra of hulle dalk Kan bid en ek dit op Facebook Kan sit al Kan hulle nie veel doen nou nie Kan hulle darm n bydrae maak om vir ons as boere te bid. Dit het my n warm gevoel gegee wat ek nie eers ook Kan vertel nie . #onsstaansaam #stopplaasmoorde #swartmaandag #calitzdorp #kleinkaroo

Posted by Stephan Jnr Malan on Monday, October 30, 2017
From South African expat in Belgium, Veronica Booysen-Lebbe – "We must hold hands and stand together… it is a scandal. Too many tears…"
From Thulani Norman, Expat based in Soweto:
Thulani Norman grew up in a small town near Middleburg, and worked on a farm during school holidays. He says #BlackMonday "would have been a great campaign if some of the initiators did not set it based on race.
"They are convinced that "blacks" are out to kill farmers. They being the bunch that believes only white farmers are affected by these evil attacks from criminals.
"They forget that blacks are also killed on the farms, and jobs are being lost as a result. They are preoccupied with white instead of seeing this as a South African problem that needs all of us to tackle it together!
"They use language like "Ons God" "Ons die volk" "Ons land" "Ons en Julle". They believe there is a genocide going on, but yesterday we all gathered together to watch the Sharks play Western Province… while a genocide is going on?
"Until this problem is seen as a South African problem it will never end. Instead it will spill over to something ugly.
"Farmers black and white, farmworkers, children, women, men are terrorized by criminals. If it's not in your family directly we all know someone affected.
"The same violence you hear about is the same as what happens in black communities. Grannies get raped too.
"No gruesome crime is better than the other. We are all human. We are under siege by criminals and we must as South Africans rise.
"Our police have let us down and we have an insensitive government that is concerned with internal political battles.
"We are on our own and we must stand as a country against all crime. We must never let the right-wing extremists or anyone fool us because they want to settle scores with the ANC. We must see through this.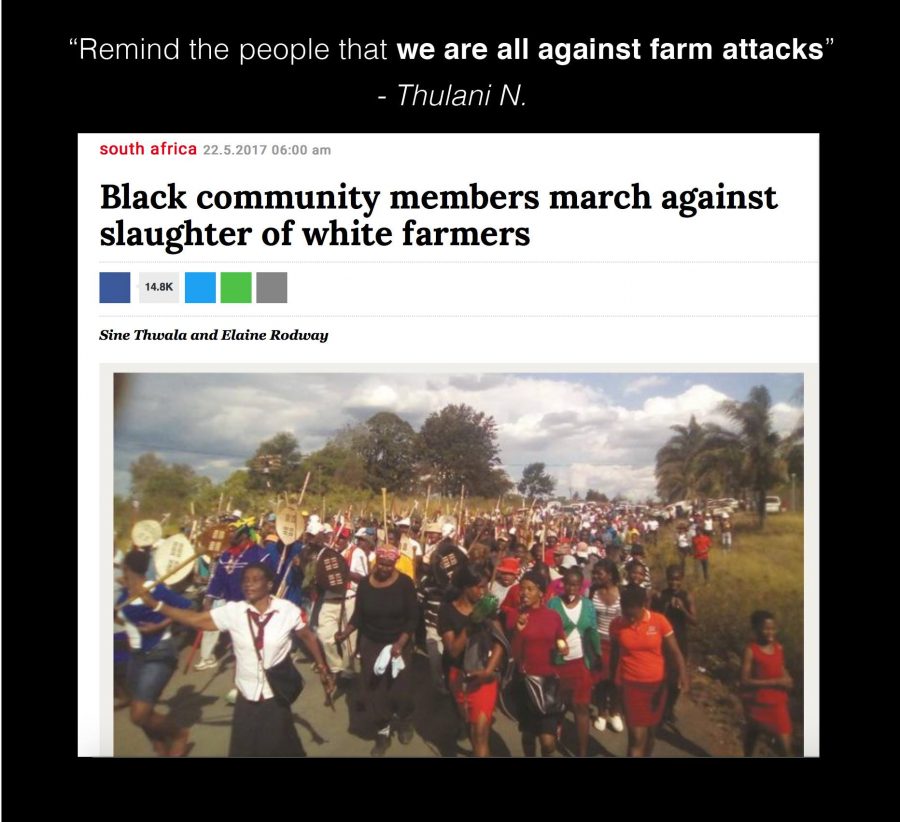 "The fact is: South Africans must just stand together. All South Africans!" says Thulani.
From Mariskca Mickey Du Plessis at her small business in Kempton Park, as she and employees pray together – "We can all work together."
Mariskca says: "Skin colour does not determine trust, loyalty, humanity or respect. We are ALL children of God…"
From South Africa: "It's better for us to support… because this affects everybody."
#plaasmoorde #MISDAAD #Farmmurders #protest

Posted by Rekord on Sunday, October 29, 2017
From the DA Youth:
#BlackMonday Let's Stand Up Together. pic.twitter.com/aZtVq67lEM

— DA Youth (@DA_Youth) October 30, 2017
Hate is not the solution. #BlackMonday

— Maps Maponyane (@MapsMaponyane) October 30, 2017
Earlier today in South Africa:
Ons wys bietjie vandag ons mee gevoel en ondersteuning vir Suid-Afrika se boere. Dit is 'n eer om deel te wees die saam staan beweging vandag.Showing our support and sympathy today for the South African farmers and their families. We brought Pretoria to an absolute stand still. What a moving experience.

Posted by Beer & die Boer on Sunday, October 29, 2017