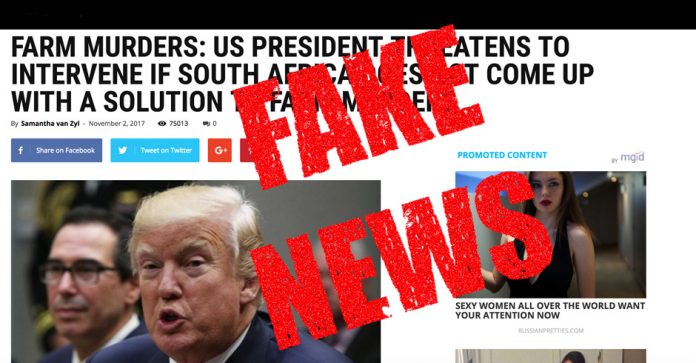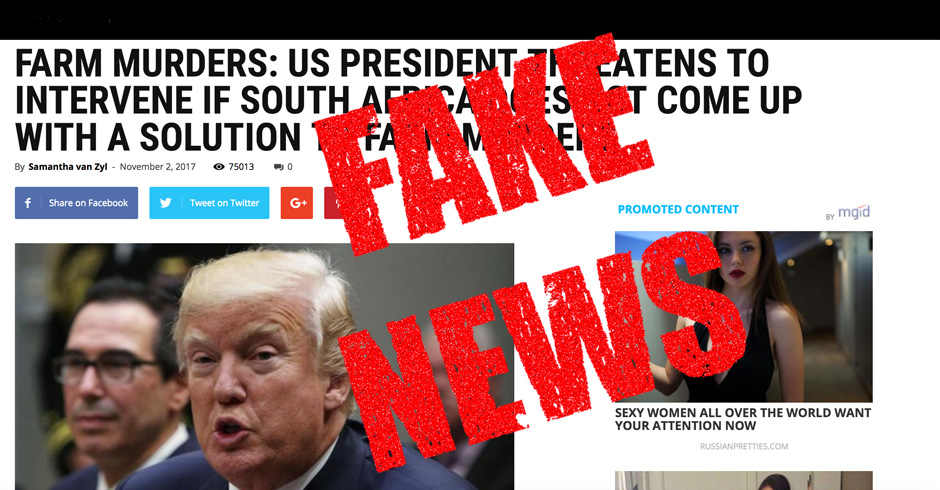 Fake news sites have trotted out yet another fake story about American President Donald Trump and South Africa. This time they say he is threatening to intervene if SA doesn't find a solution to its farm murder problem.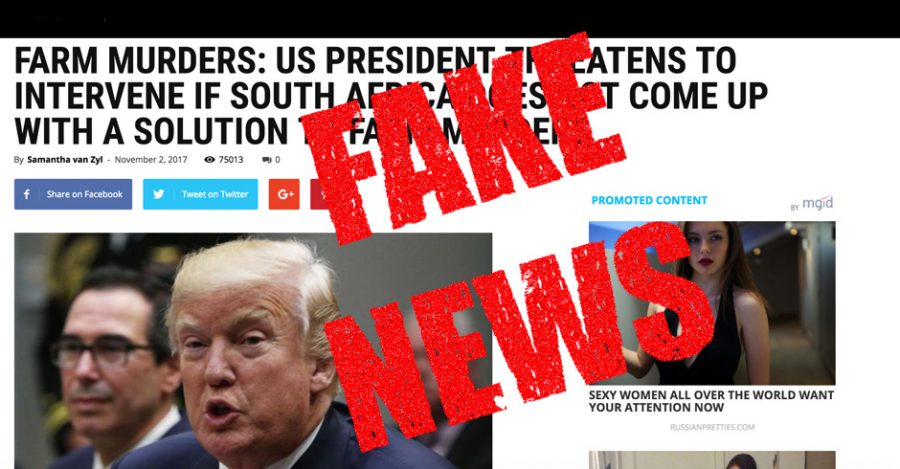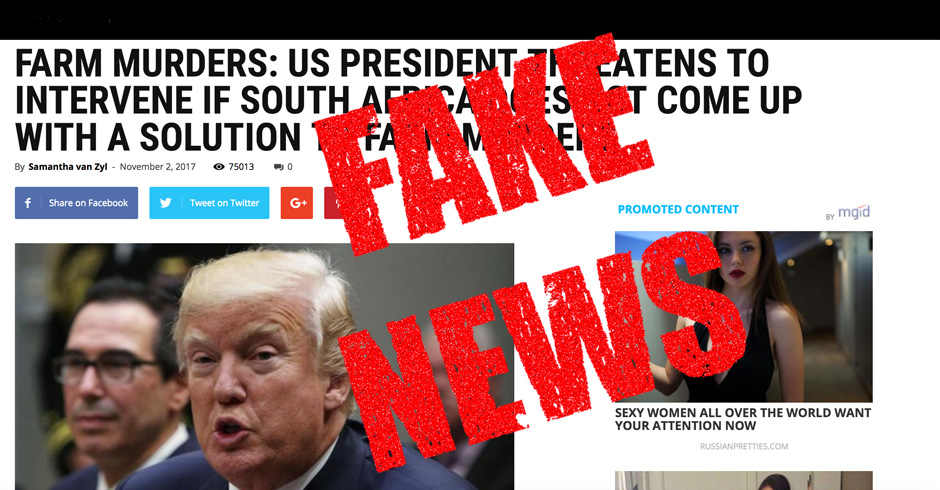 It's not true.
The reports claims that Trump said "he is willing to lend a hand or come to the rescue if South Africa cannot provide a resolution to what he calls white farmers genocide.
"Trump said he thinks the South Africa government is intentionally turning a blind eye to the matter because the farmer are white."
The false report continues with fake claims that stir racial divisions.
Fake articles like this are usually invented by people looking for 'click bait' (to lure people to click through so that they can earn advertising revenue). Back in August another fake story went viral claiming that President Donald Trump had asked Jacob Zuma to step down. Again… untrue!
If ever you see an article with a heading like this on social media – please do a Google search first to check if any major news outlets have covered the story (if not, it's probably untrue), and in the case of Trump (which many fake news stories use) just check his Twitter feed! Although earlier today, his Twitter page was taken off-line for 11 minutes by an outgoing Twitter employee!
My Twitter account was taken down for 11 minutes by a rogue employee. I guess the word must finally be getting out-and having an impact.

— Donald J. Trump (@realDonaldTrump) November 3, 2017
These were real tweets by Trump saying  things about South Africa (in 2013 and 2015):
I really like Nelson Mandela but South Africa is a crime ridden mess that is just waiting to explode-not a good situation for the people!

— Donald J. Trump (@realDonaldTrump) December 13, 2013
As I have long been saying, South Africa is a total – and very dangerous – mess. Just watch the evening news (when not talking weather).

— Donald J. Trump (@realDonaldTrump) April 20, 2015
***
Watch Carte Blanche's #BlackMonday investigation: This week the current affairs programme investigates the rising 'farm attacks' tensions, and asks what are the solutions. Available to expats from Tuesday. If you're overseas – subscribe to Showmax to watch Carte Blanche (and other popular shows from home). FREE 14-day trial.