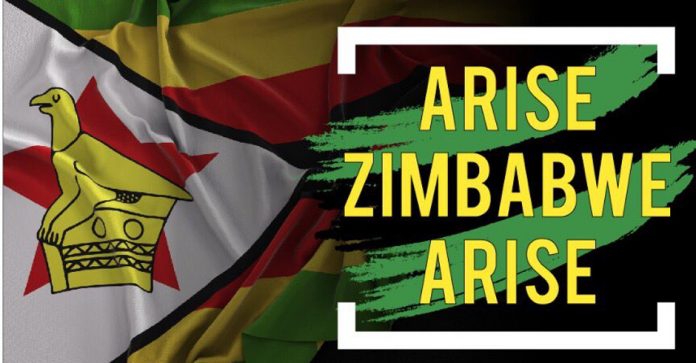 Zimbabwe Update:

According to latest reports, President Robert Mugabe of Zimbabwe has agreed to step down next year… but there are calls from within his own country and from other parts of Africa – including from Botswana's President Ian Khama – for him to stop trying to prolong his stay in office and step down now. A huge march is also planned for Saturday morning.
Politicians across the continent have called for Mugabe to be guaranteed a dignified exit.
The SABC's Lulu Gaboo reports tonight that ten of Zimbabwe's Zanu-PF (the leading party) provinces have adopted a resolution that President Robert Mugabe must step down. She adds: "Two weeks ago the same provinces had taken a resolution that Grace Mugabe should become Vice- President of the country."
The 93-year-old president appeared in public for the first time today – at a University graduation ceremony – since the military began its take-over on Wednesday. Photographs have been published of cordial-looking negotiations he has been having with the military's General Chiwenga.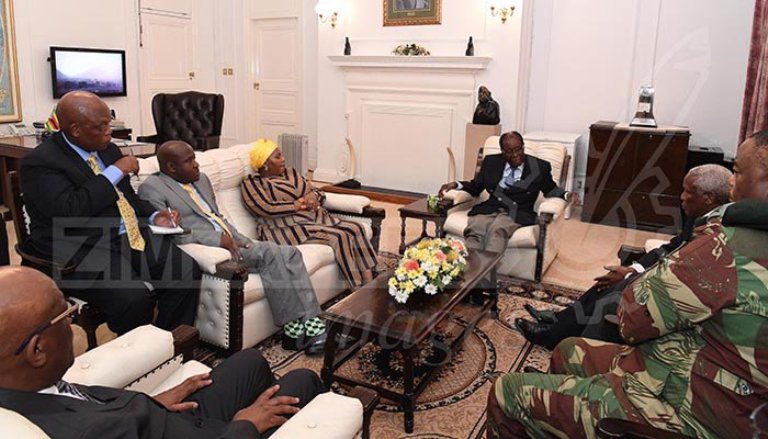 Gaboo tweeted that "Zanu-PF says President Mugabe could face impeachment as soon as next Tuesday if he fails to step aside."
On Wednesday morning the country awoke to martial law after the overnight military coup. Mugabe and his family and cabinet ministers have been under house arrest, whilst the army took over the state broadcaster and disarmed the police.
At a press conference on Friday, the Zimbabwe War Veterans said the military were "guys with a historic mission… and this week they made an important decision to arrest the rot which was going on in our government through a very judicious military intervention- totally peaceful – to deal with a senile old man who had lost control of his mad wife, and a coterie of cohorts…" (Watch below.)
They said a warning has been sent to Mugabe, his wife, and any supporters that "the game is up; it's finished, done. We won't allow this to go any further."
The War Veterans have organised a march tomorrow in which tens of thousands of Zimbabwean citizens are expected to take part… to demand new leadership. Marches will be held around the world, including in London (see details in a tweet below).
Handing Robert Mugabe Asylum will be Against the Law
Democratic Alliance leader Mmusi Maimane said Friday that handing Robert Mugabe asylum in South Africa, as has been widely reported, would be against the law.
"The Democratic Alliance (DA) firmly rejects the prospect of the South African government granting Zimbabwean President, Robert Mugabe, access into the country on so-called "political asylum". We are of the view that this would be a violation of South Africa law, and as such President Jacob Zuma must make a public statement rejecting such an outcome.
"We are of the view that allowing Robert Mugabe into South Africa on political asylum, or "refugee status" would be in contravention of the Refugees Act (130 of 1998) – the empowering legislation." (See details in one of the tweets below.)
Maimane said: "We maintain that the only way forward for Zimbabwe is for fresh elections to be held immediately, and for Robert Mugabe to step down as President of Zimbabwe.
In news Friday evening, it has been reported on Twitter that there has been a shoot out in Harare between parts of the military (between the army and intelligence services) but this has not been confirmed.
This week's coup followed Mugabe's firing of his deputy president, Emmerson Mnangagwa, after the deputy's supporters allegedly booed Mugabe's wife Grace at a rally. The DA's Maimane said today that the coup is "an attempt to stop Mugabe controlling succession through his wife, Grace".
Meanwhile Zimbabwe's stock exchange value has apparently dropped by $1 billion…
Trevor Noah on Overthrowing a 93-year-old man
Actually, u don't over thrown a 93 year. Old man on throne… "@mathapelo_maile: #Zimbabwe
Oh Trevoh ??? pic.twitter.com/zoRkgQZiV6"

— Talk D Talk (@Am_kaybee) November 17, 2017
Allowing Robert Mugabe into South Africa on political asylum, or "refugee status" would be in contravention of the Refugees Act (130 of 1998) – the empowering legislation.#Zimbabwe pic.twitter.com/J0SWatLb6T

— Democratic Alliance (@Our_DA) November 17, 2017
BREAKING NEWS: #Zimbabwe President Robert Mugabe has arrived at a University graduation ceremony. This is his first public appearance since the military takeover. Story to follow. pic.twitter.com/IF5W5CIa7j

— IOL News (@IOL) November 17, 2017
Zimbabweans are preparing to take to streets tomorrow to express themselves over the current political stand-off between Mugabe and the military #Zimbabwe ?? pic.twitter.com/ZtCpdK2Nli

— Trevor Ncube (@TrevorNcube) November 17, 2017
In London:
Hi @itvnews – Zimbabweans gathering in London tomorrow to March joining millions around the world doing the same in this historic moment for #Zimbabwe.
We implore you to come hear our many stories on this massive day for us! @itvlondon @ITVEveningNews pic.twitter.com/wnWkUde1pT

— Tendai Chetse | #MyNewZimbabwe (@CreateTC) November 17, 2017
Some of the placards for tomorrow's march expressing solidarity with the military and calling on Mugabe to step down #Zimbabwe ?? pic.twitter.com/j3L2OIwwfM

— Trevor Ncube (@TrevorNcube) November 17, 2017
#Botswana's Khama tells Mugabe to go #Zimbabwe https://t.co/5LC1DI4xrO pic.twitter.com/koHQal6d38

— Reuters Africa (@ReutersAfrica) November 17, 2017
I must say this is one of the strangest coups I have seen in modern history. The protagonists meeting & smiling in the same room – normally its bang bang & go. I guess it means a deal has been reached on what happens next. Now waiting for an official announcement. #Zimbabwe pic.twitter.com/Iln7mU0iS5

— Tongai Muroyiwa (@tongaim) November 16, 2017
#Zimbabwe Stock Exchange market value dropped by $1 billion after a military intervention/coup by the Zimbabwe army

Source #ZBC pic.twitter.com/RhKUO4Tocz

— Povo Zim (@povozim) November 17, 2017