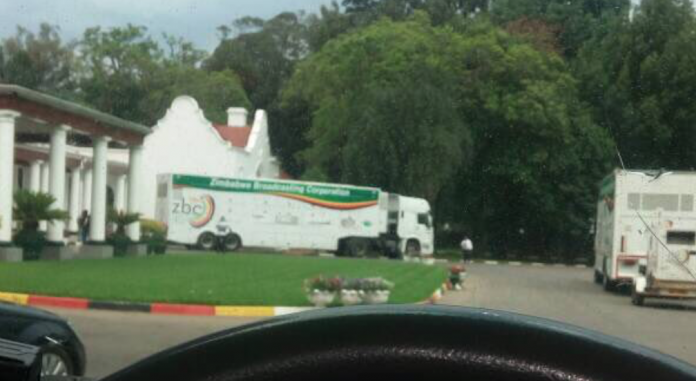 Zimbabwe's ruling party – Zanu-PF – has voted to sack its longtime leader, Robert Mugabe (93). The party has also expelled his wife Grace (Chair of the Zanu-PF Women's League) whose mission to be the next leader led to the current non-coup coup. And the man who Mugabe fired as Vice President a fortnight ago – after his supporters allegedly booed Grace Mugabe (52) at a rally – has been appointed by Zanu-PF as Zimbabwe's new interim leader.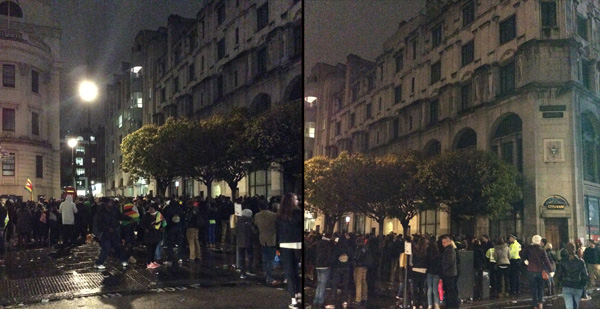 According to the Guardian newspaper in the UK, when the motion was passed removing Mugabe as leader and appointing Emmerson Mnangagwa (75) in his position, the hall of about 200 members "broke into cheers, song and dance".
Mugabe has refused to step down since the military put him under house arrest earlier this week, and despite thousands marching through the streets of Harare yesterday to demand he leaves.
According to the Guardian, Zimbabwe's parliament will reconvene on Tuesday and is likely to impeach Mugabe if he has not yet relinquished power. He has reportedly been given until Monday noon to resign. Sources close to Mugabe are quoted as saying that he wishes to stay on until his term ends next year. Mugabe has been in power for 37 years.
Read the full story here:
www.theguardian.com/world/2017/nov/19/zimbabwe-ruling-party-fires-robert-mugabe-as-leader/
Meanwhile the Zimbabwe Broadcasting Corporation TV truck has been seen outside Statehouse in the last hour. It is expected that Mugabe is going to announce that he agrees to step down.
[VIDEO] #Zimbabwe – the moment Robert Mugabe was recalled. Courtesy #DStv403 pic.twitter.com/6wBOtY1LNp

— eNCA (@eNCA) November 19, 2017
Robert #Mugabe has been dismissed as leader of the ruling ZANU-PF party in #Zimbabwe, Reuters sources say pic.twitter.com/ydLwFYxwjn

— Sky News (@SkyNews) November 19, 2017
Mugabe is expected to step down on Sunday night:
Zimbabwe is a few minutes away from erupting in euphoria.History in the making.The outpouring of pent-up emotion,the shear magnitude of this moment,the unassailable belief that a brighter future beckons.Never again shall we be reduced to zombies.We need healing,justice,prosperity

— Brezh Malaba (@BrezhMalaba) November 19, 2017
ZTV OutSide Broadcast vans at Statehouse. We don't know what President Mugabe wants to share. We are all ears #Zimbabwe ?? pic.twitter.com/oj2d2HoYal

— Trevor Ncube (@TrevorNcube) November 19, 2017
Mugabe Jnr going through the most ??? pic.twitter.com/hJBNaFpgRI

— Tumi Sole (@tumisole) November 19, 2017
REFLECT ON THIS

1. SABC was declined entry into Zimbabwe. CNN, BBC, ENCA ,Al Jazeera etc are in Zimbabwe

2. ZanuPF left out South Africa in its vote of thanks

The People Matter more than regimes.

— Trevor Ncube (@TrevorNcube) November 19, 2017
The meeting with Service Chiefs I tweeted about. Meeting appears done. ZTV OB vans at Statehouse . Expect a middle finger from Bob or #ApoloJersy
?? pic.twitter.com/PORNW6Q2mS

— Trevor Ncube (@TrevorNcube) November 19, 2017
REFLECT ON THIS
??
Did you experience/witness violence/looting during the solidarity march across Zimbabwe yesterday. I didn't.
There was zero police presence.
So next time people say Zimbabweans are criminals remind them of this. We are humble peace loving people #Zimbabwe

— Trevor Ncube (@TrevorNcube) November 19, 2017
#Zimbabwe pic.twitter.com/sYLEzSCmFe

— Thulasizwe Simelane (@ThulasSims) November 18, 2017
Yesterday, outside Mugabe's 'blue house':
OMG: ZIMBABWEANS ARE NOW OUTSIDE THE PRIVATE RESIDENCE OF ROBERT MUGABE AKA BLUE HOUSE. pic.twitter.com/zn6nUdvkHa

— Trends SADC ™ (@Trends_SADC) November 18, 2017
The Chipanga Challenge (saying sorry while wearing that shirt):
This guy is wearing Chipanga's jersey! ??? #ChipangaChallenge #Zimbabwe #SolidarityMarch #MugabeMustGo pic.twitter.com/TUCxfXBaeX

— Doug Coltart ✊??? (@DougColtart) November 18, 2017
If you're overseas you can watch #CarteBlanche's in-depth Zimbabwe analysis (plus thousands of other popular local shows & movies) – subscribe to Showmax now. You can try it FREE for 14 days.