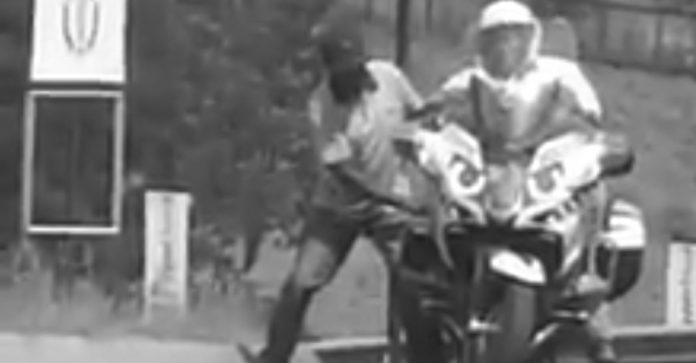 A video of what appears to be a policewoman in South Africa battling to mount her motorbike, has clocked up over a million views in just two days.
In the video – which is 2′ 38″ – a kind gentleman is seen rushing to her aid, but even he can't help her easily get on top of the bike.
The video was filmed by Leana van Wyk at Hillfox in Johannesburg, around 09h00 on Friday morning 24 November 2017.
Leana told SAPeople: "There were 4 travelling in a group but she had to stop for traffic and as she fell down, I realised it was time to start recording.
"Sad thing is that the other three never returned to see if she was ok… haha team work in SA?!"
Leana's brother-in-law Stefan Jacobs posted the video on facebook, writing: "How to get on a bike, demonstrated by a top cop. Sy is 'n gevaar op die pad." (She's a danger on the road.)
While some people have been a little critical of her weight… the problem appears to be that the bike is on a slope; and as moto vlogger Bilal Al Ali explained "the land is not stable from the kick stand… the bike is heavy and the cop is short, so it won't work until the cop pulls the bike into stand land…"
Watch South African Police Woman On Motorbike
How to get on a bike, demonstrated by a top cop. Sy is n gevaar op die pad.

Posted by Stefan Jacobs on Friday, November 24, 2017