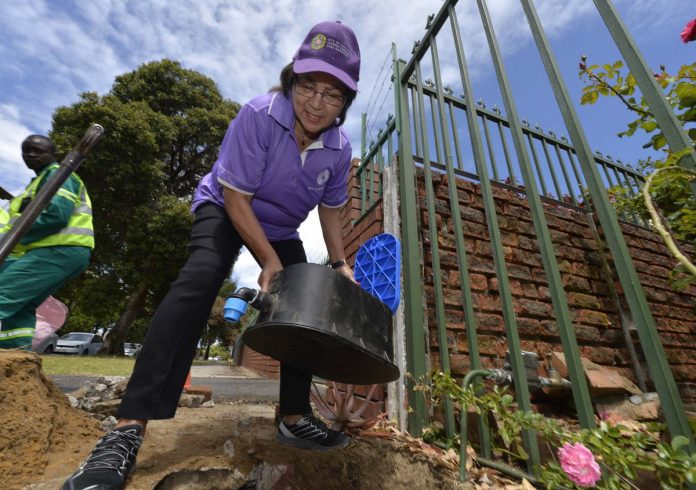 Residents of Cape Town used less water this week compared with last week, but consumption still remains above 500 million litres a day, according to the City of Cape Town. As a result, dam levels dropped by an expected 1% this week and Day Zero remains at 20 May 2018. High consumption of more than half of Cape Town's residents remains a concern.
Watch below to see what will happen in Cape Town on Day Zero when taps are turned off, as well as the action the City is taking to prevent it happening: 
Day Zero is looming. Watch the video to find out what will happen if we reach Day Zero and what the City has been doing to prevent it. Thank you to residents who have been saving water where they can. Together, we can #ThinkWaterCT and avoid Day Zero. pic.twitter.com/tHzjz8zgcJ

— City of Cape Town (@CityofCT) December 5, 2017
The City's water dashboard is available here, with highlights as follows:
This week's dam levels stand at 35,1% – down from 36,1% the week before
Only 25,1% of the water is useable
Collective consumption remains high at 611 million litres per day – 111 million litres above the target of 500 million litres
The percentage of households using less than 87 litres per day increased to 40% for the week – up from 36% last week
In terms of the City' progress with its augmentation projects, this figure stands at 50%, up from 48% last week
Together, these factors put Day Zero at 20 May 2017.
"If water savings had increased, we could have pushed Day Zero further back," said Mayor Patricia de Lille.
Since July, the City has sent warning letters to approximately 50 000 households using excessive amounts of water.
The City says Day Zero can only move further back if ALL Capetonian households adhere to using 87 litres of water per person per day.
Day Zero is the day when dam levels reach 13,5 % and the City will turn off most of the taps. Residents will have to queue for water.
The City is working through the night to avoid Day Zero but cannot do it without the help of residents. While residents save, the City will continue working harder to bring additional supply online as quickly as possible, it says.
Source: www.capetown.gov.za/
Warning: dam levels are at 25,1% useable water. Collective consumption is still far above our weekly target. Continue to #ThinkWaterCT so that we can avoid Day Zero together! View this week's release and dashboard: https://t.co/IPfBjRGJhB pic.twitter.com/zIXsDYDgX1

— City of Cape Town (@CityofCT) December 5, 2017
The Water and Sanitation Department staff are working extremely long days to help the City conserve water by restricting delinquent users. We have begged people to save water, but we cannot allow the flagrant abuse of water to continue unabated. pic.twitter.com/aeBv1iYIBY

— Patricia de Lille (@PatriciaDeLille) December 3, 2017