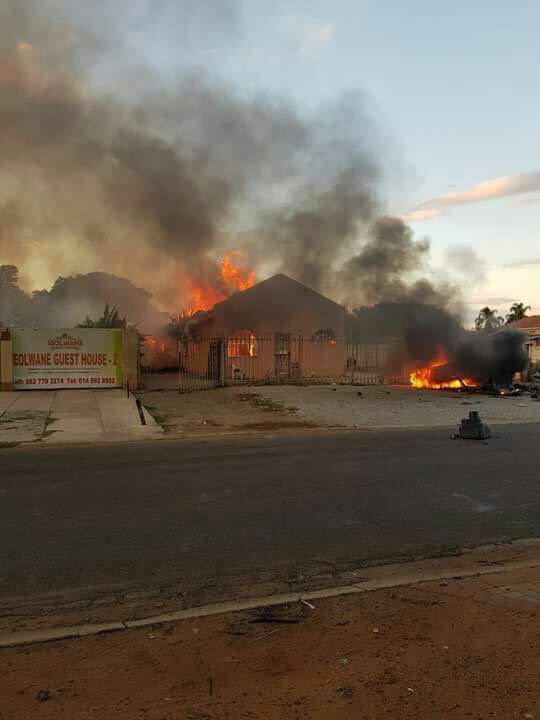 Six buildings were reportedly deliberately burnt down in Rustenburg overnight when a gang of at least 50 people went on the rampage. South African police are calling for residents of the North West town to please come forward with any information that could lead to arrests.
According to witnesses on social media, the houses and buildings that were targeted were brothels and 'drug dens' which belonged to Nigerian people.
Trouble has been brewing in Rustenburg all week.
Traffic in the mining town came to a standstill on Monday following clashes between mini-bus taxi drivers and nyaope addicts after gang members had allegedly killed a taxi driver. The taxi drivers blocked the road, and two were arrested for beating up the boys (one of whom was apparently paraded naked) and for damaging police vehicles. The drivers were reportedly demanding to know where the boys got their drugs from. Some residents on social media expressed relief that the drivers were taking the crime into their own hands as they felt the police had done nothing. "We have been mugged for a long time," one told IOL.
Before the torching last night, taxi drivers held four people hostage in a suspected drug house – two of the suspects in the house were foreign nationals and one of the suspects was a police officer. A young girl of 17 was also rescued from one of the houses.
Police said in a statement: "We can confirm that a suspect was arrested earlier today for a rape of a 17-year-old minor, while a police official was arrested for possession of drugs at the same place.
"The police are currently working very hard to bring normality in the area. The residents are urged to remain calm and comply with the directives given by law enforcement officials."
One social media user said today that the attacks are not xenophobic: "We've always had foreign nationals here. The problem isn't with foreigners. The problem is drug dens and brothels, run by Nigerians mostly. You don't see Zimbabweans and Mozambiquans being attacked."
Another pleaded for help, saying "people are dying guys… fear gripping everyone and no one knows when it's gonna be there turn please help… South Africans are maiming Nigerians in Rustenburg North West, South Africa."
Law enforcement is now on the scene and calm has now been restored, although local business people have voiced concerns that violence could erupt again today, after days of unrest.
Police Minister Fikile Mbalula, who is in the Eastern Cape at the moment, has instructed police to do everything in their power to respond. A spokesperson said: "It can't be acceptable that the drug lords hijack the authority of the state."
UPDATE: The Police Minister has issued a statement condemning the people who "decided to take the law into their own hands and the threat that they will continue".
He said: "No matter how justified people might think they are, taking the law into their own hands does not make them different to the people they accuse of being criminals. People must know we are a democratic state, with competent institutions that could resolve all concerns."
The Minister of Police urged the police to root out acts of criminality in our communities, in particular brothels where the future of young women get destroyed.
Two days ago the Minister shut down three brothels in East London in the Eastern Cape.
"We cannot coexist with criminals, Police must smoke criminals out of our communities but our people must work close with the Police, if the local Police fail them, they must escalate the matter. There are many people of goodwill, we need to pull in one direction and comprehensively respond against act of crime." Minister added.
Rustenburg Current situation pic.twitter.com/7KWHZEIB63

— Lepower!!! (@katliwa_lepower) January 10, 2018
Violence in Rustenburg NW reportedly between taxi drivers and foreigners. Pics: social media. @MakeSAsafe pic.twitter.com/Q643ciDDca

— Yusuf Abramjee (@Abramjee) January 10, 2018
VIDEO | Two buildings in Rustenburg set on fire by angry residents https://t.co/CmjO4eamzx

— SABC News Online (@SABCNewsOnline) January 10, 2018