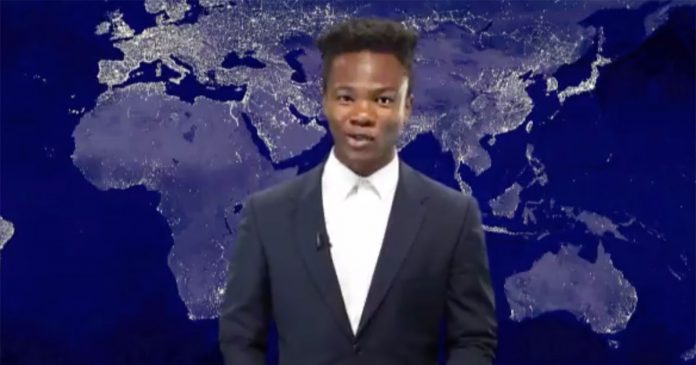 Exciting news as America's Comedy Central (CC) has announced that South African comedian, Loyiso Madinga, will be joining Trevor Noah's popular TV Show, The Daily Show… from South Africa.
CC said that Madinga has been selected by Noah (who is Executive Producer, Writer and Host) to be the new Africa correspondent in a new segment which begins airing tonight.
Noah explained: "As wild as Donald Trump is for America, many countries around the world have Trumps of their own and since 'The Daily Show' is in many countries, we thought 'why not give each country a chance to show off their stable geniuses?.'"
In the future other internationally-based correspondents are likely to be added.
South Africa's Arts and Culture Minister Nathi Mthethwa congratulated Madinga on Twitter and wished him all the best for the new feature.
An overjoyed Madinga said: "I am really excited to create a voice for local satire. What is really great is this places an authentic spotlight on local comedy and presents a reality that combats the stereotypical perception of Africa. Being part of the Daily Show, I get to join the best conversation in the world."
Madinga will remain in SA and his segments will be broadcast on CC across Africa, in addition to the main content, inserting local relevance to the global show.
CC President Kent Alterman said: "Trevor's curious obsession with South Africa aside, this is a great step in the continual globalization of The Daily Show, which has expanded to unprecedented levels since he took over."
Madinga has represented South Africa at comedy festivals in Switzerland and Korea, and travelled with Noah on his NationWild Tour of SA.
His debut segment tonight is a field report from the ANC Elective Conference.
Watch Loyiso Madinga Announce His New Feature On Trevor Noah's The Daily Show
BREAKING NEWS!!! – @TheDailyShow announces Africa's own @LoyisoMadinga to helm local segments for Africa, reporting outside the US for @TrevorNoah 😎🔥😱🗣😭🤣🔥 pic.twitter.com/F6EOQYCzR1

— TheHomeOfComedy (@ComedyCentralAF) January 11, 2018
It is our great pleasure to congratulate @LoyisoMadinga who will be joining @TrevorNoah on the @TheDailyShow in a new feature which starts tonight. We wish you all the best 🇿🇦. pic.twitter.com/gAYFWDW4Cc

— Min. Nathi Mthethwa (@NathiMthethwaSA) January 11, 2018
CASTING NEWS: @TrevorNoah and team have hired South African comedian @LoyisoMadinga to be the new Africa correspondent on his show, #TheDailyShow. #ProudlySA🇿🇦

CONGRATS Loyiso!! pic.twitter.com/Da4mnsuF76

— Phil Mphela (@PhilMphela) January 11, 2018