Members of the Economic Freedom Fighters (EFF) went on the rampage on Saturday in malls in Gauteng, South Africa, trashing and shutting down shops in a protest against H&M and its "coolest monkey" sweater advert… which has been creating an international outcry since Monday 8 January 2018.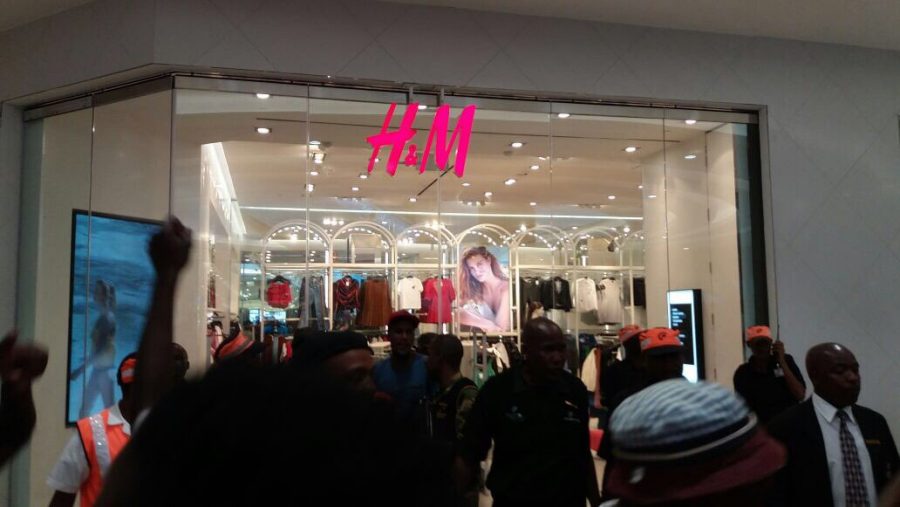 It's reported that rubber bullets were used at the East Rand Mall to disperse protesters, and that the protests were nationwide. Videos have gone viral of Sandton City in Joburg and Menlyn Mall in Pretoria being trashed.
According to local reports a Tshwane EFF member gave the Menlyn Mall H&M store 24 hours to close its doors permanently, or face constant protests outside the shop. H&M's apology is apparently not enough for the EFF.
Many social media users commended the EFF for taking a stand, whilst others accused the group of vandalism and asked what the EFF could do for H&M's employees if the company shuts down.
EFF leader Julius Malema tweeted Saturday afternoon: "We will never be told by any fool on how to fight against our oppression particularly those who have never been at the picket lines. There's no formula on how you should fight the oppressor, expect more action against all racists, individually and collectively this year. #Siyeza"
The H&M controversy erupted last week when they released an advert showing a young black boy wearing a green hoodie, emblazoned with the words 'Coolest monkey in the jungle' on it.
Speaking in South Africa today, Malema said: "We are not going to allow anyone to use the colour of our skin to humiliate us, to exclude us. We are black we are proud, we are black we are beautiful. We are black and we are not ashamed of being black."
Swedish-owned company H&M clearly did not intend to humiliate or be racist – in a nation where equality is a much coveted value, it didn't enter their mind.
But the fact still remains that H&M's marketing department did not have a global perspective to flag an ad that could cause hurt and offence in other countries in the world – countries in which H&M has branches. This lack of sensitivity was a massive mistake and has revealed the ignorance, naivety and as some say, negligence, of the global brand. It's also highlighted that the company has an all-White Board of Directors.
H&M removed the image from all its channels and said: "We understand that many people are upset about the image of the children's hoodie. We, who work at H&M, can only agree.
"We're deeply sorry that the picture was taken and we also regret the actual print.
"Therefore, we've not only removed the image from our channels but also the garment from our product offering." (Read H&M's full 'Coolest Monkey' apology here.)
Meanwhile the young model's mother, Terry Mango, said earlier this week that she has been ironically besieged by anti-racists' racist comments after she defended the advert. She had written on Facebook: "Am the mum and this is one of hundreds of outfits my son has modelled… stop crying wolf all the time, unnecessary issue here… get over it [sic]." Terry, originally from Kenya, lives in Sweden and said that if she had bought the shirt for her son and posted it on Facebook, nobody would have said a thing.
Fake images are currently being shared on social media, purporting to show racist H&M adverts with Asian and Japanese children. These are not real.
Some international stars have spoken out against the fashion chain – pop star The Weeknd (who has done a lot of work with H&M) cut all ties with the company. Customers in the US and UK have called on each other to boycott the store. There have been no reports of people in other countries actually trashing H&M branches like the EFF did on Saturday.
So this is H&M at Menlyn… a group of people are vandalizing and just throwing clothes around. #ANC106 pic.twitter.com/1S4edBabyS

— Mukololo ® (@DineoDeeMash2) January 13, 2018
Altercation with the EFF. This won't end anytime soon. More members of the EFF are arriving. pic.twitter.com/Z3H1LoCmtX

— Buhle Manyathi (@B_Manyathi) January 13, 2018
For your own safety, avoid the following malls and H&M stores across the country as a result of the EFF protests.

Retweet for awareness pic.twitter.com/fbUylfCo1V

— Sheldon Cameron (@Sheldon_Cameron) January 13, 2018
South Africa: The H&M stores were trashed at Sandton City and Menlyn Park this morning as the EFF members protested a recent 'racist advert'. 13-01-2018 pic.twitter.com/SunYcHiKZv

— Rowan Van Dijk (@Lastkombo) January 13, 2018
So…are we just going to pretend the #EFF's feral & rampaging behavior at these H&M stores (Sandton City & Menlyn), is "normal"?

How is this destructive behaviour and vandalism a defense of the dignity of black people?

Why must black people be associated with lawlessness?🤔

— Sihle Ngobese (@SihleDLK) January 13, 2018
A statement that they are hooligans!! No respect for the rule of law!!! The EFF is a disgrace pic.twitter.com/KD1II5vKvM

— Martie van Riebeeck (@martie777) January 13, 2018
EFF has scored a massive own goal. [And no, FYI, you are NOT more committed to bringing about an anti-racist society than the rest of us if you agree with EFF vigilantism. That's a false test of commitment to fight racism.]

— Eusebius McKaiser (@Eusebius) January 13, 2018
EFF supporters protesting at H&M in @MenlynSA / @EFFSouthAfrica @Julius_S_Malema #NoToRacism pic.twitter.com/aOU6Sber5m

— Yusuf Abramjee (@Abramjee) January 13, 2018
Where were the EFF protesters when Shoprite workers were on strike demanding better pay? Why did they not protest outside Shoprite stores & show solidarity with those workers. Yeah the H&M ad is a problem but c'mon, the Shoprite situation had a more direct impact on SA lives.

— Phil Mphela (@PhilMphela) January 13, 2018
We will never be told by any fool on how to fight against our oppression particularly those who have never been at the picket lines. There's no formula on how you should fight the oppressor, expect more action against all racists, individually and collectively this year. #Siyeza

— Julius Sello Malema (@Julius_S_Malema) January 13, 2018
H&M mall of the South @EFFSouthAfrica store not operating currently plippin racists pic.twitter.com/Ldg9WJNbMl

— Ntobeng Ntobeng (@ntobengndo) January 13, 2018
woke up this morning shocked and embarrassed by this photo. i'm deeply offended and will not be working with @hm anymore… pic.twitter.com/P3023iYzAb

— The Weeknd (@theweeknd) January 8, 2018
Put some respect on it!! When you look at us make sure you see royalty and super natural God sent glory!! Anything else is disrespectful. pic.twitter.com/QVaxgngwh1

— Diddy (@Diddy) January 8, 2018
In the year 2018 there's no way brands/art directors can be this negligent and lack awareness. If look at other sweaters in same category they have white kids. We have to do better. pic.twitter.com/Av4bS4t6yn

— alex medina (@mrmedina) January 8, 2018