While most of South Africa received rain today, including the Karoo… unfortunately the Western Cape and Northern Cape were very much 'plunged' into sunshine-y brightness amidst a never-ending drought (the longest in recorded history)…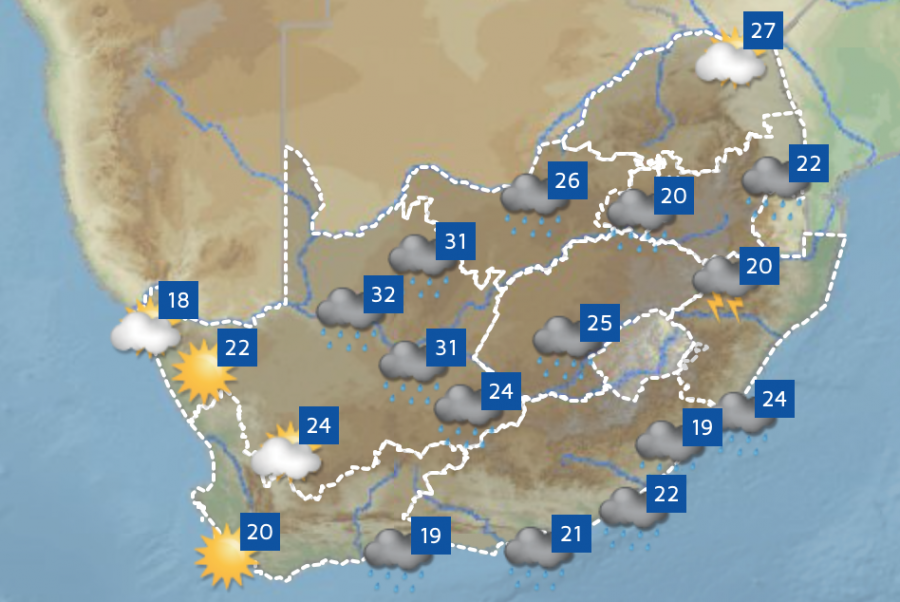 As Day Zero approaches rapidly (now set for 12 April, when residents' taps will be turned off), Western Cape Premier Helen Zille took to social media to deliver an 'urgent' message on Cape Town's water crisis, imploring residents and visitors to the Mother City to please turn off toilet cistern taps. Watch here:
Zille also tweeted a message on Thursday about doing the same with her toilet cistern, which seems to confirm most people's fears… that leaders in the drought-stricken region have only just started taking the warning of Day Zero seriously themselves!
I have been taken aback at the amount a toilet cistern needs to flush. I have been pouring our grey washing water into the cistern in the morning, and can't even get one flush out of it. Time to STOP flushing potable water down toilets.

— Helen Zille (@helenzille) January 25, 2018
South African Weather Service Hits Back at Zille's Accusation on BBC
Zille was chastised on Friday by the South African Weather Service (SAWS) for claiming on the BBC that the weather service had got it wrong.
The SAWS hit back in a press release saying it "noted with regret reports attributed to Western Cape Premier, Helen Zille that the province "finds itself facing a crisis because SA Weather Services (sic) got their predictions all wrong". The Premier's statement is disingenuous and extremely opportunistic coming as it does in the midst of a water crisis.
"Zille goes on to claim that "The South African Weather Services (sic) have said to me their models don't work anymore, in an era of climate change". We view this in a very dim light as the Premier only had one briefing from SAWS and already draws conclusions on our work.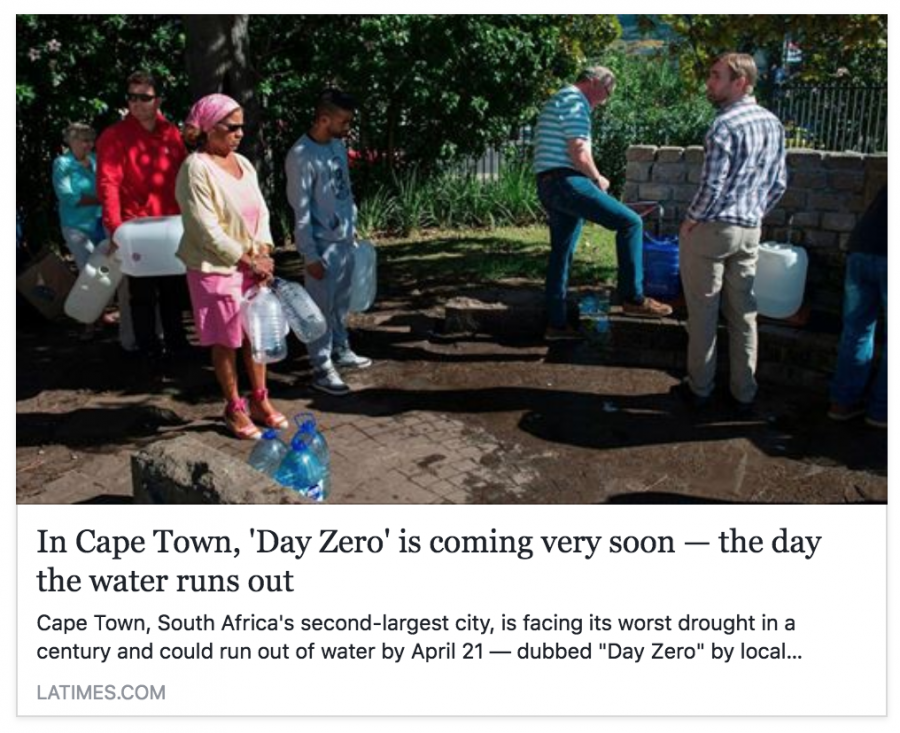 "This is regrettable as SAWS would not comment on policy makers and the lack of action on advice that we have given. SAWS has had discussions with the Premier and respectfully requested her to refrain from casting aspersions on the work of the Service. The Weather Service has further more offered the Premier access to all weather information and resources to enable her to speak from a position of knowledge rather than speculation. Now it seems this offer was not taken up."
Read the SAWS' full report, with graphs here:
www.weathersa.co.za/images/documents/473/MediaRelease26Jan2018.pdf
Mmusi Maimane Blames Drought and Government
DA Leader Mmusi Maimane meanwhile has swooped in to do battle, issuing statements with war cries like "Rise Cape Town Rise" and "Defeat Day Zero".
He said Cape Town's water crisis "is not because of lack of planning or foresight… [but] because of the unprecedented severity of the current drought"…
To which social media followers posted the following two photos from old newspapers, one from 1990 and another from 2011… both predicting a future drought in Cape Town.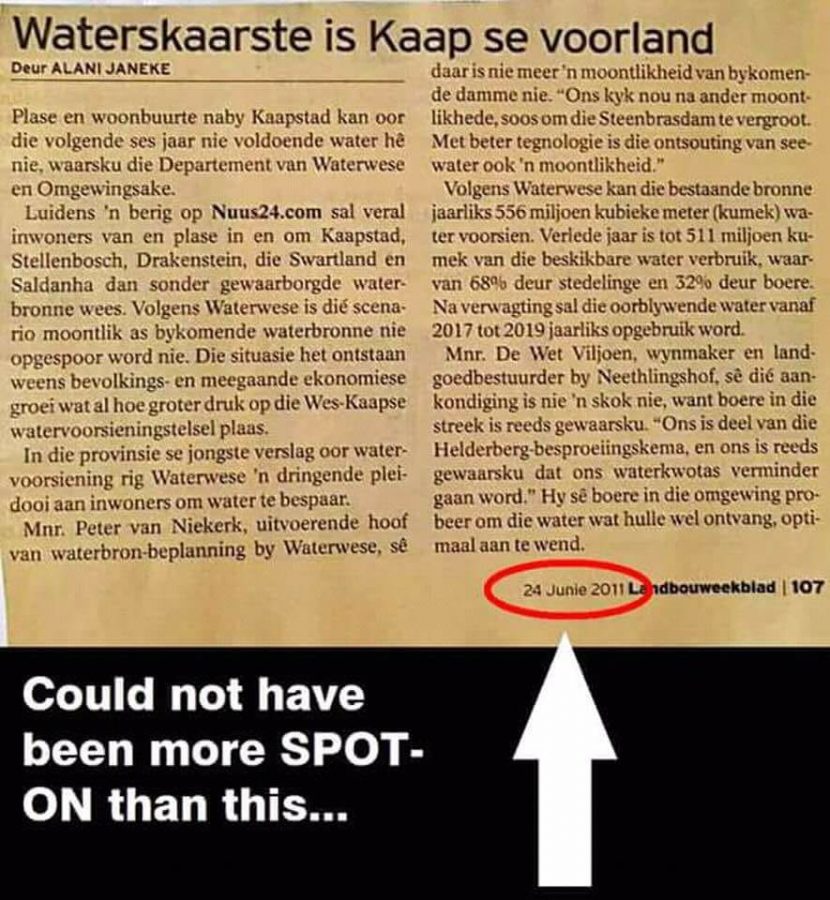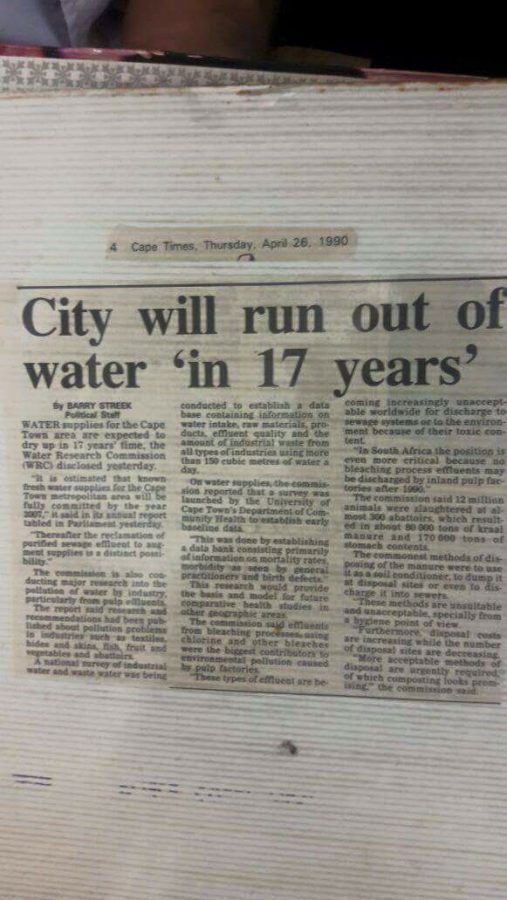 And apart from it being the weather's fault, and the weather forecaster's fault, it's also apparently all the ANC's fault (which it could partly be, as delivering water is a national government responsibility – and some have suggested the ANC-led government may have deliberately sabotaged the Western Cape's water supply to derail the DA's hold over the Western Cape, or because funds have been channeled elsewhere during an era of alleged corruption)… but the ANC are not accepting any blame, and are pointing fingers right back. Watch here:
But the ANC aren't taking it…
As many South Africans have pointed out – real leaders accept responsibility. And so far both the DA and ANC have failed to do so.
Real South African citizens however have shown a lot more integrity and sense of responsibility, sharing inspiring and innovative ways of saving water…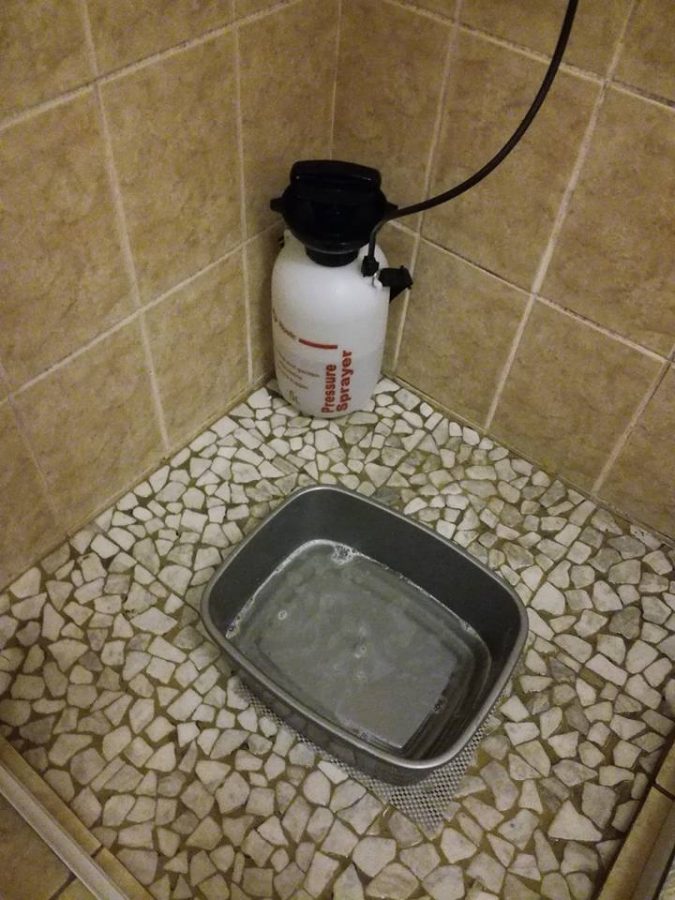 Prediction: Capetonians and South Africans loving Cape Town WILL come together like NEVER seen before – not even during #capeFire disasters in our Mountain – #opinion 👩‍💻 @iAmnotMany

credit 📸 John Kerrin
courtesy @SApeople#water4capetown #DayZero pic.twitter.com/RSIwxbqC58

— Cape Town 🌨 (@CapeTown) January 27, 2018
#GoSouthAfricanCitizens! #ShowingTheLeadersHowItsDone!