KENYA – One of the world's top ivory and rhino horn trade investigators, Esmond Bradley Martin (75), was found murdered at his home in Langata, Nairobi on Sunday. He was allegedly working on a new report exposing the illegal trade.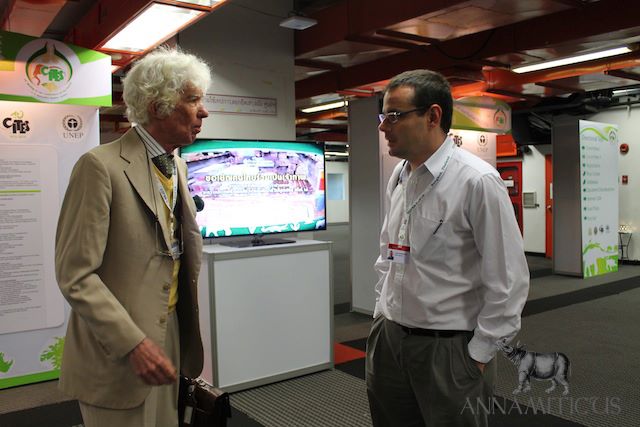 Esmond, an American geographer, had travelled the world identifying ivory and rhino horn markets and the traffickers behind them; and had written several ground-breaking reports exposing the smuggling in Africa, and trade in China, Vietnam and Laos.
He was living in Kenya at the time of his death.
According to the country's The Star newspaper, he was alone when he was allegedly fatally stabbed in the neck. His wife, Chryssee, found his body at around 16h00 after returning from a walk.
The couple had been travelling the world with colleagues Dan Stiles and Lucy Vigne, the latter with whom he co-authored last year's much publicised report Decline in the Legal Ivory Trade in China in Anticipation of a Ban.

The BBC reports that he had just returned from a trip to Myanmar and was in the process of writing up his findings when he died.
According to The Star, the former UN special envoy was credited with helping persuade China to end legal rhino horn trade in 1993, and ivory trade in 2017.
He told the newspaper last year: "With the end of the legal ivory trade in China, the survival chances for elephants have distinctly improved. We must give credit to China for doing the right thing by closing the ivory trade."
Jim Justus Nyamu, Director at Elephant Neighbours Centre, said Monday morning: "Very saddened by the death of Esmond Martin found dead in his house. The 75 year old man was committed to his work and has for sure inspired many people in his investigation mission. He is a renowned ivory and rhino horn investigator, his death is a reminder of our far reached journey in ending poaching and ivory trade globally."
Elephant expert and CEO of Wildlife Direct, Dr Paula Kahumbu, said "pachyderms have lost a great champion". (See her tweets below.)
The head of Nairobi DCI (Directorate of Criminal Investigations) told the Star they are yet to identify Esmond's assailants. His gardener and cook have been questioned.
The BBC reports that police suspect it was a "botched robbery". Just six months ago, in August 2017, anti-poaching activist Wayne Lotter was murdered in Tanzania.
1/3 It is with deep shock & horror that we learn this morning of the death of long time conservationist, Esmond Bradley Martin, whom police say died in suspicious circumstances st his home in Karen, Nairobi. Esmond led investigations into ivory & rhino horn trafficking

— Dr. Paula Kahumbu (@paulakahumbu) February 5, 2018
2/3 Esmond was at the forefront of exposing the scale of ivory markets in USA, Congo, Nigeria, Angola, China, Hong Kong, Vietnam, Laos and recently Myanmar. He always collaborated with Save the Elephants and worked with many of us generously sharing his findings & views.

— Dr. Paula Kahumbu (@paulakahumbu) February 5, 2018
3/3 Esmond was a global authority on ivory and rhino horn trafficking. We send our deepest condolences to his wife. RIP Esmond, pachyderms have lost a great champiom

— Dr. Paula Kahumbu (@paulakahumbu) February 5, 2018