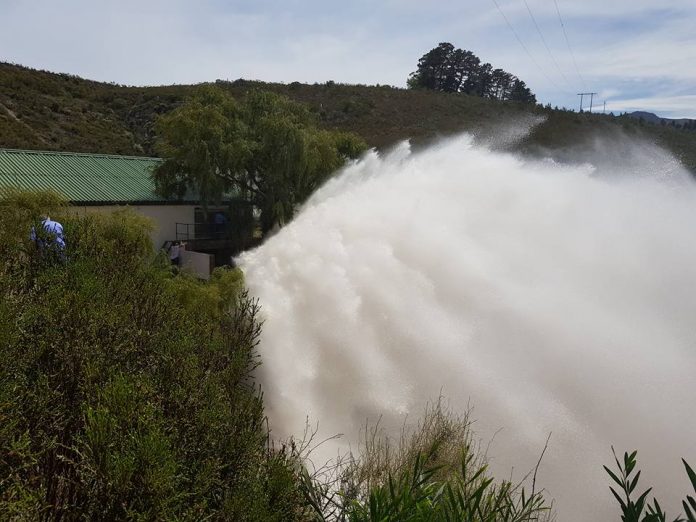 Eikenhof Dam in Grabouw, South Africa, started releasing its water to the City of Cape Town at 11 am this morning, according to Elgin resident Cathy Shaw. Shaw uploaded the following video, saying: "This is what 10 000 cubic litres per hour looks like!"
The Groenland Water Users Association in the Overberg is releasing between eight and ten million cubic metres of water – which is about a billion litres of water – into the Western Cape supply network.
The SABC reported that Chief Executive officer of GWUA, Johan Groenewald says the water is a "one off voluntary" donation from fruit growers in Elgin and Grabouw and comes mainly from the Eikenhof water scheme and private dams in the Upper Kogelberg catchment area.
The group of deciduous fruit growers around Grabouw and Elgin has agreed to the once-off release from their private dams.
The negotiations apparently began in October last year. Groenewald told the SABC the water will be pumped into the Palmiet river from where it will flow by canal to the upper Steenbras dam that supplies water to the Cape Town municipality.
According to a Hortgro press release Groenewald said Grabouw and Elgin producers have enough water for the current season.
"We are in a different catchment area than the City of Cape Town, and although our rainfall has been much lower than what we are used to, farmers in the area realised that we are currently in a more favourable position than the City of Cape Town. Thus, they decided to 'pay-it forward'."
Yesterday the City of Cape Town announced that Day Zero has been pushed forward to mid-May.
WATCH Grabouw releases water donation to the City of Cape Town
Eikenhof dam in grabouw started releasing it's water to the CoCT at 11am this morning. This is what 10 000 cubic meters per hour looks like!

Posted by Cathy Shaw on Tuesday, February 6, 2018