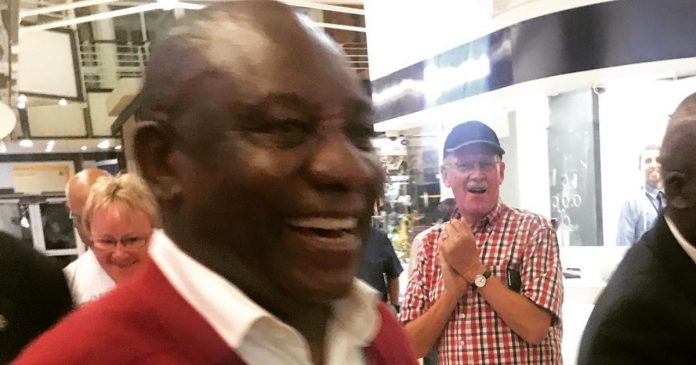 A photo of a beaming President Cyril Ramaphosa striding through the V&A Waterfront in Cape Town, just hours after being sworn in as South Africa's fifth president has gone viral.
The photo was taken by South African model Lee-Ann Liebenberg (who was voted FHM-South Africa's Sexiest Woman in the World in 2005), who then posted it to her Instagram account… where she has over 100,000 followers.
Well known South African writer, Gus Silber, wrote this brilliant observation: "This picture of our freshly-installed President, striding smilingly through the V&A Waterfront in Cape Town, was posted on Instagram today by Lee-Ann Liebenberg, who captioned it thusly: "Just bumped into our new PRESIDENT!!! ???????????????????? #Goosebumps".
"But even that is exceeded by the gasping, hand-clasping pose of the oke at the back, who offers all the proof one needs that the winds of state have shifted, and the new Captain of the Ship is striding tall atop the waves of change.
"With its blur-of-the-moment aura of gritty authenticity, this is my favourite Cyril-goes-walkabout pic of the New Presidency so far. No doubt there will be many more."