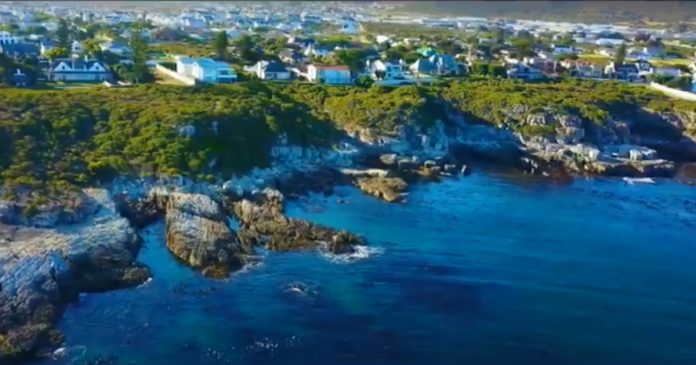 Watch the beautiful video below of Hermanus, in the Western Cape of South Africa, filmed by London-based video technician Tyler Hilton (25)… during a recent trip back home for the holidays; and check out his dad's Top 10 reasons why he's so happy in Hermanus.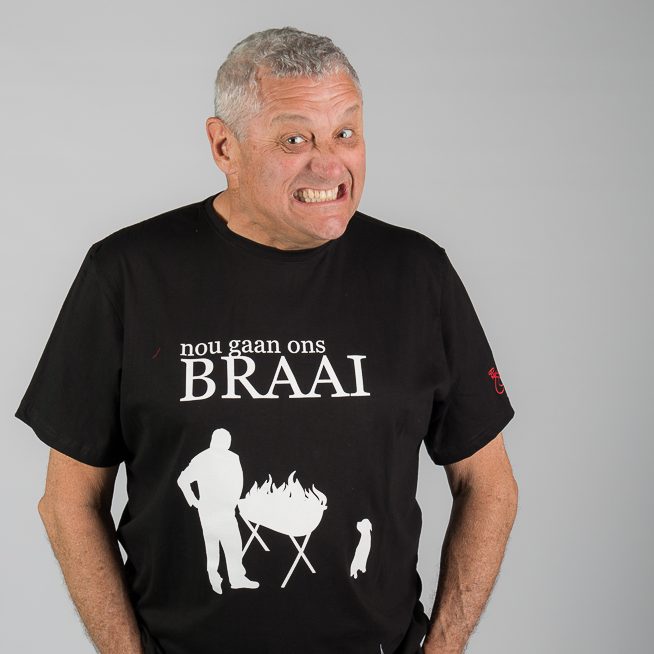 Tyler's father is well known South African comedian Barry Hilton (62), who moved the family to Hermanus four years ago and has not looked back. "I opened a little shop here selling my nou gaan ons braai shirts and I really dig working in the shop when I can," says Barry.
"People take a step back though – it's so funny. One woman said: 'he used to be a world famous comedian and now he is selling shirts.' So I sold her a shirt – lol!" (Barry is still performing brilliant shows around the country and will be in London in July.)
Barry Hilton: I love living in Hermanus because…
It feels like I'm on holiday when I'm home – there are always tons of tourists and they are always happy. It's a great vibe.
There are plenty of local artists – from photographers to sculptors, to actors and painters and more. I love the creativity. It's the best creative environment and my brain never stops here.
The town is incredibly gorgeous and I love all the water. I'm windsurfing here, canoeing and fishing… even tried kitesurfing but that didn't end well – broken foot!
We have about 63 restaurants and trust me, we've worked our way through 54 so far!!! I love cooking though, so eat at home as much as possible and braai of course.
We have a 7 year old laat lammetjie and it's the best environment for kids to grow up here. Outdoor activities are stressed and Jack does everything outdoors – he's surfing and so I've started bodyboarding too. It's just the best lifestyle.
Did I mention the wine farms? About 14 right outside our house. There are breweries, craft beer.
I haven't even mentioned the whales!! Sharks, penguins, seals, a bit of everything really.
The only real threat is that more and more people are moving here, it's something like 40 families a month!!! The schools are incredible, but they will need more soon.
Did you know Desmond Tutu lives here too? Actually quite a few 'famous' people live here while some just have holiday houses. You just never know who you're gonna bump into.
Last thing, I get to spend so much quality time with my wife and young son. No time wasted in traffic jams or locked behind security gates. I was based in Johannesburg before… still work there a lot, but trying to cut down and rather work in Cape Town more. Hard to imagine me on a bicycle I suppose, but we do that here too! Even cycle to school with Jack sometimes. That's not gonna happen in Jhb.
WATCH Heavenly Hermanus – by Tyler Hilton, Hilton House Productions
Proud Dad! My son Tyler Hilton made this video of my gorgeous hometown Hermanus. What'd you think? Hilton House Productions Hermanus Tourism Bureau overberginfo.com

Posted by Barry Hilton on Wednesday, January 24, 2018
Although Tyler's having a wonderful time in London and working all over the world, he relished his time in SA enjoying the outdoors in Hermanus. The South African expat brought his French girlfriend out to SA for the first time and says he was incredibly excited to show her the beautiful beaches and friendly people. He says he particularly loves Hermanus because "even though it's small; it's funky. There are lots of interesting people and gorgeous scenery. I love the seafood and hearing people talk Afrikaans and Xhosa…"
Barry says: "Come for a holiday… you won't wanna go back."
Barry Hilton is performing around South Africa at the moment, and will be in London at the Clapham Grand in July. Follow Barry here. 
Follow Tyler Hilton on Facebook here.