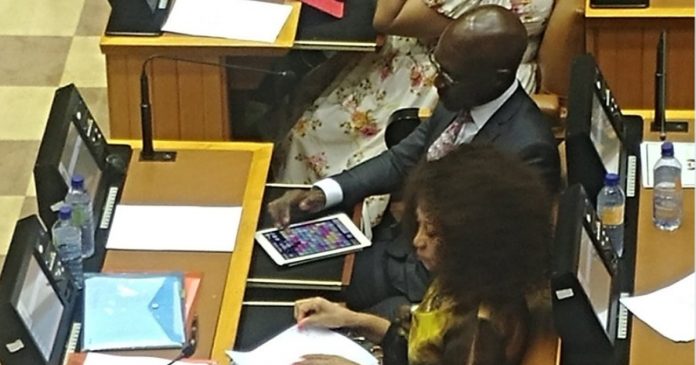 Finance Minister Malusi Gigaba joked about his Candy Crush 'addiction' during his 2018 Budget Speech in Parliament on Wednesday… laying to rest any suspicions (or hopes) that the Candy Crush picture last week had been photoshopped!
The Minister was photographed playing Candy Crush on Friday evening, during President Cyril Ramaphosa's maiden State of the Nation Address.
Gigaba thanked the person who had written to him, offering to join him in "Candy Crush Rehab"… and then joked that there were others in need of more serious rehab, and referred to the DA on his left.
In another light-hearted moment the Minister quoted Kendrick Lamar.
He also thanked his wife and daughter, who were in the audience, and ended his speech on a high, inspiring note about South Africans uniting to work together for a better country for all.
Gigaba jokes about his Candy Crush addiction and quotes Kendrick Lamar #Budget2018
Candy Crush has the Finance Minister busy #PresidentElection pic @gerbjan pic.twitter.com/dVsBMVyfBc

— Bonga Dlulane (@BongaDlulane) February 15, 2018
"At risk of being called minister of Instagram…. join me in Candy Crush rehab" – How is it possible Malusi Gigaba is still our finance minister? How do we take him seriously? #BudgetSpeech2018

— Toby Shapshak (@shapshak) February 21, 2018