World famous physicist Stephen Hawking passed away in the early hours of this morning, Wednesday 14 March 2018, at the age of 76. His fans – of which there are millions around the world – were quick to point out that he chose every geek's favourite day, International Pi Day, to make his exit from this planet.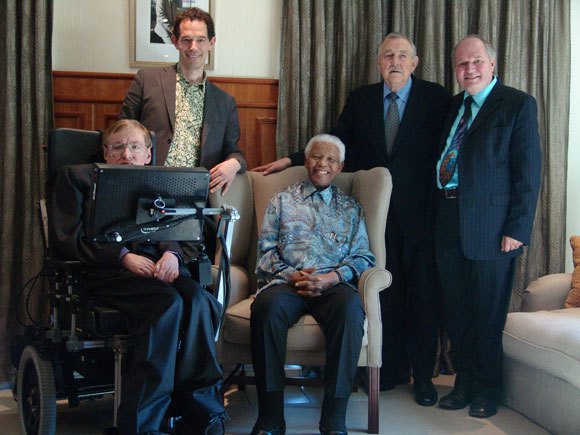 The super-brainy geek – one of the most brilliant theoretical physicists since Albert Einstein – captured the world's hearts and attention with his wisdom, insight and love for life… defying all odds to live well beyond the two years he was given at the age of 22 (in 1963), when he was first diagnosed with a rare form of motor neurone disease.
Despite being wheelchair-bound and forced to largely use a voice synthesiser to speak… his brilliant and witty words touched and moved people around the globe. He made quantum physics, black holes and relativity seem so simple; and made us realise the profundity of simple things – "It would not be much of a universe if it wasn't home to the people you love," the author of 'A Brief History of Time' (1988) once said.
Today, his children – Lucy, Robert and Tim – remembered that quote in a tribute to their father, saying "we will miss him forever".
His family said that he had died peacefully at his home in Cambridge in the UK. "We are deeply saddened that our beloved father passed away today. He was a great scientist and an extraordinary man whose work and legacy will live on for many years."
Fans around the world have taken to social media to post their tributes. Oscar-winner Eddie Redmayne, who starred at Hawking in 'The Theory of Everything' said: "We have lost a truly beautiful mind, an astonishing scientist and the funniest man I have ever had the pleasure to meet. My love and thoughts are with his extraordinary family."
Tim Berners-Lee, who invented the web, said: "We have lost a colossal mind and a wonderful spirit. Rest in peace, Stephen Hawking."
The vice-chancellor of Cambridge University, where Hawking studied and worked, said: "His exceptional contributions to scientific knowledge and the popularisation of science and mathematics have left an indelible legacy. His character was an inspiration to millions."
NASA said: "His theories unlocked a universe of possibilities that we & the world are exploring. May you keep flying like superman in microgravity, as you said to astronauts on @Space_Station in 2014."
One former colleague praised him for his competitiveness. Another – who was at university with him when he received his diagnosis – highlighted his incredible willpower and determination which allowed him to not only survive but become one of the most famous scientists the world has ever seen.
in his memoir (published in 2013), Hawking admitted that when first diagnosed he had felt it was "very unfair" why it should happen to him, and that he thought his life was over. "But now, 50 years later, I can be quietly satisfied with my life," he said.
In 2008, Prof Hawking visited South Africa, saying "the world of science needs Africa's brilliant talents" and hoping that his visit would help "create opportunities for Africans to enter maths and science".
He also met former President nelson Mandela during his visit, and said: "I am very pleased to meet you. I admire how you managed to find a peaceful solution to a situation that seemed doomed to disaster. It was one of the great achievements of the twentieth century. If only the Israelis and the Palestinians could do the same…"
WATCH Stephen Hawking dies aged 76
WATCH Stephen Hawking's daughter: "You could ask my dad any question"