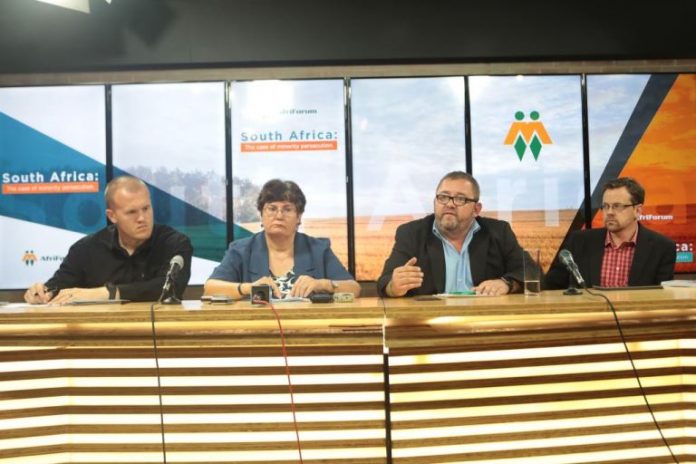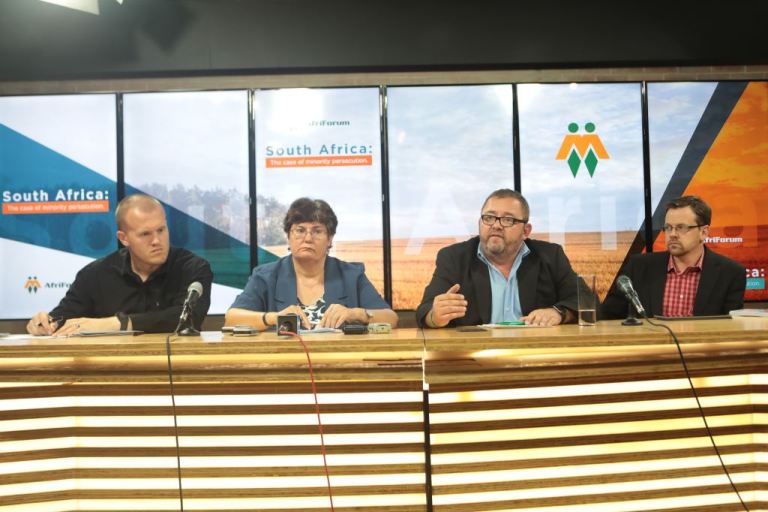 The civil rights organisation AfriForum said today at a media conference in Pretoria that the information which this organisation is currently spreading in the international community on expropriation without compensation and farm murders, is based on facts that confirm that there is a serious threat to property rights and human lives in South Africa.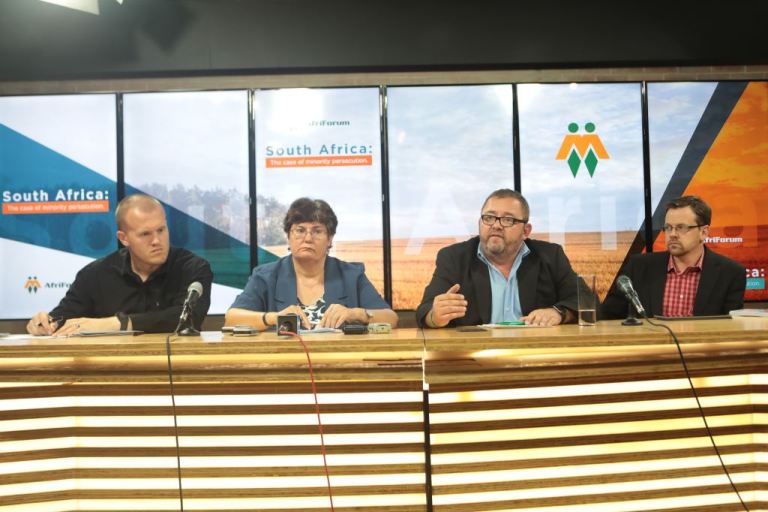 This threat is especially real for minority communities in general and for white farmers in particular. At the conference, AfriForum also indicated that this organisation would intensify its international campaign against farm murders and the disregard of property rights in South Africa.
AfriForum held the media conference after Lindiwe Sisulu, the South African Minister for International Relations and Cooperation, and her Department last week claimed that AfriForum was raising panic in the international community by spreading inaccurate information.
Kallie Kriel, CEO of AfriForum, says the South African government underestimates the intelligence of the international community by pretending that property rights in South Africa would not be threatened. According to Kriel, it is indisputable that:
The ruling party (the ANC), at this party's national conference in December 2017, accepted expropriation without compensation as party policy and decided that South Africa's Constitution should be amended to make it possible.
President Cyril Ramaphosa, on several occasions, including during a visit to King Goodwill Zwelithini, emphasised that government will expropriate property without compensation. Ramaphosa's use of the words "our people" to refer to black people who should benefit from expropriation, has the serious implication that he does not see white people as part of "our people" (see video below).
A minister in Ramaphosa's Cabinet, Gugile Nkwinti (former Minister of Rural Development and Land Reform and now the Minister of Water and Sanitation) stated that: "There is no doubt about it, land will be expropriated without compensation."
On 24 February 2018, the South African Parliament voted by 241 votes to 81 in favour of a motion that began the process of amending the Constitution to allow expropriation without compensation.
"For Sisulu to now try to calm emotions by saying that the South African government will act according to the Constitution, has no effect, as the ANC wants to amend the Constitution in any event. Furthermore, President Ramaphosa's assurance that illegal land grabs will not be tolerated, offers little consolation considering that government is planning to merely legalise the violation of property rights," Kriel adds.
Ernst Roets, Deputy CEO of AfriForum: Communications, says that farm murders were reaching critical proportions. This crisis is visible on various levels, including:
According to the latest available police statistics, more than 1 700 farm murders and more than 12 245 farm attacks occurred over a 21-year period. Bearing in mind that there are no figures for farm attacks for three of those years, it comes down to an average of 680 farm attacks and 94 farm murders per year. This is almost two farm attacks a day and two farm murders a week over a period of 18 years.
Although violent crime is a crisis among all communities in South Africa, violent crime that targets farmers is proportionally significantly higher. Several attempts have already been made to calculate the murder rate of South African farmers per 100 000. The best available calculations indicate that farmers' chances of being killed are between three and four times higher than the average South African murder rate, which is already among the highest in the world.
During the financial year of 2016/2017, torture was used in 17,6% of the murders. Incidents of torture during farm attacks are increasing.
The police's response to farm murders has been systematically deprioritised by the South African government since 2003. In 2003, the commando system, which protected farmers, was abolished. In 2007, the publication of statistics was discontinued, despite a 25% increase in farm attacks. In 2014, the South African Human Rights Commission issued a number of recommendations for steps to be taken by the South African government to stop farm murders, but the government implemented almost none of these recommendations.
Attempts to place farm murders on the national agenda are dismissed by government as publicity stunts. Victims whose loved ones were murdered on farms have even been removed forcefully from the office of the Minister of Police.
Negative stereotyping of white farmers as well as hate speech in which violence against white farmers is romanticised, are committed by senior government leaders from political platforms. President Cyril Ramaphosa, former President Jacob Zuma and several cabinet ministers have already made themselves guilty of this.
Cases have been reported of farm murderers who testified under oath that they killed white farmers because they were influenced by the ANC to do so.
Ian Cameron, AfriForum's Head of Community Security, also indicates that, in the face of the violent crime crisis, the organisation has decided to significantly strengthen and expand its existing network of 105 community security structures to help combat violence and other crimes.
Alana Bailey, Deputy CEO of AfriForum: International Liaison, says that due to the misplaced efforts by Sisulu and government to convince the international community that the threat of expropriation without compensation and farm murders are void of all truth, AfriForum now has to intensify its international campaign. According to Bailey, this campaign includes:
South Africans are asked to add their names to the petition that AfriForum will send to governments and international investors to officially request them to put pressure on the South African government to abandon plans to disregard property rights. More than 30 000 people have already added their names to the petition within a few days.
This petition will be presented locally to the embassies of South Africa's trading partners.
Chambers of commerce and international investors will also be asked to put pressure on the South African government. Among others this will involve visiting the World Economic Forum in Davos, if it is necessary.
The international media will be kept up to date on developments regarding farm murders, property rights and other key issues in South Africa.
AfriForum will send delegations to Australia, Europe and the USA, among others, to inform governments, media, influential persons, civil organisations as well as international institutions and investors about the situation in the country.
In addition to international pressure, AfriForum will also make a local submission to the parliamentary committee that has been appointed to amend the Constitution.
AfriForum: 109 farm attacks in South Africa in less than 100 days of 2018