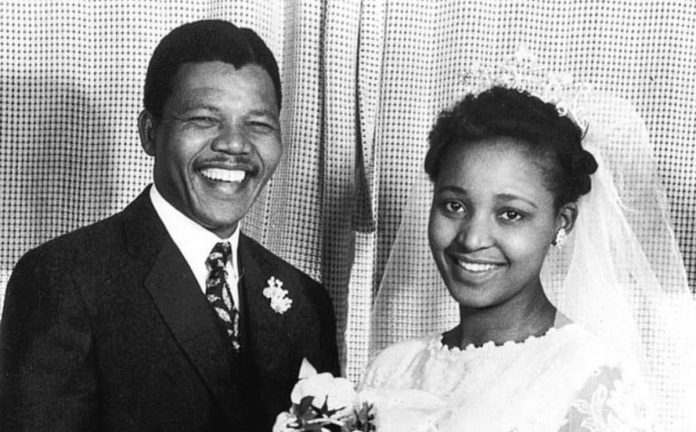 Tributes have poured in for Winnie Mandela who passed away on Monday at the age of 81.
Actor Idris Elba tweeted she "lived a full and important life contributing to the liberation of a nation by force and ACTUAL ACTIVISM", and supermodel Naomi Campbell said "I cherish the times I spent with you, embracing me in your family & home. You were Woman of strength that endured so much hardship and sacrifice. Without you we would not know anything about Tata and his 27 years."
The Nelson Mandela Foundation said: "Mama Winnie Madikizela-Mandela's passing away is a hard blow for the foundation. She travelled a very long road together with our founder, Nelson Mandela. She was a member of a generation of leaders which survived the most brutal period of state terror in apartheid South Africa. And she was a friend of the foundation.
"All South Africans are indebted to Mama Winnie… From the witness of her life, we knew we could stand tall; we knew also we could falter and stumble. Either condition was an affirmation of life. Her cry was our cry, and in 2018 we can say we did triumph.
"We will miss her, and our country will miss her. Hamba kahle (farewell) Mama," said foundation chairperson Professor Njabulo Ndebele.
Below are statements from South Africa's major political parties:
Rest in peace, Mama Winnie
The Presidency has described Winnie Madikizela-Mandela as an abiding symbol of the desire for freedom.
In a statement on Monday evening following the passing of the struggle stalwart earlier in the day, the high office said Madikizela-Mandela, 81, was a champion of justice and equality.
Madikizela-Mandela passed away at Netcare Milpark Hospital in Johannesburg at the age of 81 after a long illness for which she had been in and out of hospital since the start of the year, according to a statement released by her family.
"It is with a profound sense of loss and deep sadness that we have learnt of the passing away of Mam' Winnie Madikizela-Mandela.
"Even at the darkest moments of our struggle for liberation, Mam' Winnie was an abiding symbol of the desire of our people to be free. In the midst of repression, she was a voice of defiance and resistance. In the face of exploitation, she was a champion of justice and equality.
"Throughout her life, she made an everlasting contribution to the struggle through sacrifice and her unyielding determination. Her dedication to the plight of her people gained her the love and the respect of the nation.
"For many years, she bore the brunt of the senseless brutality of the apartheid state with stoicism and fortitude. Despite the hardships she faced, she never doubted that the struggle for freedom and democracy would succeed.
"She remained throughout her life a tireless advocate for the dispossessed and the marginalised. She was a voice for the voiceless," said the Presidency.
The President's office appealed for collective reflection on Madikizela-Mandela's "rich, remarkable and meaningful life" as the nation mourns.
"Let us draw inspiration from the struggles that she fought and the dream of a better society to which she dedicated her life. Today we have lost a mother, a grandmother, a friend, a comrade, a leader and an icon.
"As South Africans, we collectively pass our condolences to the Madikizela and Mandela families. Your loss is our loss as well," the Presidency said.
A Great South African has passed
by Mmusi Maimane – Leader of the Democratic Alliance
The Democratic Alliance (DA) is profoundly saddened at the news of the passing of Ma Winnie Madikizela-Mandela, who left us peacefully this afternoon. We join the African continent and freedom lovers all over the world in mourning the passing of a true freedom fighter and an iconic South African.

Affectionately known as the mother of our nation, Ma Winnie made an indelible contribution to our country. Winnie was married to Nelson Mandela for the full duration of his 27-year incarceration, during which she kept the struggle for liberation alive during the most trying of times.

She stands as a bright light that shone a way forward for many others. Even while she opposed the apartheid government, she stood for principle, and her values outlast the struggle and apply to this day.

Throughout the struggle, she sacrificed much, constantly finding herself harassed by the apartheid state, banned, arrested, detained in solitary confinement and restricted to Brandfort – all of which failed to break her spirit and commitment to realising the dream of a united, democratic, and non-racial South Africa.

In 1985 she became the recipient of the Robert F. Kennedy Humans Rights Award, alongside Beyers Naude and Allen Boesak, for her contribution to the struggle for freedom in South Africa.

Ma Winnie, you will always be remembered for your selfless and steadfast commitment to our democracy. May your spirit live on, and we thank you for your service.
EFF statement on the passing of Mama Winnie Mandela
The EFF sends its revolutionary condolences on the passing of Mama Winnie Mandela. We send our heartfelt condolences to the family, the ANC, South Africans and all peoples of the world.

Mama Winnie Mandela is the stone that the builders rejected. She is the first black female president South Africa was deprived of. Her irreplaceable contribution to the liberation of our people was a subject of both Patriarchal and white minority suppression; her well deserved, tried and tested, rise into the highest seat in the country was only suppressed by the patriarchally dominated liberation movement and its complicity with white minority establishment. They hated her because she was a black woman with her own mind and who enjoyed the collective popular confidence of masses of our people. They hated her because she never compromised her message of radical black emancipation.

For denying us Winnie Mandela as the president of the Republic South Africa,  the liberation movement must bury its head in shame in this painful hour of loss.

There is no doubt that in the last two decades of the liberation struggle Winnie Mandela carried the revolutionary aspirations of black communities on her shoulders. When silence, despondency, fear and political apathy triumphed over the collective spirit of emancipation following the exile of the liberation movement and the imprisonment of its leadership. It is Winnie Mandela who exhumed this collective spirit, inspiring every street, every township, every village, every town, every City and every country in the world to brave the murderous apartheid regime and once more demand the unconditional freedom of a black child.

From Soweto to Selma, London to Sidney, scores of students, youth, workers and all peoples of the world joined the international anti-apartheid movement inspired by her tenacity, perseverance, bravery, daring and infectious love. From Morogoro to Lusaka many young men and women signed up in the ranks of Mkhonto WeSizwe inspired by her fighting spirit. She affirmed both the love and anger of black people; always committed to their right to defend their lives even in arms in the face of a deadly apartheid evil.

We bit her farewell as the stone that the builders rejected. Her memory will live long and one day a better society, free from the patriarchal hatred that suppressed her rise to be a president, will embrace a talent black woman to lead our nation. In her name we vow to accelerate and deepens the fight against patriarchy, within our own ranks and in society in general.

In her name we vow to bestow upon this land an era of economic freedom in our lifetime. One that she believed in, encouraged and commended the EFF for declaring and pursuing it. In our eyes, she is the perfect image of the Devine: she taught us to love ourselves, our country and continue the struggle for the total emancipation of our people and continent.

Hamba Kahle MaNgutyana! Hamba Kahle Mkhonto We Sizwe!

We will carry on with the revolution in your glorious and heroic name.
The ANC's Full Statement – with a History of Winnie Mandela's Life
Issued by Ace Magashule, ANC Secretary General
The African National Congress (ANC) and the nation today mourns the passing of a titan of the liberation struggle, a revolutionary, and a stalwart of our glorious movement – Mama Nomzamo Winifred Madikizela-Mandela. The ANC lowers  its revolutionary banner in honour of the memory of this great woman who was so loved and revered, whose name will forever be inscribed in history as having played a formative role in the history of South Africa. Mama Winnie, as she was popularly known, would have celebrated the rich age of 82 years in September this year, but it was not meant to be. We mourn the passing of this great patriot and Pan Africanist, whose resilience and courage inspired freedom struggles not only in South Africa, but across Africa and her diaspora. Comrade Madikizela-Mandela dedicated her life to the betterment of her people and she worked for this realization right until the end of her life.
She was an inspiration to both young and old who shared her vision of an egalitarian, prosperous and free South Africa – and generations of activists not just in South Africa but around the world today deeply mourn her as we do. Such was her impact as an activist and revolutionary around the world, that until the very end of her life, she was lauded and acknowledged for her contribution to the struggles of all oppressed peoples of the world. Not so long ago, she was conferred with an honorary Doctorate of Laws by the prestigious and internationally renowned Makere University. The life of Mama Winnie epitomized selflessness, humility, and fortitude: characteristics that she embodied throughout her life. Hers was a life where she faced the harshest of tribulations and struggles as punishment for her dedication to the liberation struggle. As her name Nomzamo testifies, she faced and underwent trials that would have broken the spirit of any human being. But hers was an extraordinary spirit that would not be quelled no matter what the hardship.
Her early exposure to apartheid in the Village of Mbongweni, Bizana in the Transkei, where she was born to Columbus and Nomathamsanqa Mzaidume Madikizela, on 26 September 1936, inspired in her a lifelong hatred of injustice and racism. It was this early exposure, and later as a young social worker in Johannesburg, that set her on a lifelong path, joining the ranks of celebrated freedom fighters of the African National Congress and the broad liberation movement in the 1950s. She counted amongst her friends and inspiration at the time the likes of Lilian Ngoyi, Helen Joseph, Ma Albertina Sisulu; Florence Matomela, Frances Baard, Kate Molale, Ruth Mompati, Hilda Berstein and Ruth First. She had a deep and passionate aversion to injustice in all its forms and it was through her social work at the then Baragwanath Hospital in Soweto that she became moved by the plight and living conditions of the black majority. This motivated her to use her learning and skills to uplift them.
Imprisonment, banning, harassment, house arrest, solitary confinement and having her husband and father of her children, Isithwalandwe Tata Nelson Mandela, imprisoned for 27 years did not break Mama Winnie's fighting spirit. Due to her unwavering leadership her home became a pilgrimage site for many leaders and members of various communities. We can without any doubt of contradiction that her entire life was lived selflessly and in servitude. This led to her kids being victims at an early age. She became a widow and single parent while her husband lived and was incarcerated at Robben Island. During this period Winnie embodied the values that her then husband Nelson Mandela stood and suffered for. Having passed on, the ANC commits to intensify the struggle that became her life. We will ensure that her spirit & resolve stay with us. She tirelessly campaigned for the release of Nelson Mandela and other political prisoners, gave refuge to those running from the police, harboured combatants of Umkhonto we Sizwe returning to or leaving the country, always an active part of whichever community she found herself in.
Comrade Madikizela-Mandela was an activist in her own right, and will be remembered for having stood at the forefront of the struggle for women's rights in South Africa – taking part in a number of demonstrations against the unjust pass laws. When the ANC was banned in South Africa and the mere mention of the organisation's name could result in imprisonment – Mama Winnie and countless other dedicated activists kept the flames of resistance burning; speaking out against apartheid, against detentions without trial, against the pass laws, and against the brutality of the apartheid regime. For this she paid a heavy price. She was first incarcerated in 1958 and over the years would face many more such detentions and banishment including solitary confinement. Despite all these attempts to break her spirit, she remained steadfast and refused to cease with her political activism, displaying exemplary courage that made her a role model for many young women activists in South Africa.
In the advent of unbanning Mama Winnie played a crucial role as the NEC member of the ANC , a position she held for 26 years and as the President of the ANCWL. During this period she became a consistent voice of reason and a champion of the voiceless. She also embraced her role as a government Minister and member of Parliament with tenacity. Mama Winnie will be remembered for her unwavering belief in the unity of the African National Congress; and her advancing years did not prevent her from remaining an active member of the ANC. As a veteran of the movement and the struggle she never hesitated to speak out whenever she saw the ANC going off course. At the same time, and despite her immense stature as an icon – she did so with humility and in acknowledgement of the many challenges still facing the movement and the country. We remember her qualities as an activist and a leader, and also her revolutionary discipline and commitment to the founding principles and values of the ANC. She lived and ended her life as a cadre of the ANC.
To the Madikizela-Mandela family, we share this incomprehensible loss of an icon of our struggle. Your loss and pain runs through our structures for Winnie belonged to greater family of the African National Congress and the formations of the liberation movement. We are grateful to her for having bequeathed us a lasting legacy and inspiration to serve our people. Be comforted by the knowledge that the name of this great daughter of South Africa will forever be illuminated. Go well, loyal and trusted servant of the Most High.
The African National Congress will be meeting with her family to plan the sending off of this giant of our revolution.
Lala kahle Qhawekazi! You will never, ever be forgotten.
Listen to Mam Winnie Madikizela-Mandela's response to arch Tutu many many many years after the TRC

"I ask God to forgive me for not forgiving him … how dare you,REALLY?" pic.twitter.com/VYgGCpUxtv

— Aldrin Sampear (@AldrinSampear) March 27, 2018
I cherish the times I spent with you, embracing me in your family & home. You were Woman of strength that endured so much hardship and sacrifice. Without you we would not know anything about Tata and his 27 years. You will remain in my heart!! R.I.P WINNIE MANDELA ♥️🙏🏾🇿🇦 pic.twitter.com/2R9fg1t6dx

— Naomi Campbell (@NaomiCampbell) April 2, 2018
Rest in peace Mama Winnie. My heart is heavy right now. You lived a full and important life contributing to the liberation of a nation by force and ACTUAL ACTIVISM. You will never be forgotten. 👊🏾

— Idris Elba (@idriselba) April 2, 2018